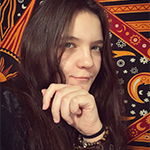 Chelsea Lowe is an illustrator from East Tennessee. Like many artists, she has been drawing since she was a child and knew early on that she wanted to pursue a career in the visual arts. In 2010, Chelsea began attending East Tennessee State University where she majored in Digital Media and minored in Art. Throughout her education, she experimented with several art forms such as fine art, print design, and even web design. By the time she graduated in 2014, she realized that her ultimate love was illustration.
In 2015, she started dabbling with freelance illustration by illustrating a children's book and book covers for indie authors. During this time, Chelsea continued to explore various digital painting techniques and really began developing her bold and colorful art style. From there, she began growing an audience through social media, conventions, published artbooks, and exhibiting in pop culture-themed group art shows in the US and UK. In late 2018, Chelsea joined the Poster Posse and it was through them that she began creating official posters for major studios.

Chelsea's work is heavily inspired by her love for pop culture, as well as nostalgia. Through her photorealistic art style, she aims to create work that harkens back to the classic hand-illustrated posters from back in the day.