Well, we have reached the end of our largest reveal ever.  5 days PACKED with Batman art to celebrate the Dark Knight's 75th Anniversary.  Like many of you, we find it practically impossible to pick a favorite from the copious amount of art we have shared but after you see the final selections, please TRY and let us know which ones stood out to you down in the comments section at the end.
DC, Bill Finger and Bob Kane have given us a timeless character whose mythos remains as strong today as when it first appeared back in 1939. His conviction to battle injustice, seek out and thwart those that would do others harm and his constant sacrifices  for the greater good show us he is needed more NOW than ever before.  We love the character, we love the gadgets, the bat cave, the vehicles, the villains, the allies….ahhhhh we love it all !  Enough already, lets' get to the rest of the art.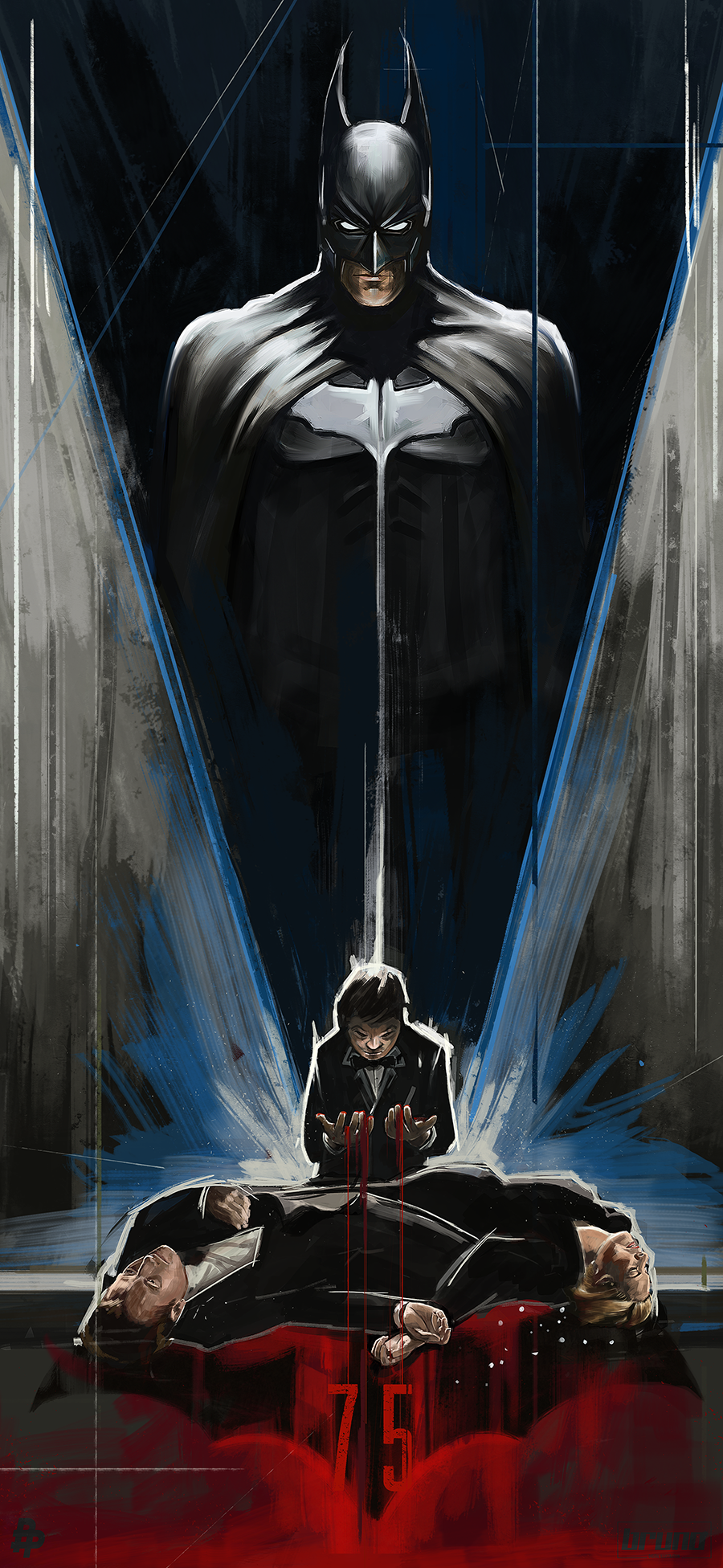 Robert Bruno – U.S.A.  Bruno's first offering of the dual Jokers gave us nightmares, (in a good way) and we were thrilled when he said, "I have one more image to offer."  We LOVE this new one!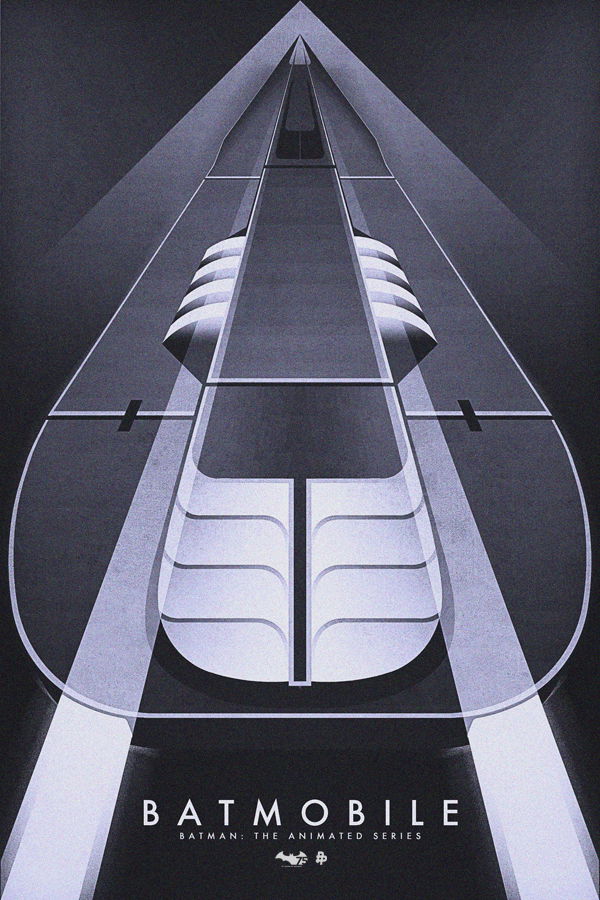 Ron Guyatt – Canada  Ron tackled one of the most iconic vehicles in Pop Culture history…the Batmobile.  Here is what he had to say about the project.  My inspiration for the series came from the origins and introduction of Batman at the end of the Era of Art Deco in 1939. Art Deco is something that I feel is deeply ingrained in Gotham and the Batman Universe!  The three cars of focus here were my introduction into Batman and inevitably DC and the comics universe in general! I did not get into Batman through comics, books or games, I became a fan through TV and Film.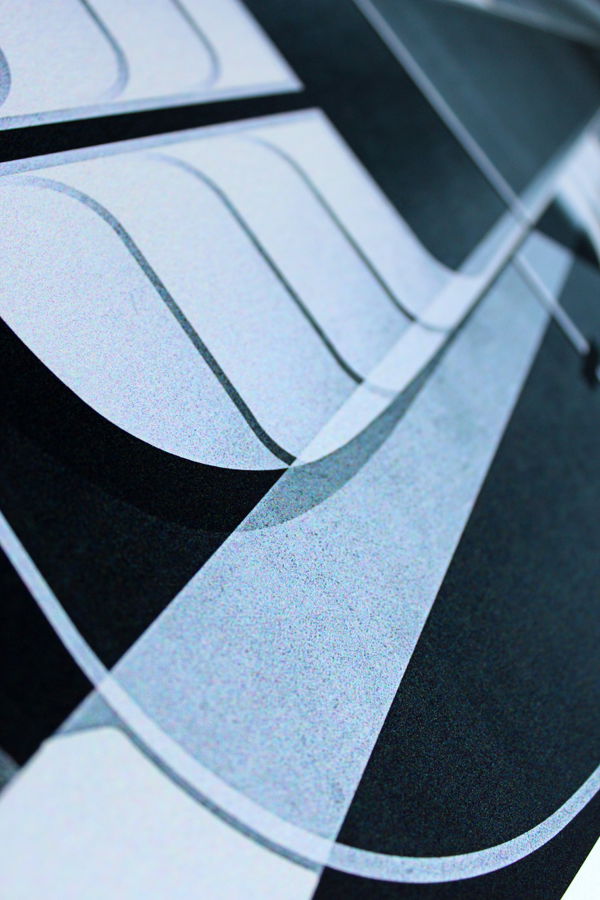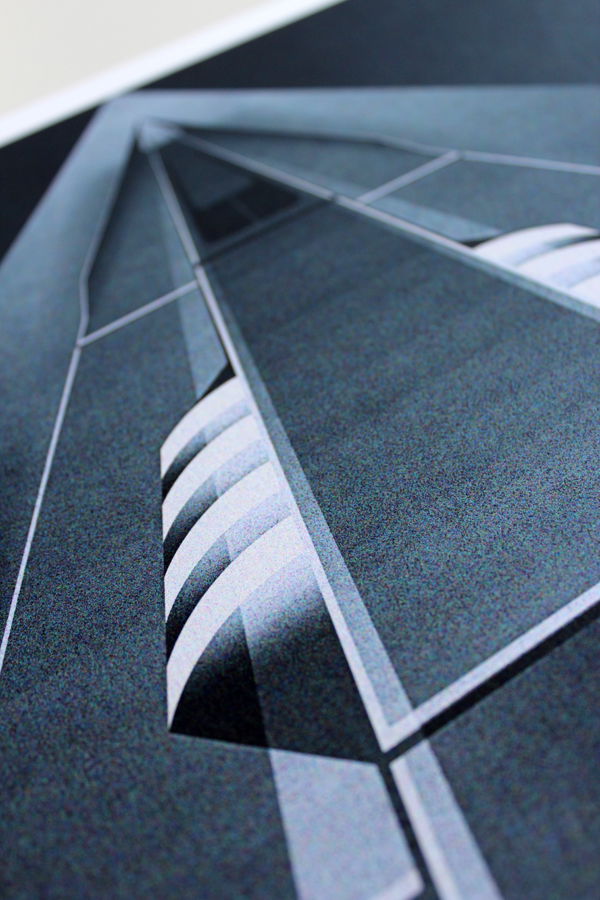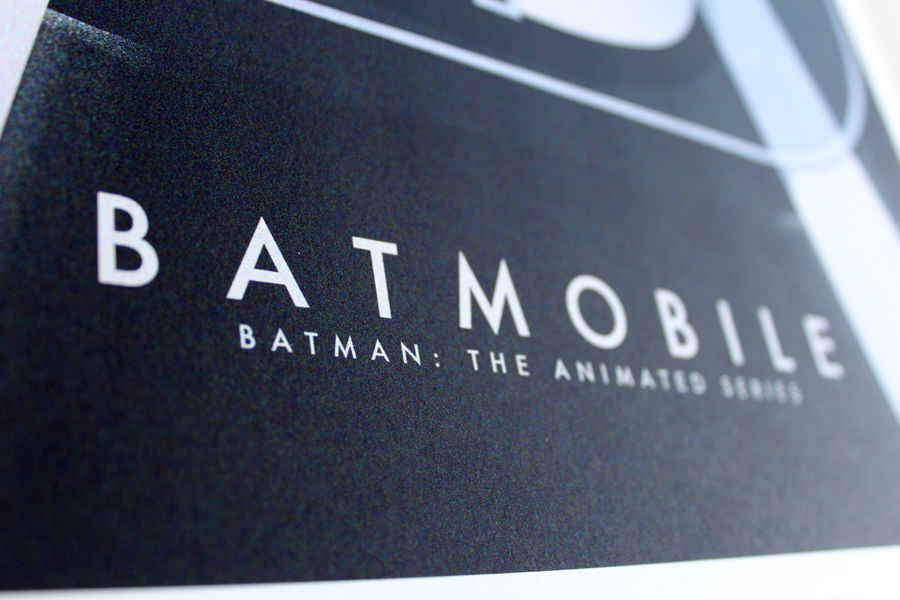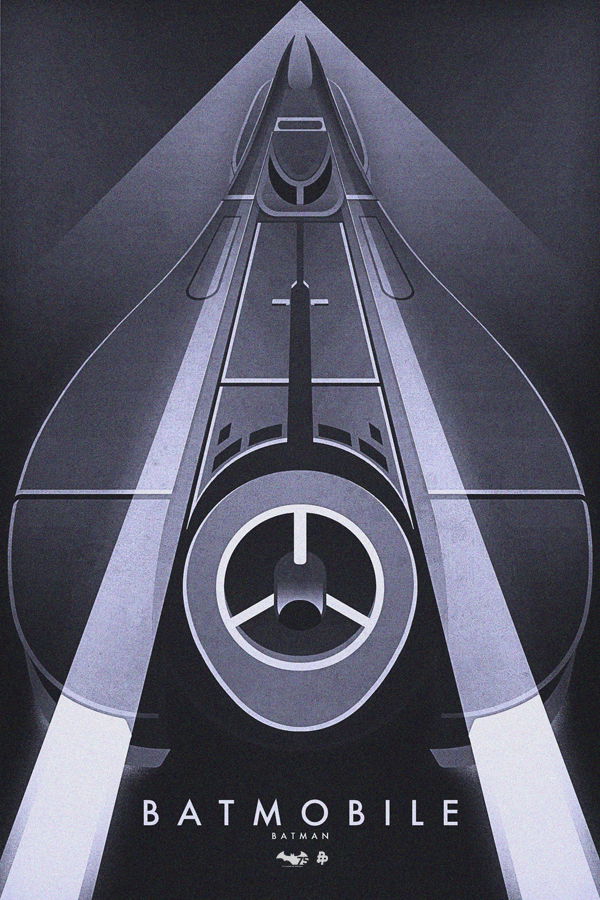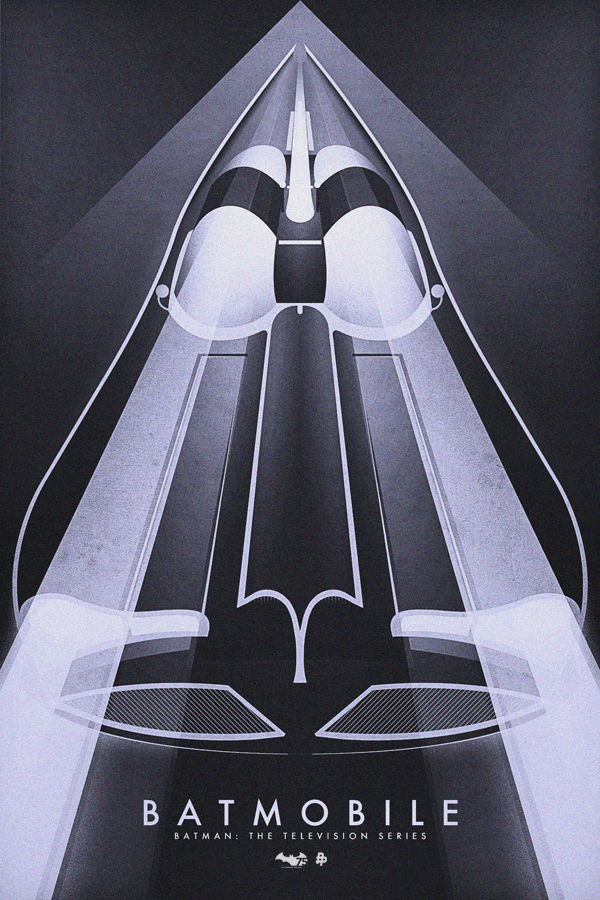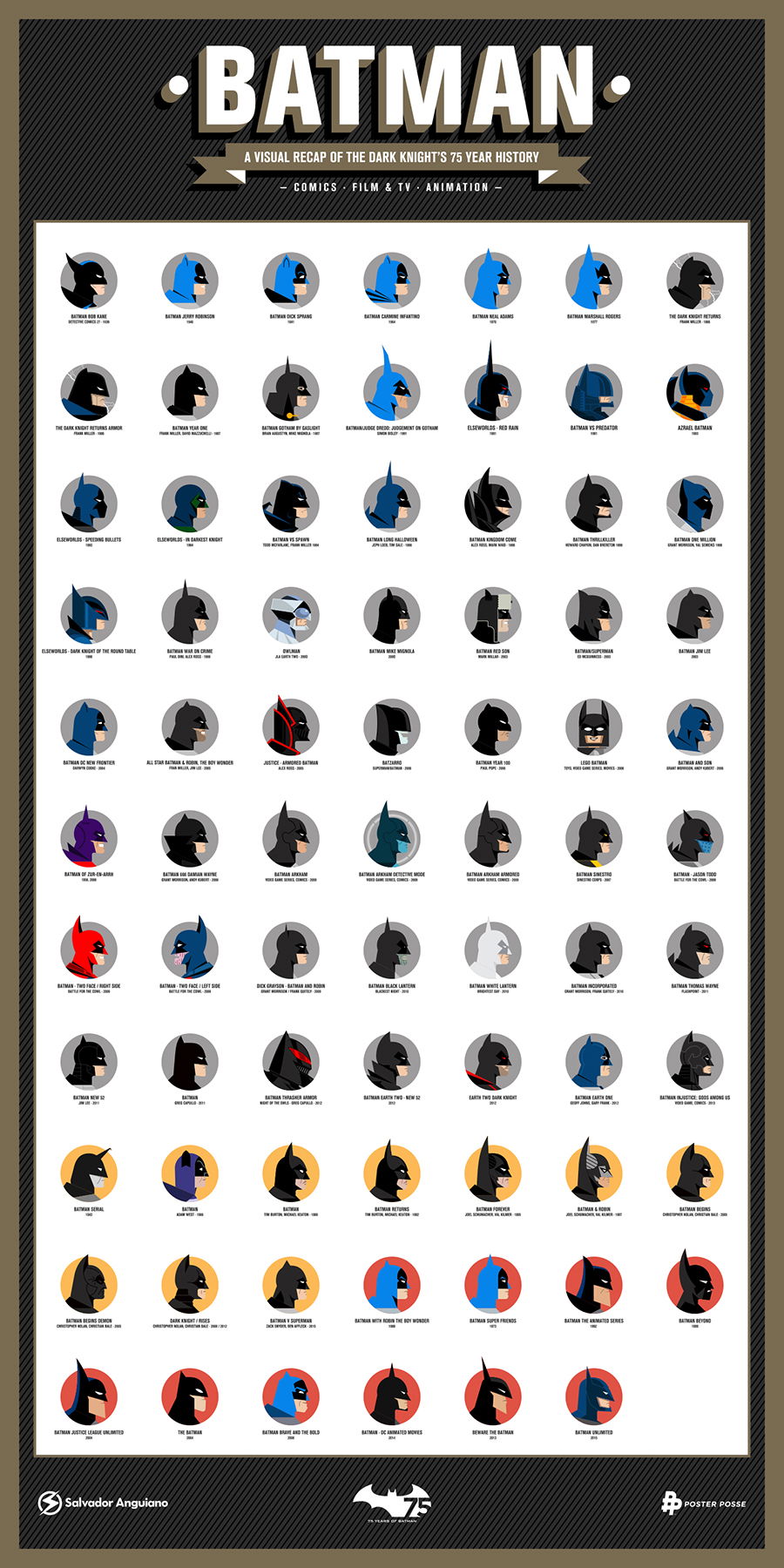 Salvador Anguiano – Mexico  It's pretty safe to say that Sal is a madman.  He voraciously attacked this project with the gusto that only a super hero could muster.   When he told me he was going to do "75 batman images", I'd thought he'd lost his mind.  Then, when he started showing them to me, his evil plan all made perfect sense.  Now I have to admit, I didn't know ALL these versions of the Dark Knight and yes, some are VERY similar to each other BUT, the fact that he was able to justify each and every one of them staggers my imagination.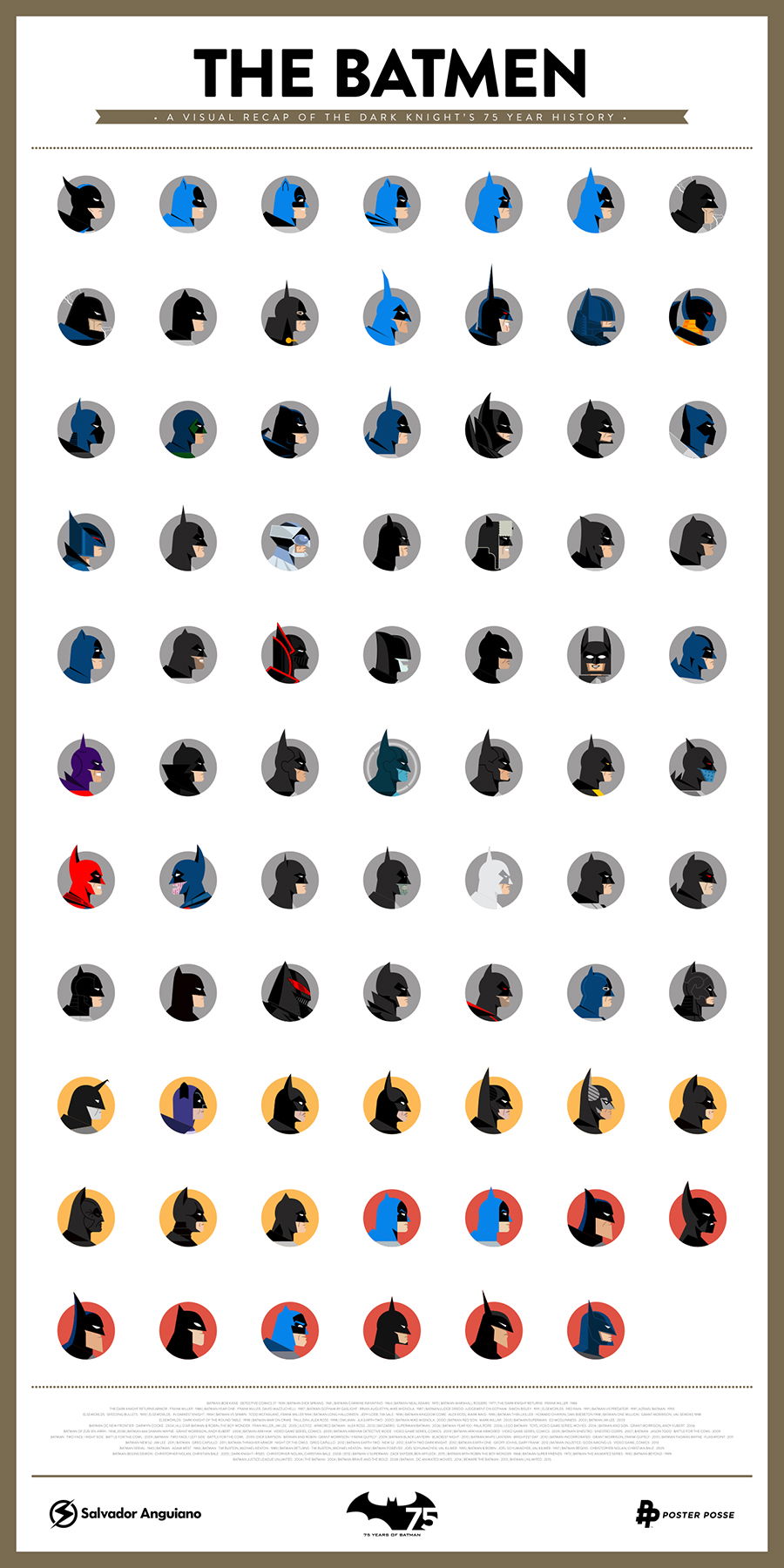 As an added bonus, he even added a cool animated image that shows all the images in succession!  Mad scientist….?   I THINK SO!  (I LOVE when LEGO Batman looks directly at you and smiles.  It makes me laugh EVERY time I watch this.)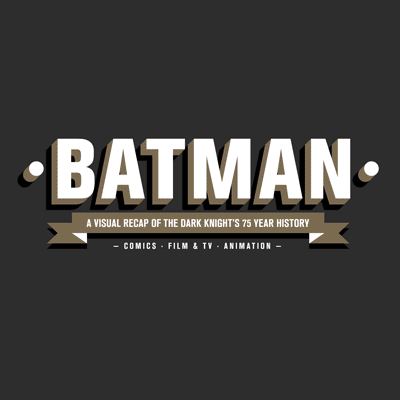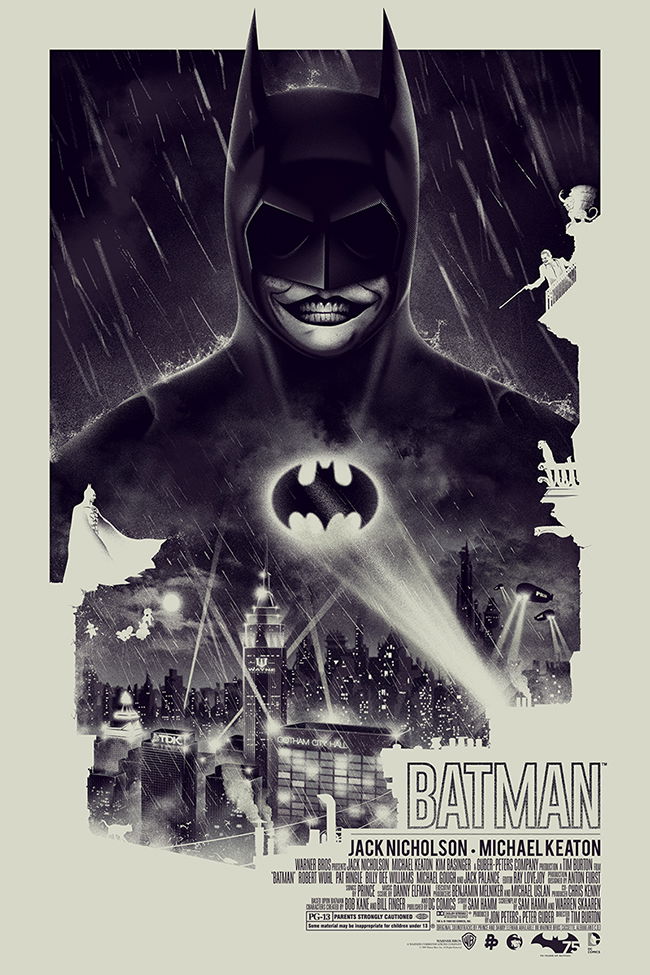 Patrick Connan – France (Regular)  "Tim Burton's 1989 Batman was my first experience with The Dark Knight… First experience and mainly my first VHS!!! My mother gave me this as a gift when I came back from my first school vacation trip in 1990, I was 5. I fell immediatly in love with the characters, that strange atmosphere and the music… Since I'm a huge fan and I've tried to discover all the facets of 'LE' Batman!"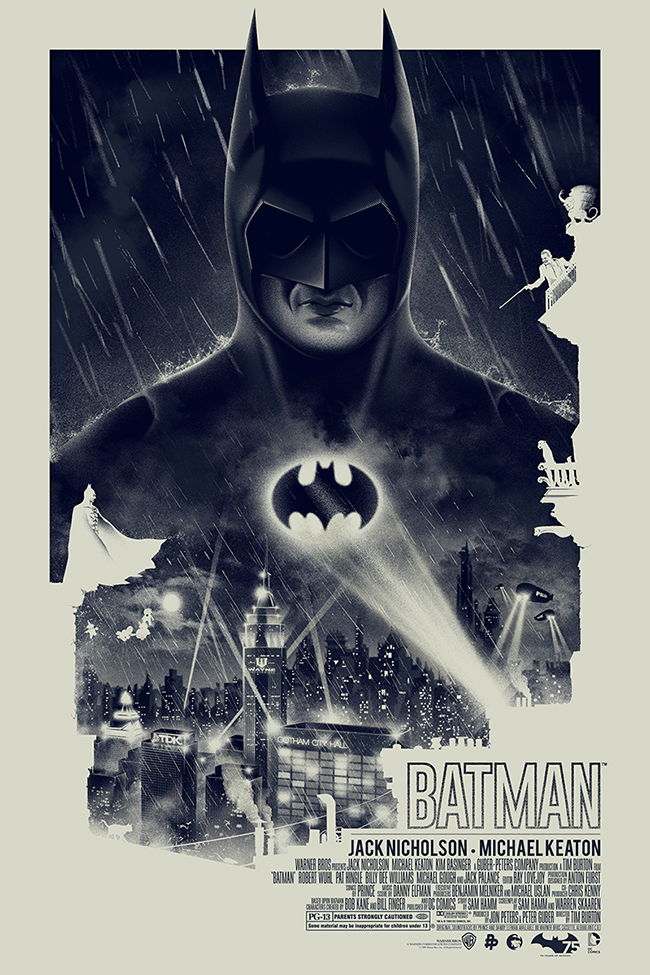 Patrick Connan – France (Variant)  Patrick has provided some great apparel mockups to make us all crazy for a tee with these images as well as some great close ups to really give us some detail an appreciation for what went into these prints.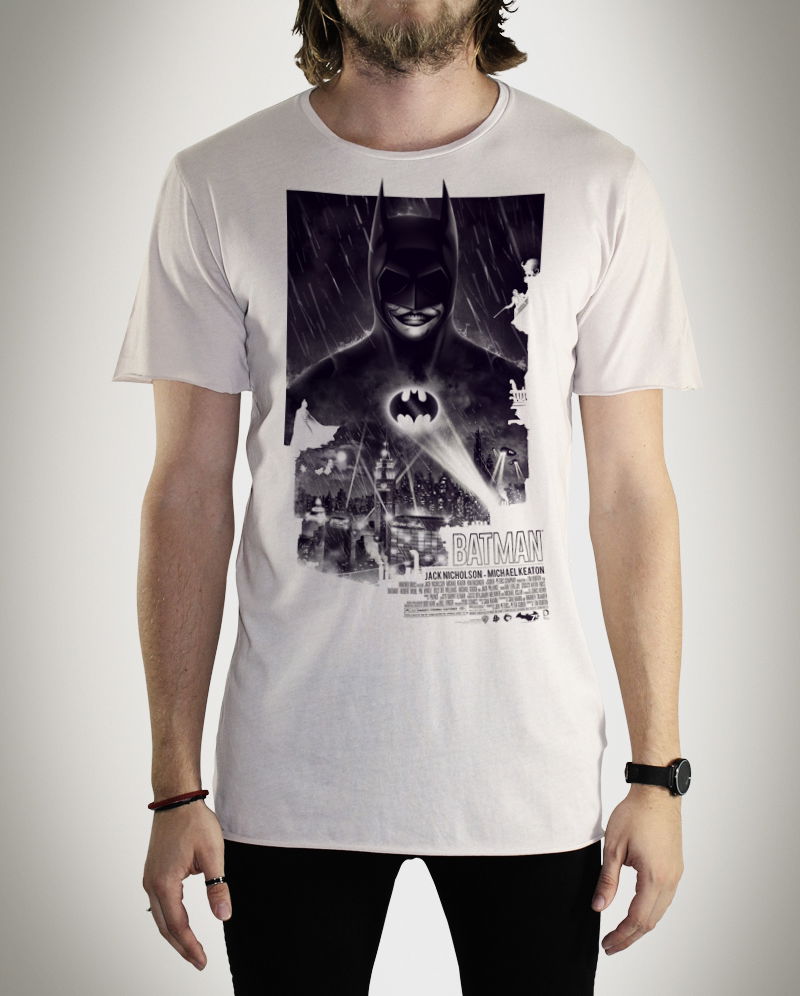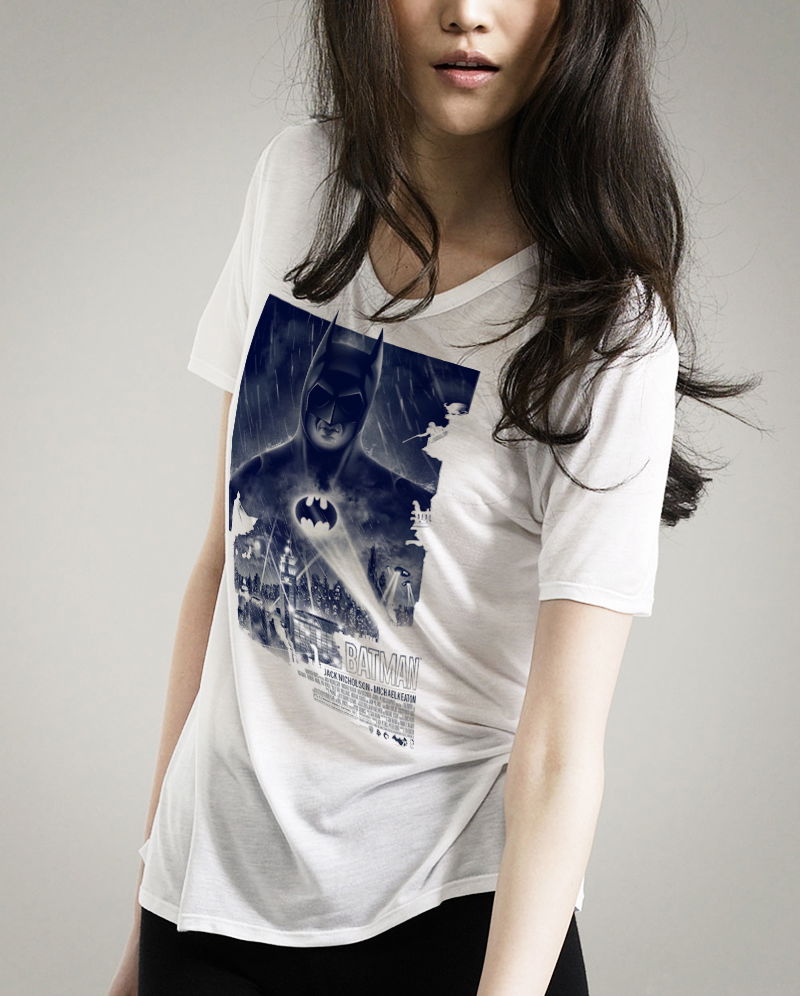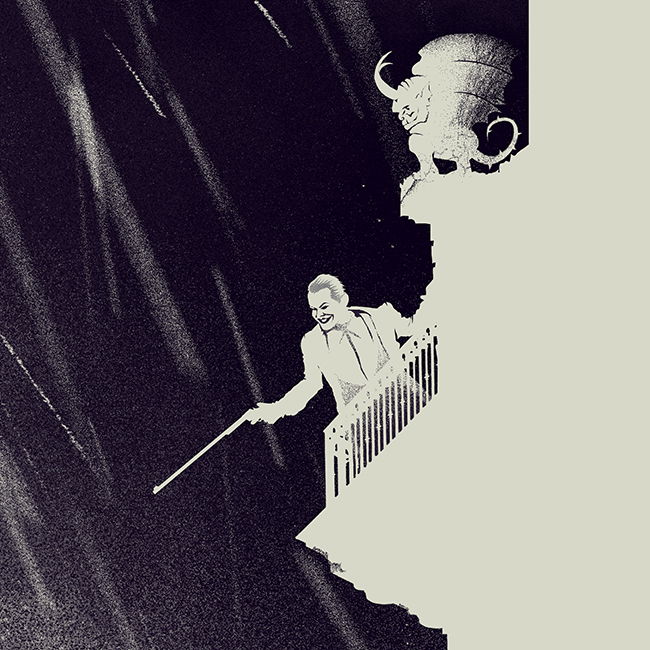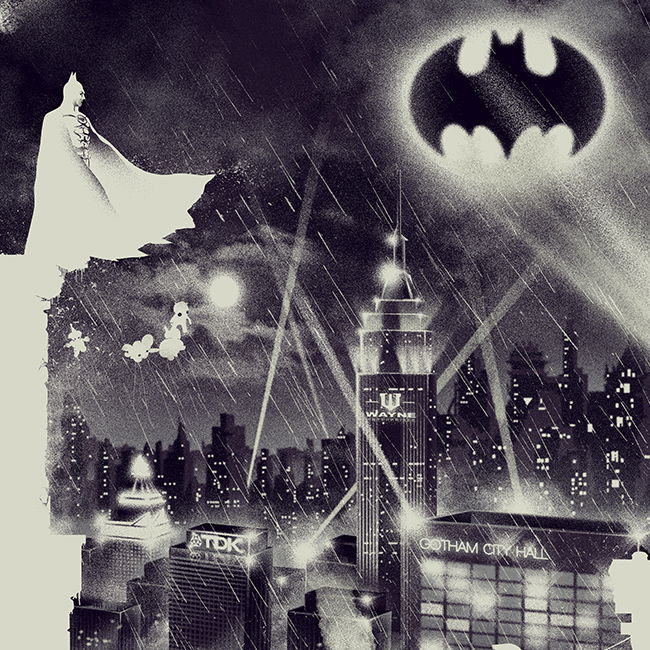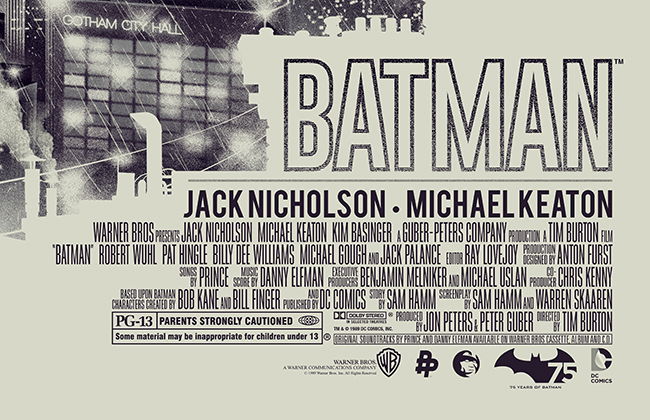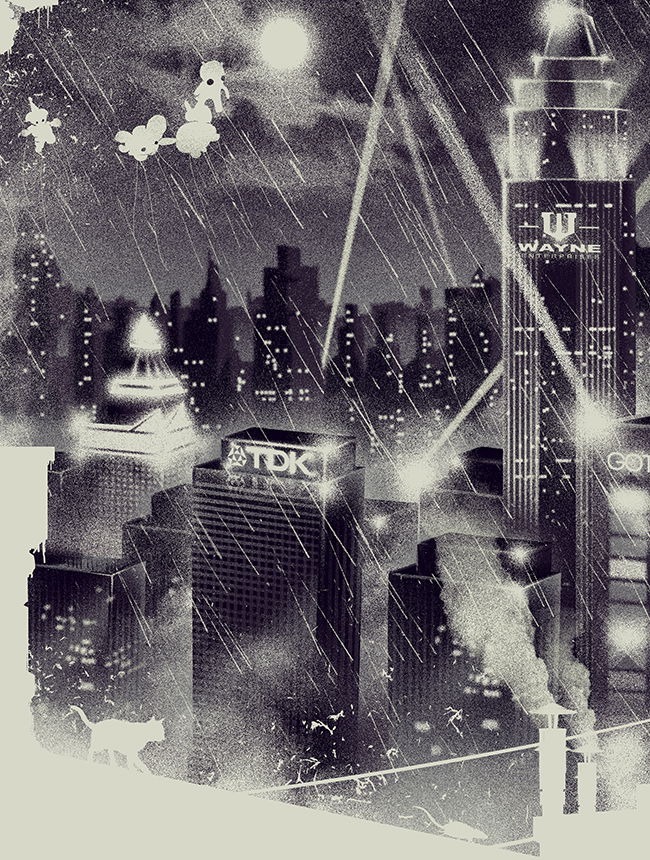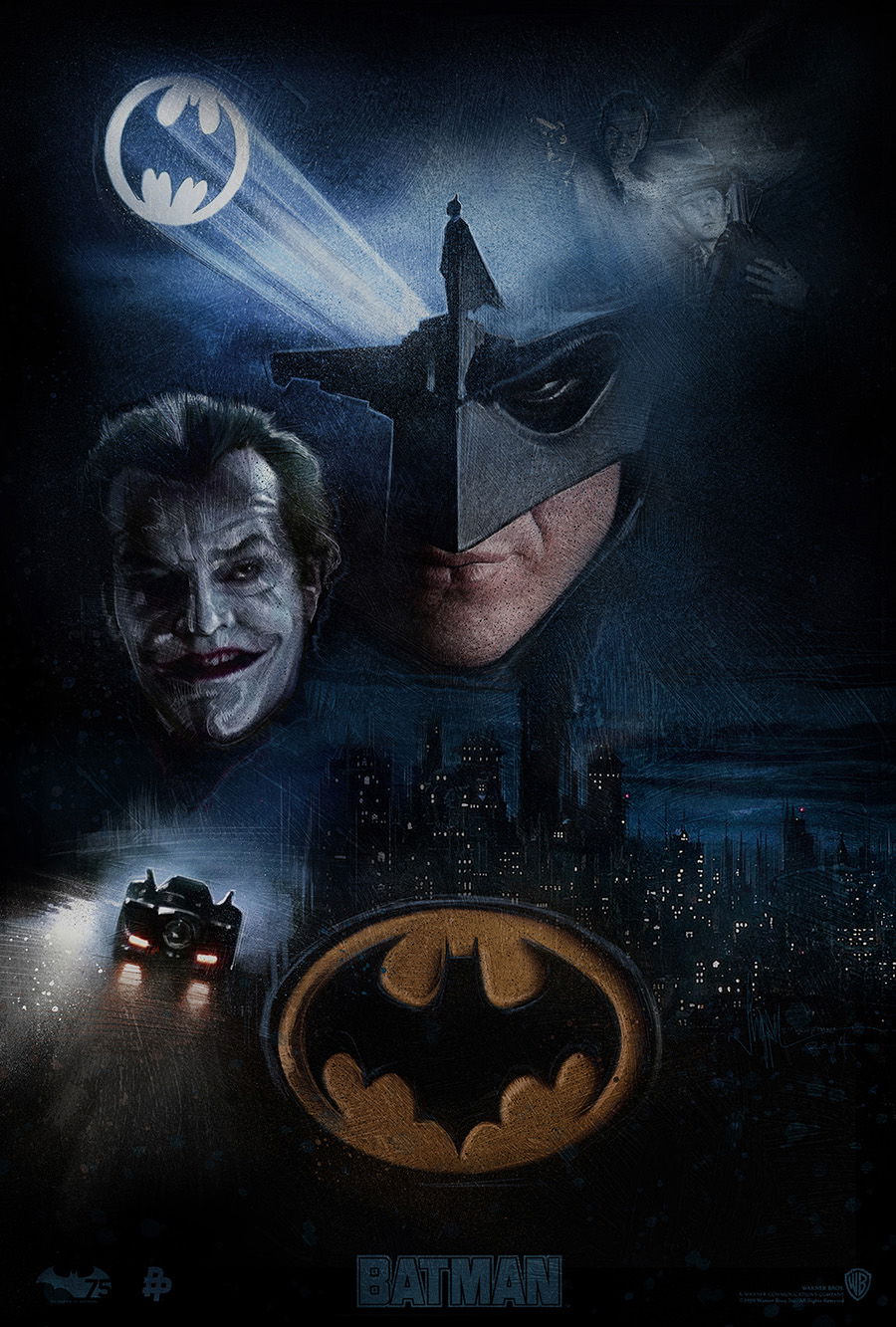 Paul Shipper – U.K.  Paul has turned in another, in a long series, of phenomenal prints.  This one celebrates the 75th anniversary of Batman as well as the 25th anniversary of the 1989 Tim Burton remake.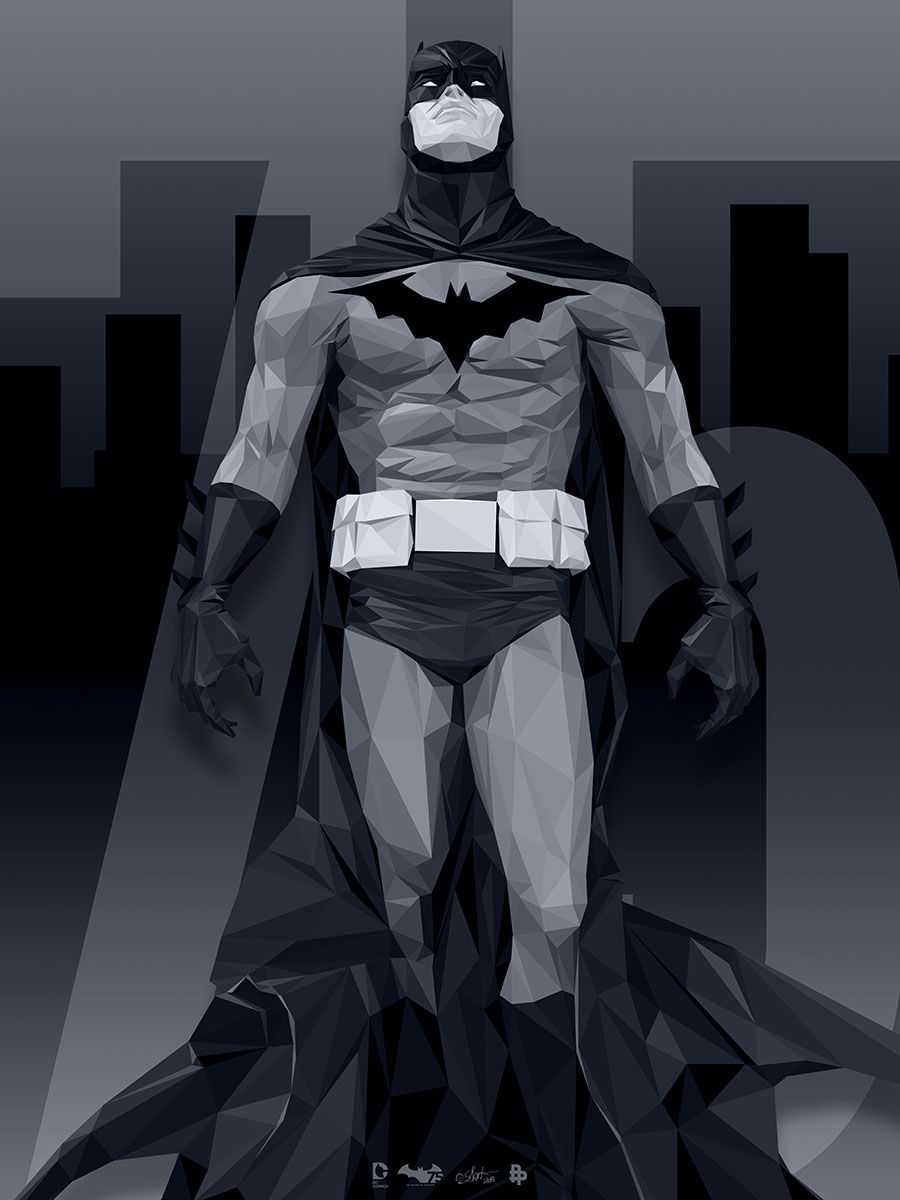 Simon Delart – France  Simon is back with his signature triangles.  This time out he pays homage to the art of Jae Lee with a regular version and a variant version featuring a close-up with the triangle bat logo.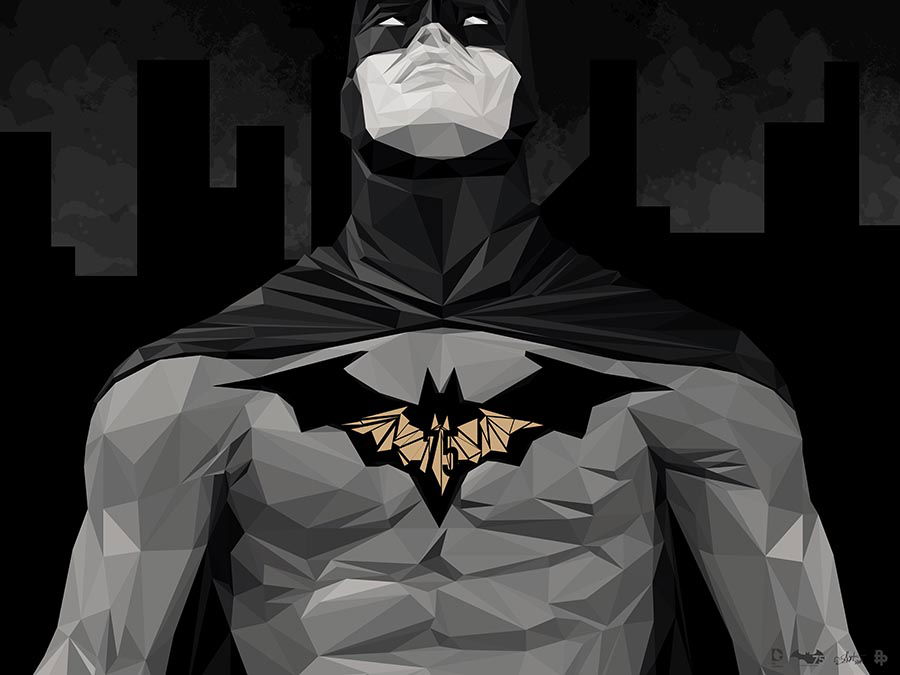 "My anger outweighs my guilt" by Khoa Ho – U.S.A.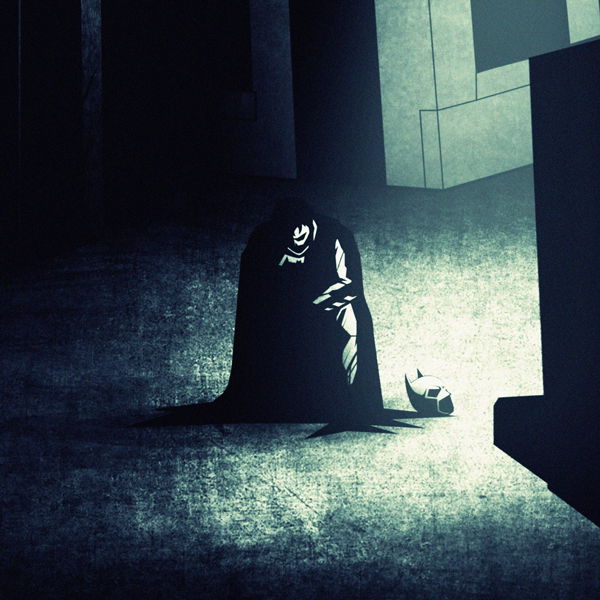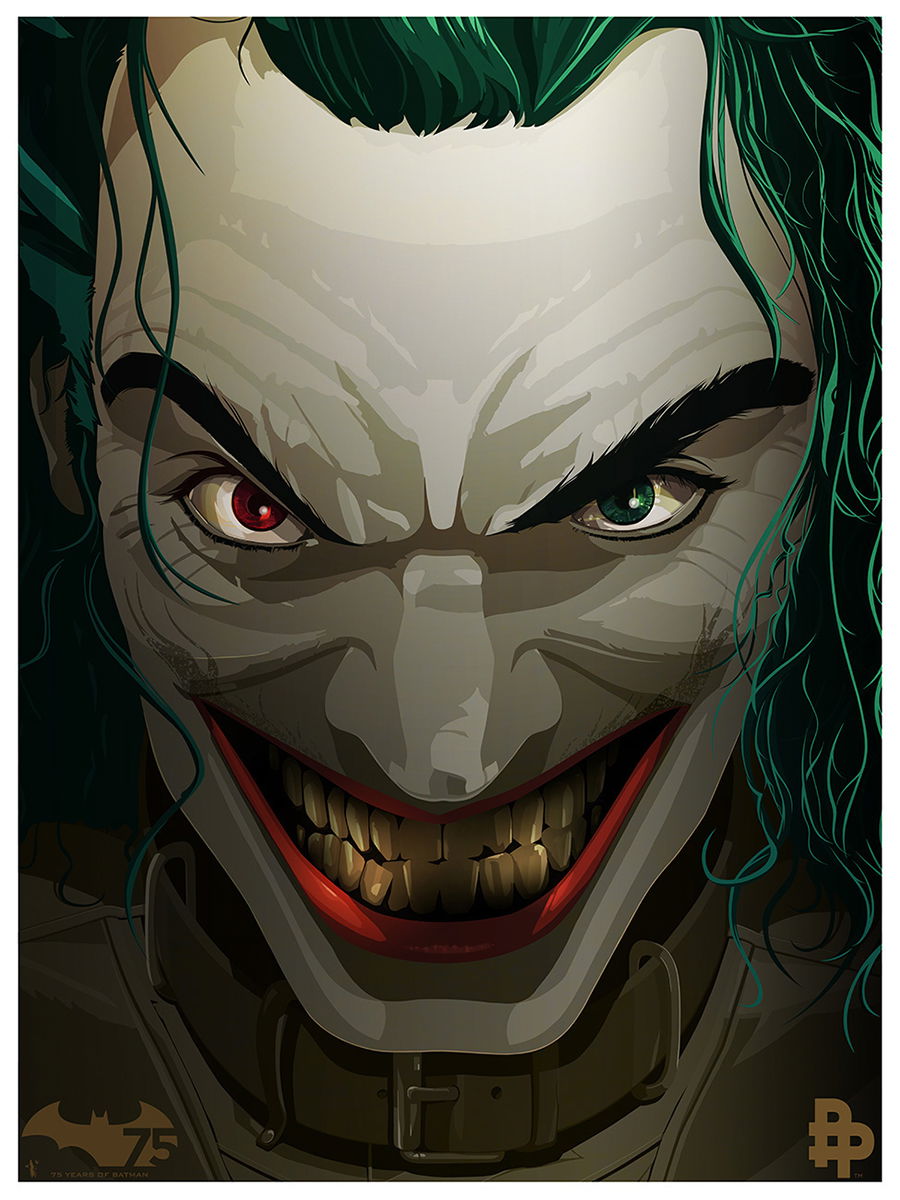 "The Man Who Laughs" by The Dark Inker – U.K.  This one is so wicked that it's hard to turn away from it.  The red eye really helps give the Joker an even more demented look…as if he need it right?  Click the link below to see the rest of the art from Phase 5 including The Dark Inker's "Green Ghoul Variant."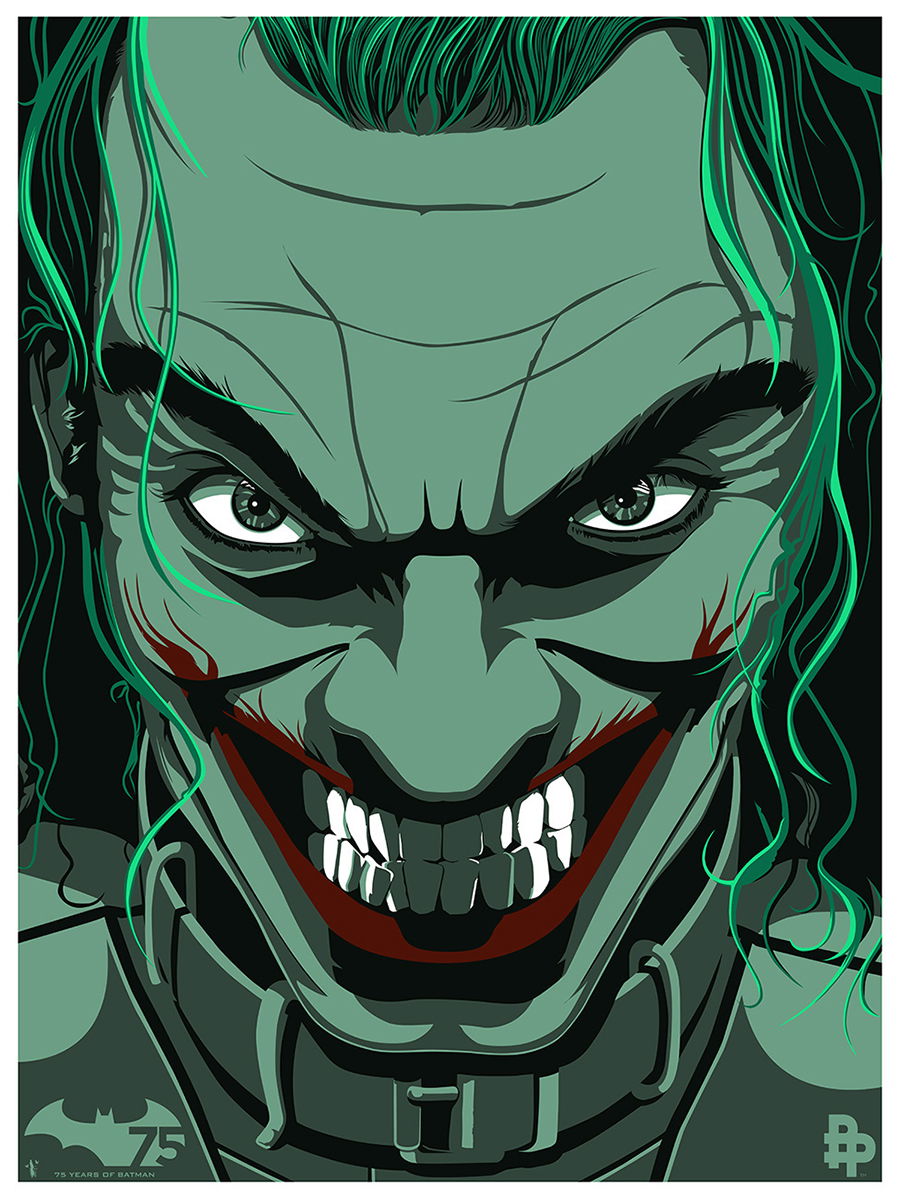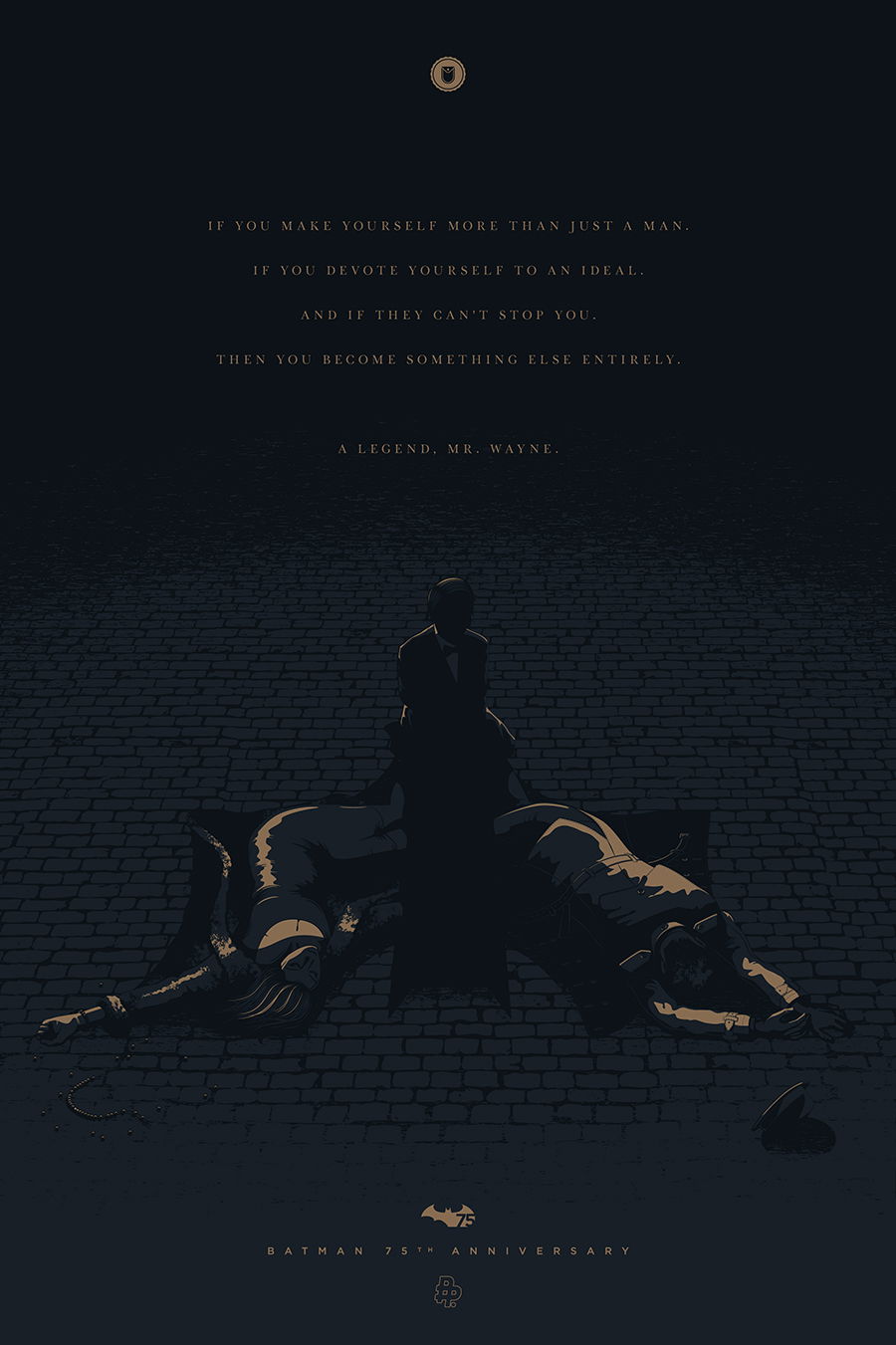 Thomas Walker – U.K. (Guest artist)  We've only recently found Thomas' work but as soon as we did, we KNEW we wanted him on this project.  As expected, he has turned in a sensational regular and variant color edition for the project.  Both are gorgeous but I REALLY want that blue variant!  Read below to see what Thomas had to say about the project.
Thomas Walker: BEHANCE, SOCIETY 6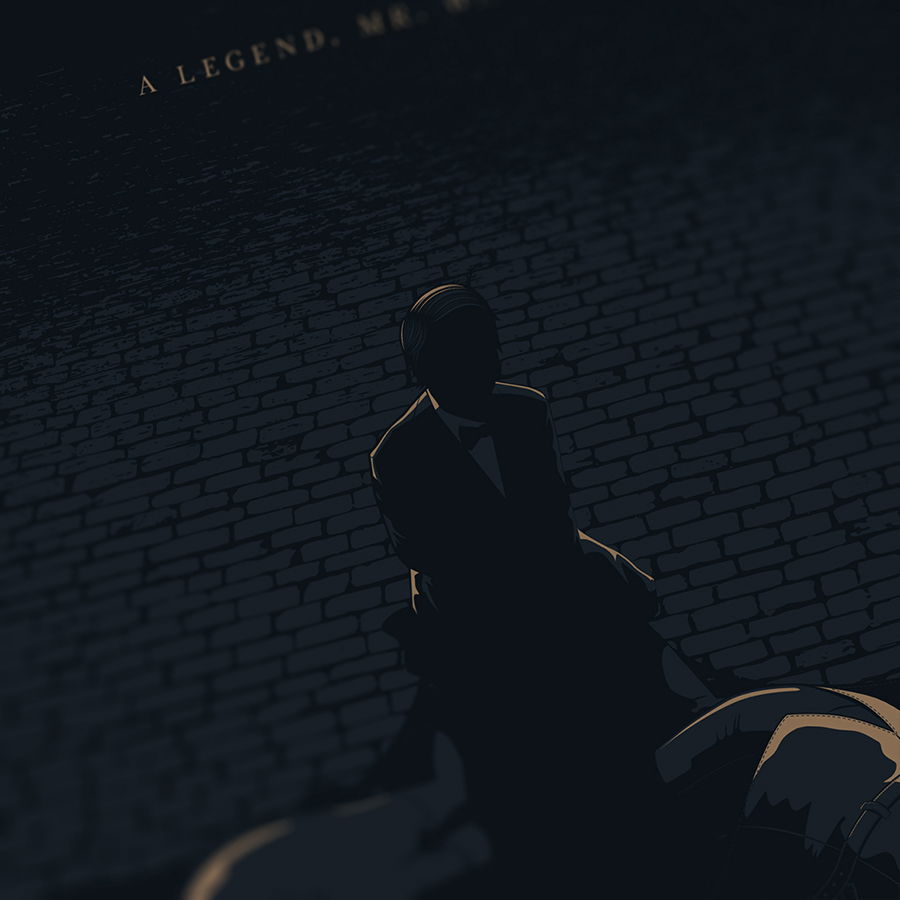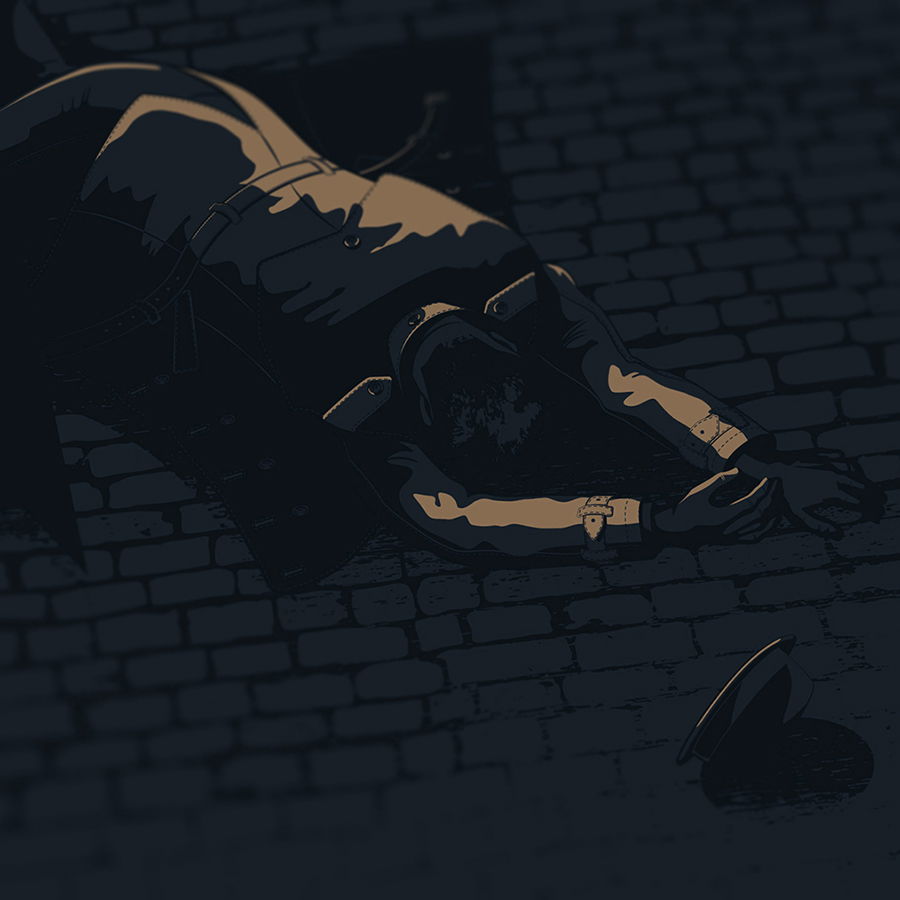 "Through all the Batman incarnations I've always been more intrigued and invested in the character of Bruce Wayne, much more so than when he actually dons the cape. Scribbling down every facet of the character I was drawn to his origins and particularly the very root of the Caped Crusader's inception; the murder of his parents, Thomas and Martha Wayne. I then looked for a way to visualise the genesis of the Bat Man, both through the loss of his parents and the motivation from Henri Ducard/Ra's al Ghul (hence the quote). I wanted to challenge myself to create a Batman poster that didn't actually feature Batman."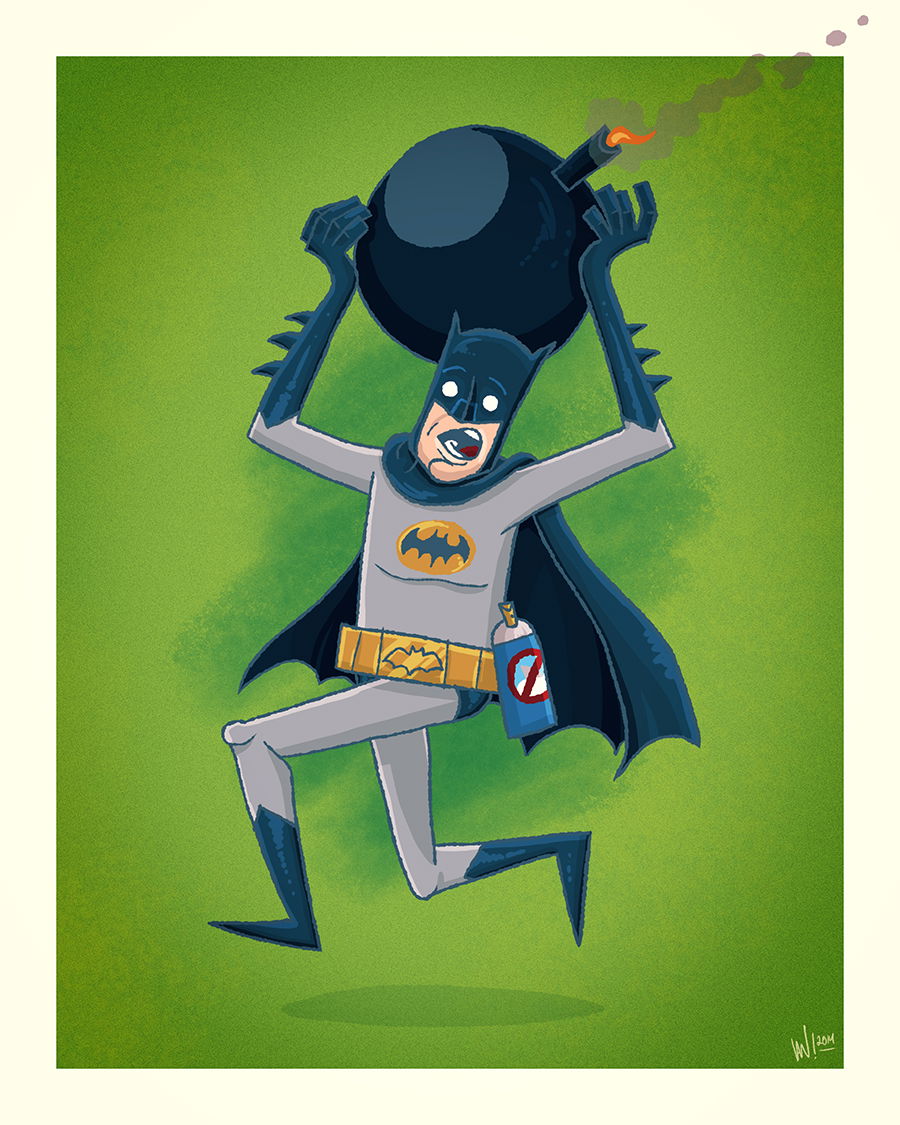 Ian Glaubinger – U.S.A. (Guest Artist)  Ian gave us his whimsical take on the 60's TV version of Batman who was played wonderfully by the incomparable Adam West.  Ian  has a VERY limited edition run of 15 archival giclee prints for $20 each. Anyone interested can email him at ianglaubinger@gmail.com to get one!
Florey – Austraila  Here is the last image in Florey's "Joker Series."  As we've stated before, we REALLY hope he delves back into this foray with follow up series in the same style.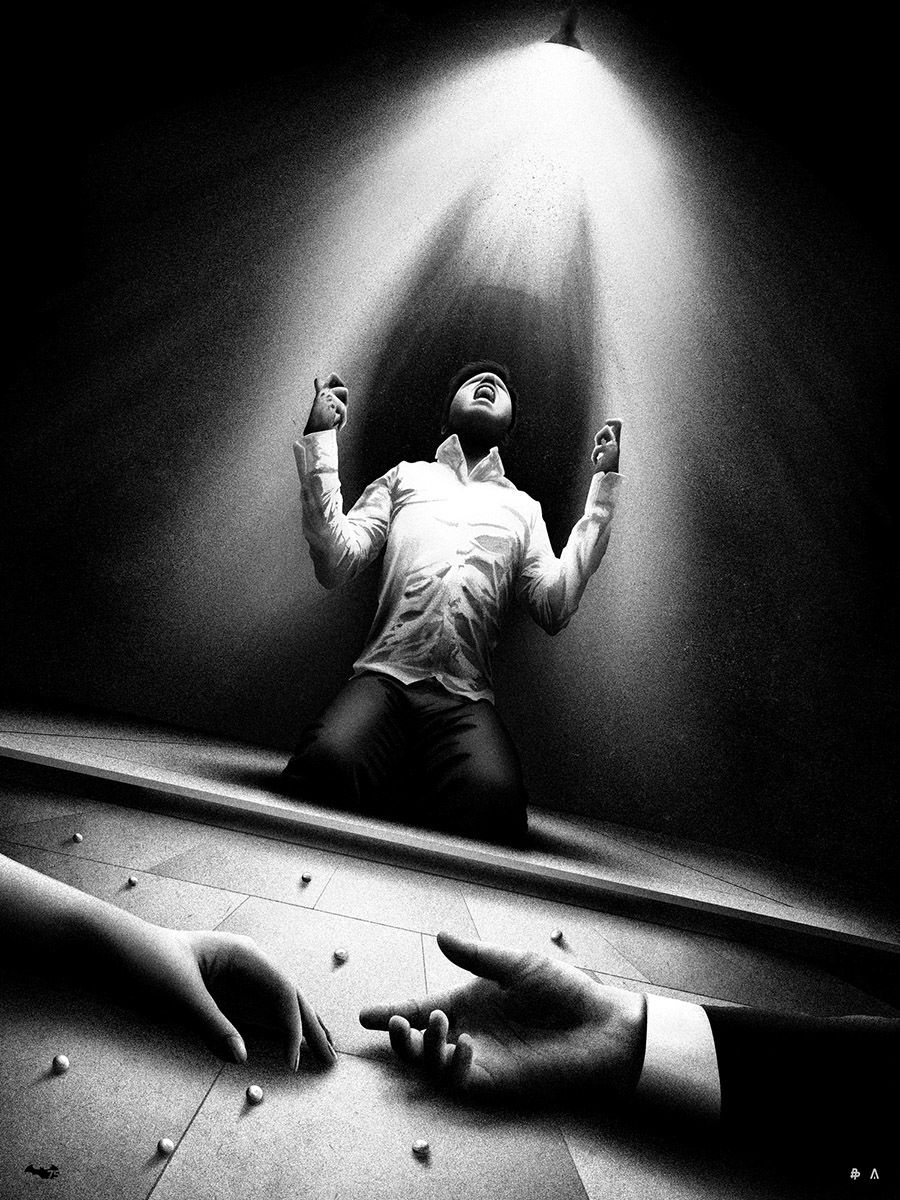 Tom Miatke – Australia (Black and White Variant)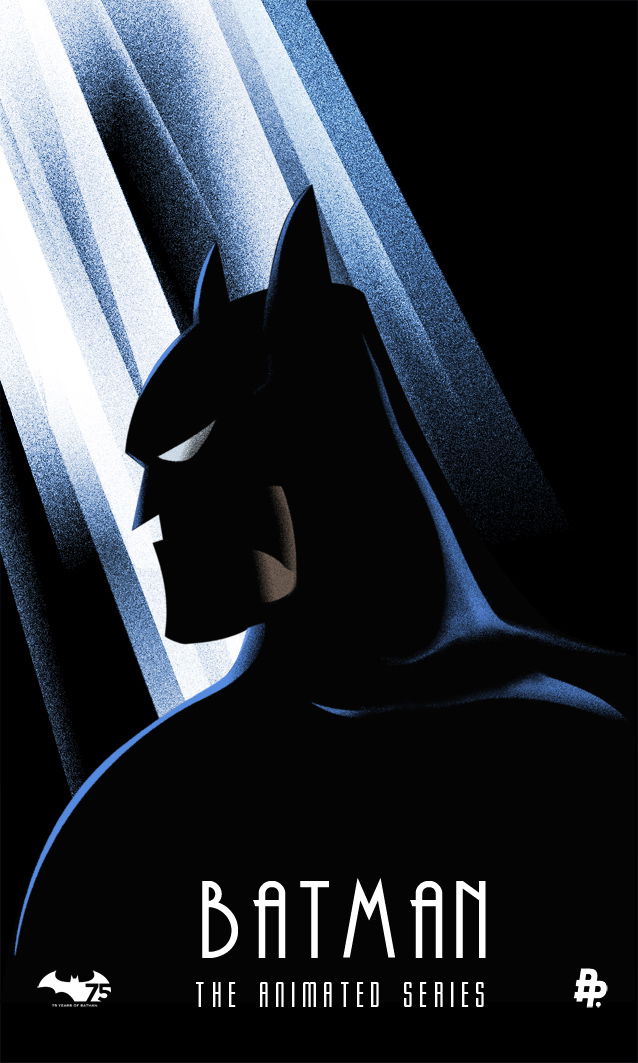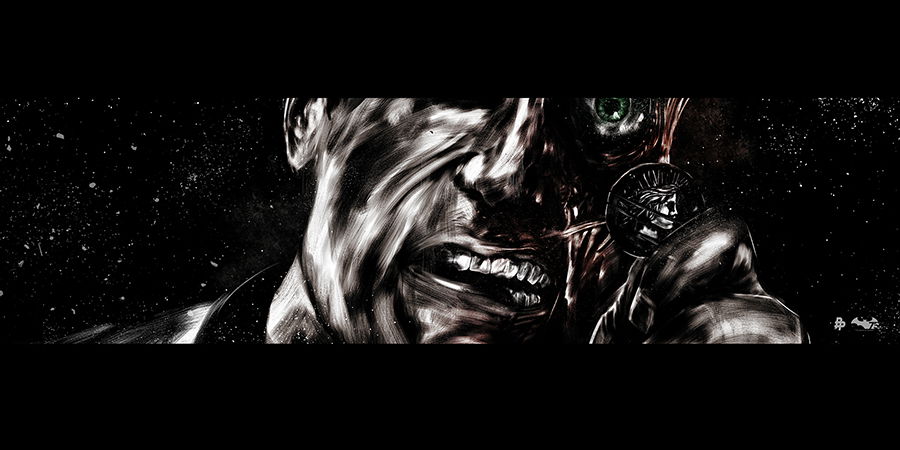 "Harvey Dent" by Luke Butland – U.K.  "It has been 75 years of the Bat and over that time he has faced of against some of the most iconic villains in comic book history. These villains have helped mould and shape the Batman universe into what it is today, They have broke him, beat him and in some cases loved him. With this series I wanted to focus on these villains and give each of them the spotlight in their own individual prints. I give you The Rogues of Gotham City !!"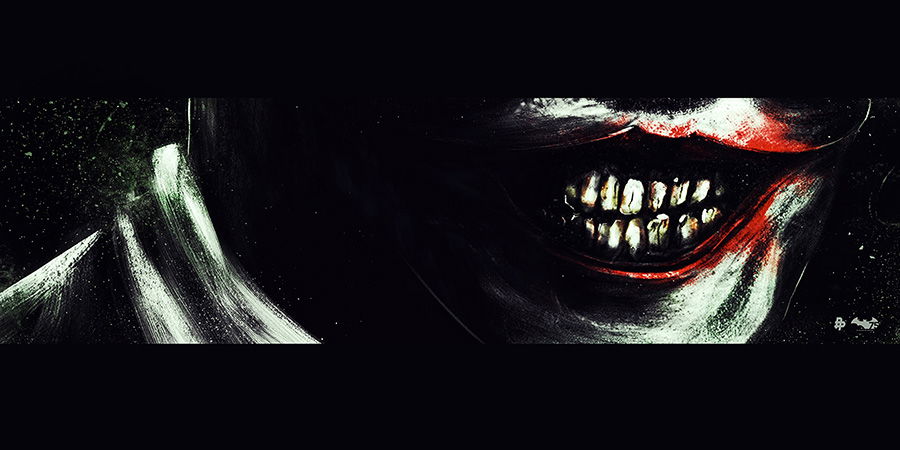 "Joker Variant" by Luke Butland – U.K.  "The Jokers known for many things but its that smile that defines him, and I couldn't help but create a print that was just dedicated to the creepiest grin in the game."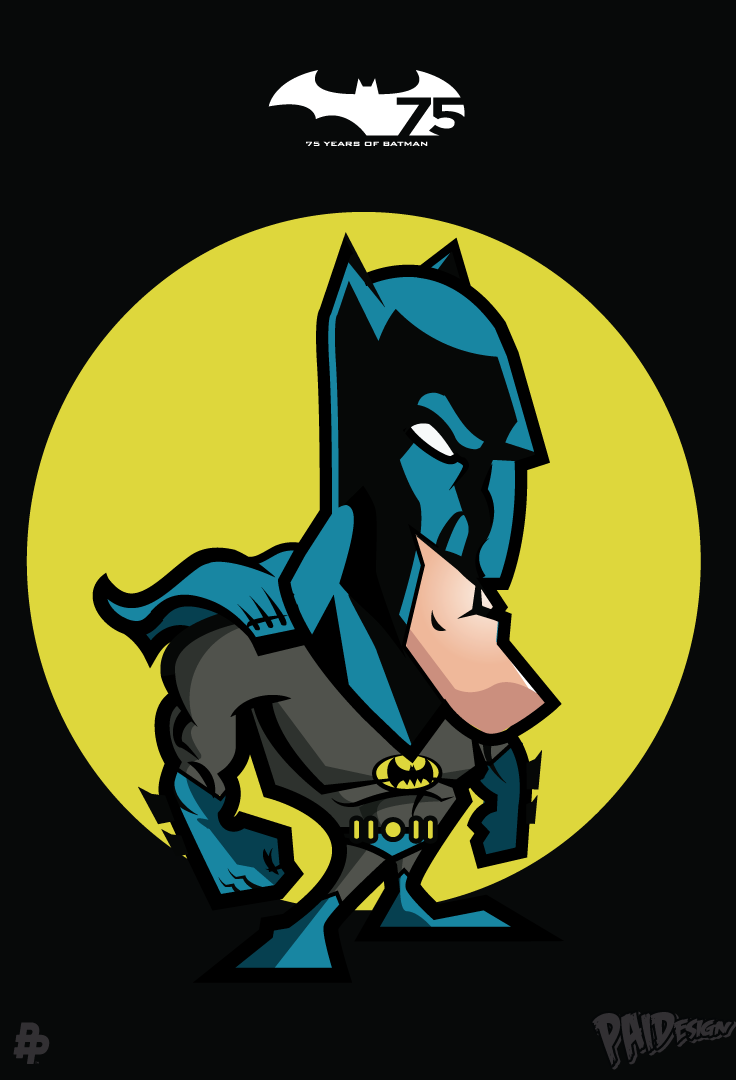 "Napoleon Complex Batman" by Paul Ainsworth – Canada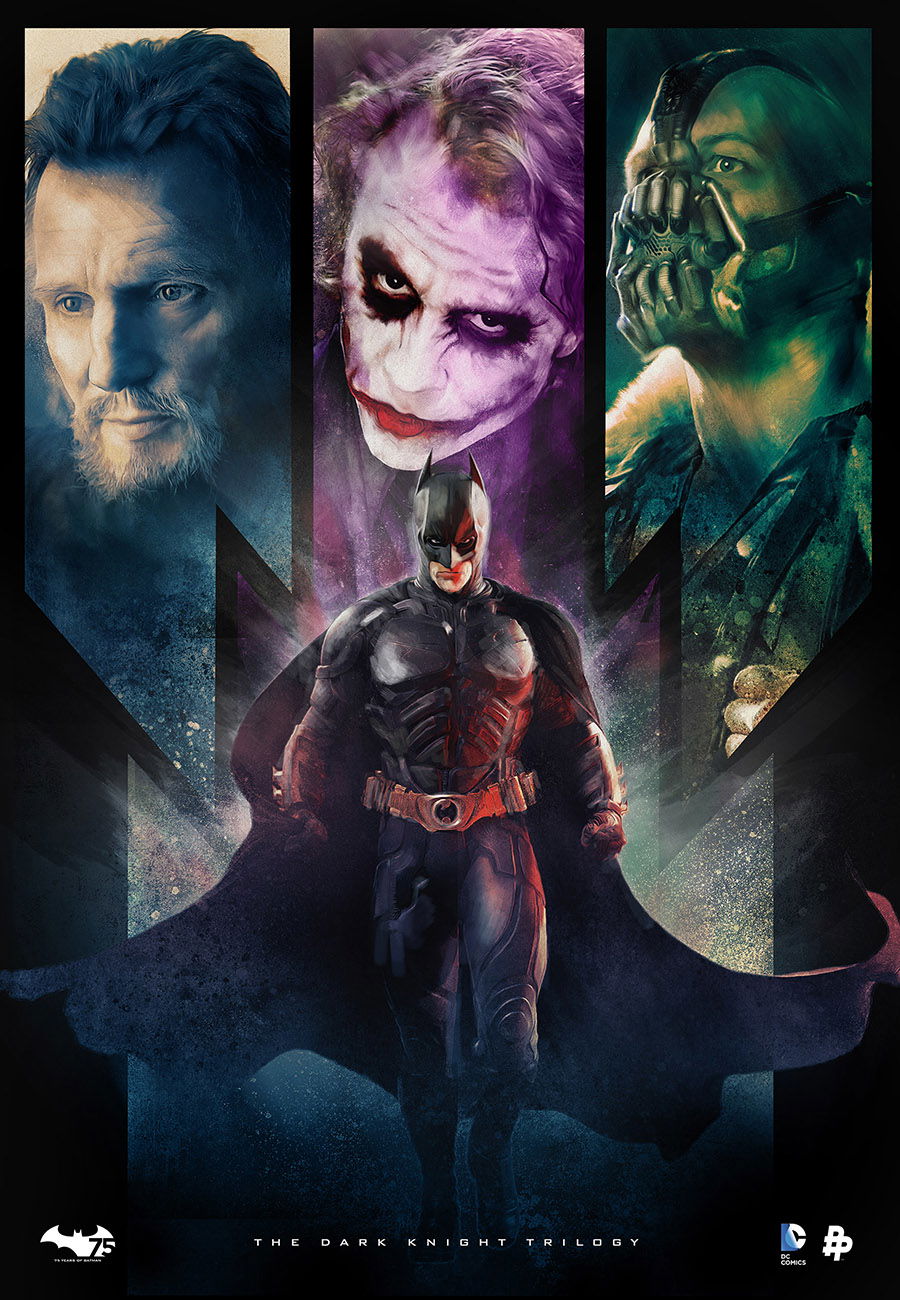 Rich Davies – U.K.  Rich is a self proclaimed "HUGE FAN" of Nolan's trilogy and it shows.  I'd venture to guess that if Nolan saw this image, he would be a huge fan of Rich Davies!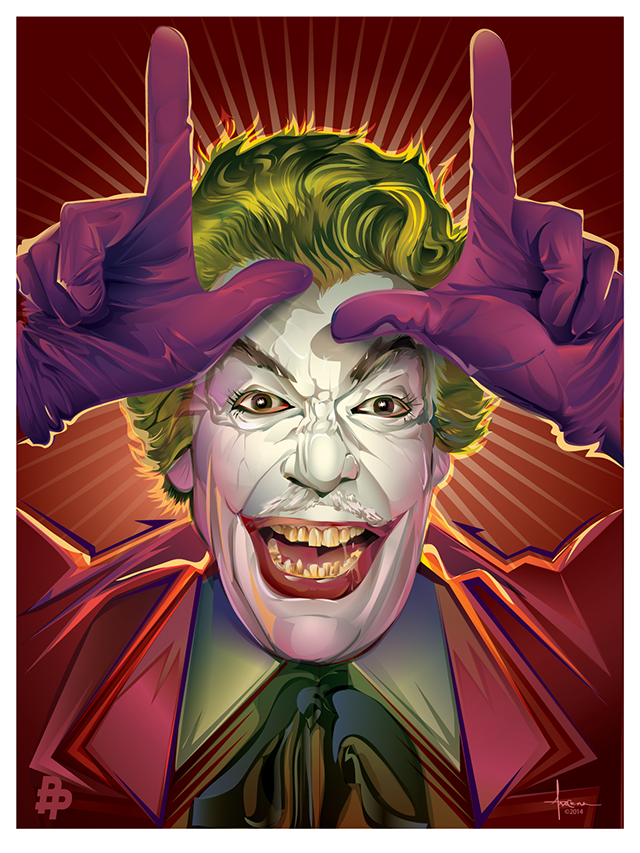 "ARKHAM CELEBRATES 75 YRS of the BATMAN" by Orlando Arocena – U.S.A. Having grown up watching and absolutely LOVING the Batman TV series with Adam West and Burt Ward, these prints take me down memory lane.  I LOVE that Orlando included Cesar Romero's painted over mustache, and when I look at the images I can hear the Penguin's ak-ak-ak,  along with Frank Gorshin and Cesar Romero's laughs.  Read below to hear what Orlando had to say about the project.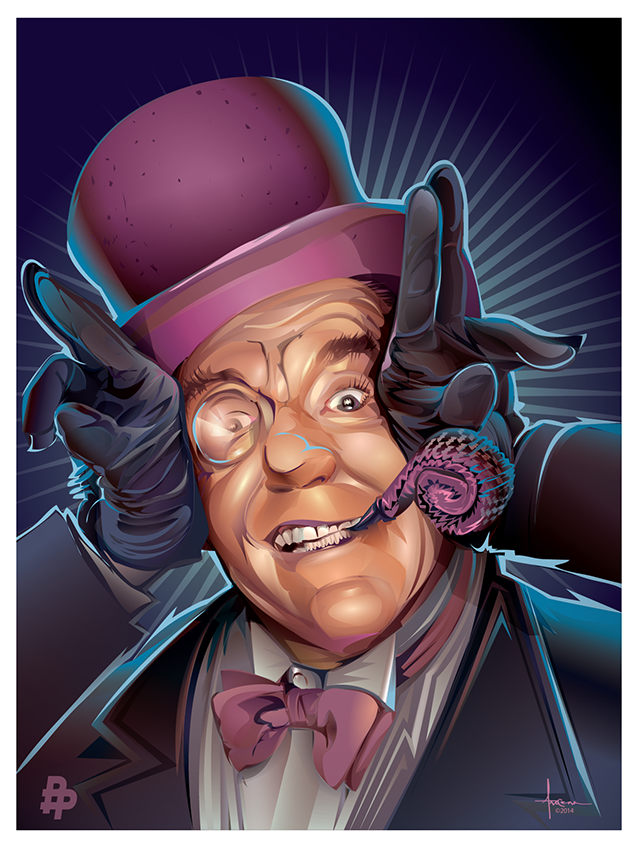 "ARKHAM CELEBRATES 75 YRS of the BATMAN"….Vector Series WIP – (More to come but here are the first 3)- I decided to shift gears with this particular vector tribute. Its a portrait – based parody- consisting of the villains from ARKHAM poking fun at Batman. Dressed in the Batman period from my earliest memories…the 1960's TV show.  Keep both eyes open, this tribute might get pretty lengthy.  Cheers and good luck in all that you do~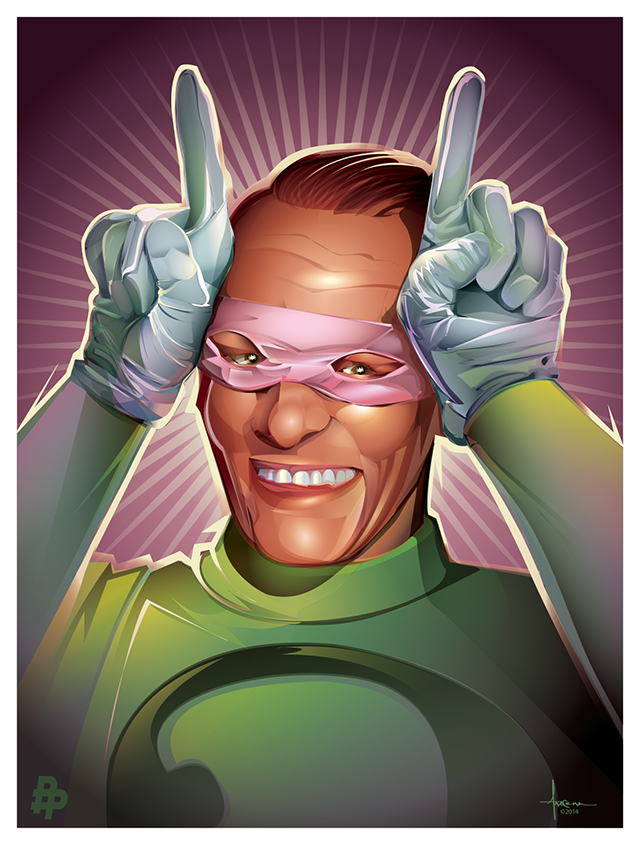 If you look closey, each villains eyes tell you just WHO they are mocking….as if there were ANY doubt!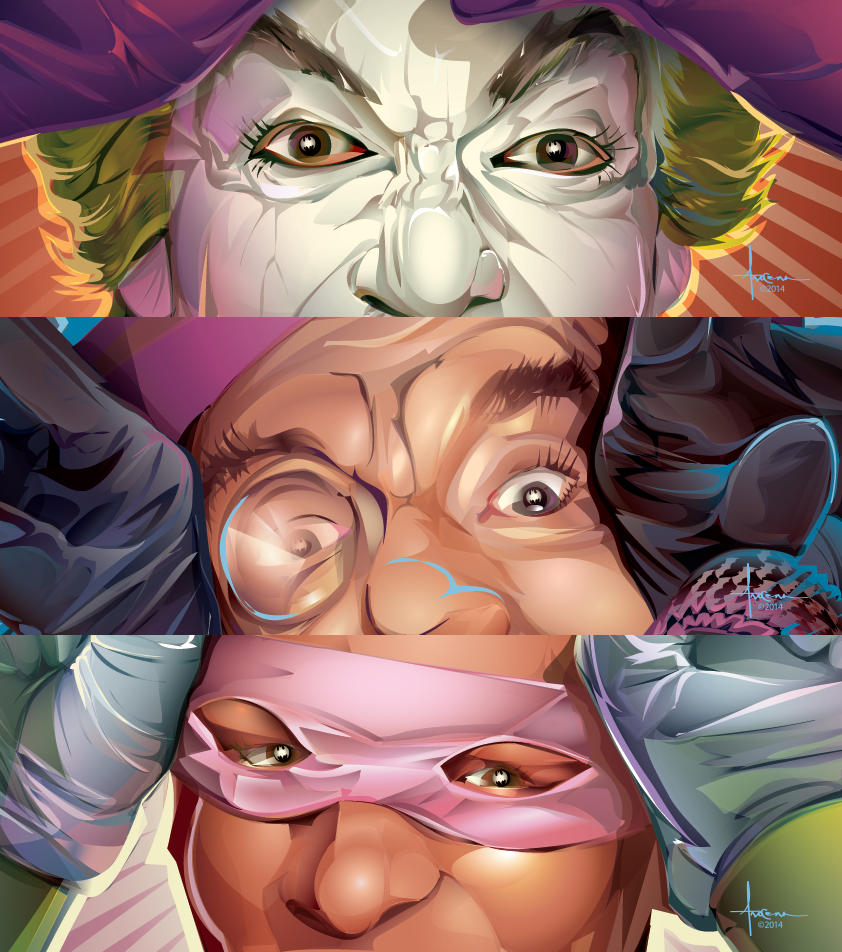 YES!  Of course, in my mind, when he says, 'more to come', I INSTANTLY hope for a hole slew of TV series villains including, Catwoman, Mr. Freeze, King Tut, Mad Hatter, Egghead, Queen of Diamonds, Shame, Louie the Lilac, and Zelda the Great.  (Did I forget one? I feel like there is one more.)  Anyway, we are keeping our fingers crossed and WHEN Orlando releases more of these, we will share them with you.
There you have it.  5 days packed with pure Batman-mania.  As always, I have to give a huge shout out to the Poster Posse for their efforts.  They always go above and beyond to make these tributes special and it is our honor to share their talents with you.  Another huge shout out to all the guest artists who helped add even more incredible art to this massive project.  (AND for keeping it a secret all these weeks!)