We want to start off by saying that WE believe that 'Guardians of the Galaxy' will be THE biggest movie of the year and we predict that they will announce #2 VERY shortly after the opening weekend.  That being said, it only made sense that the Poster Posse would release a cavalcade of glorious art paying tribute to James Gunn's vision of a bunch of 'a-holes' in outer space.
When I first announced this title to the group as an upcoming project, they all agreed that THIS was going to be a blast and after seeing all the art, it looks as if they ABSOLUTELY had a great time coming up with some sensational images.
We have a few new Posse members and even a guest artist contribution for this offering and I have to say, I want ALL of these on my walls!  I promised "Original 8″ member, Matt Ferguson, that I would start things off with his BRILLIANT mash up.  Truth be told, he had this one done for some time now and has been DYING to share it.  I somehow managed to placate him until the launch and now I am pleased to reveal not only his masterpiece but all the art for Phase 1.


We asked Matt about this perfectly executed mash up and here is what he had to say.  "I can't think of a film I have been more excited about in years. When asked to make a poster for the Poster Posse based on 'Guardians Of The Galaxy' I thought to my self 'Why am I so excited about this film?'. This led me to think about the way it has been marketed as an old school space romp akin to Star Wars and other films of my youth… then I had a lightbulb moment and realized 'Why not just do a Star Wars mashup!?!'. My favorite Star Wars poster is definitely the classic Tom Jung design for the first film, so I just did that. Simple really. I have a goood feeling about this movie."


Well Matt may have a "good feeling" about this movie but I have been loosing sleep sitting on this amazing print.  My desire to share it was almost my undoing but alas, here it is, in all it's glory.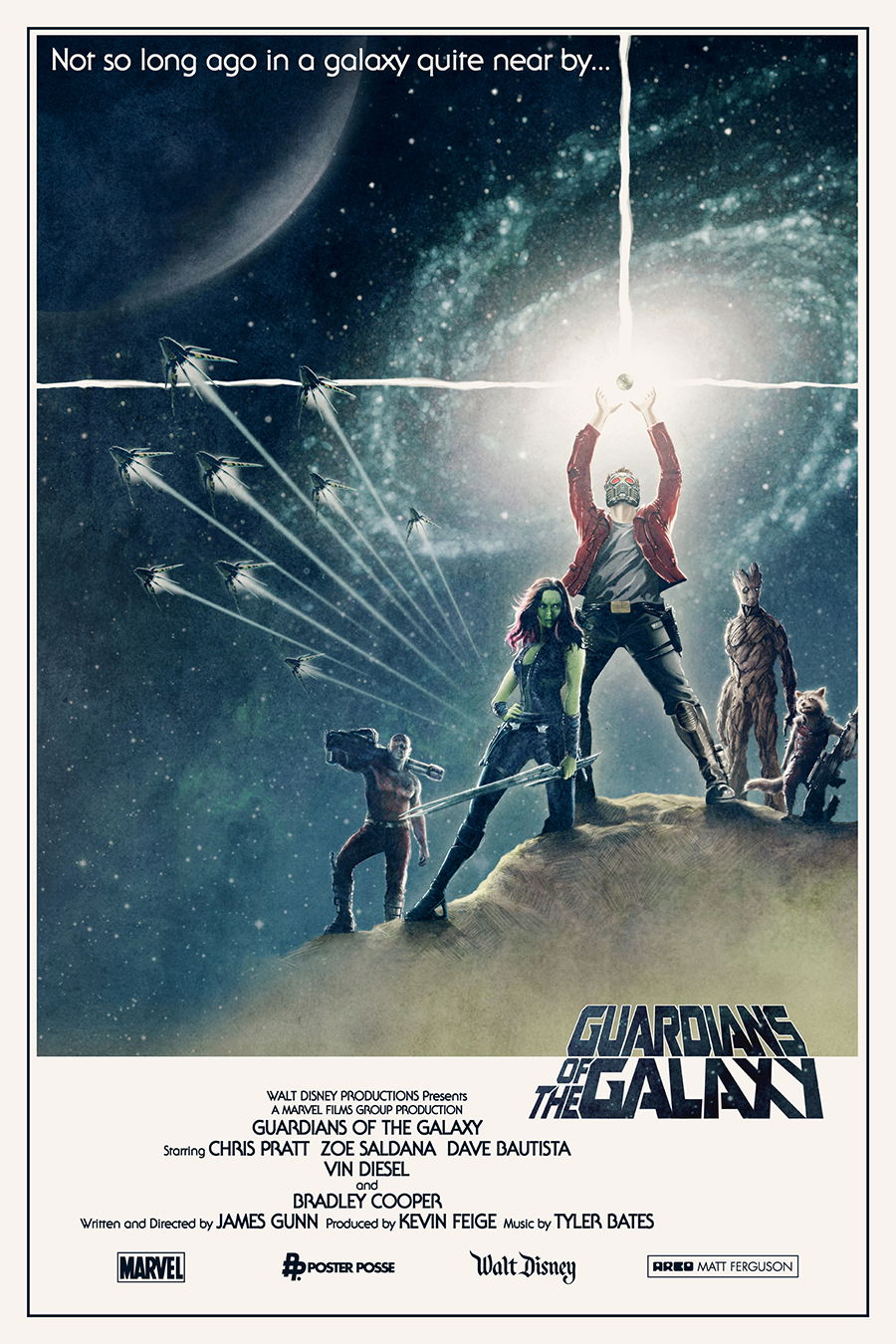 If there is someone, James Gunn….ANYONE at Marvel that I can BEG to get this made into an official print, I'd be able to die a happy man.  This print belongs on fans walls.  The homage to the classic work of Tom Jung combined with the current day vision of Marvel and James Gunn make this a must have print!  Aside from being an awesome print….it would look pretty damn good as a tee as well….just saying…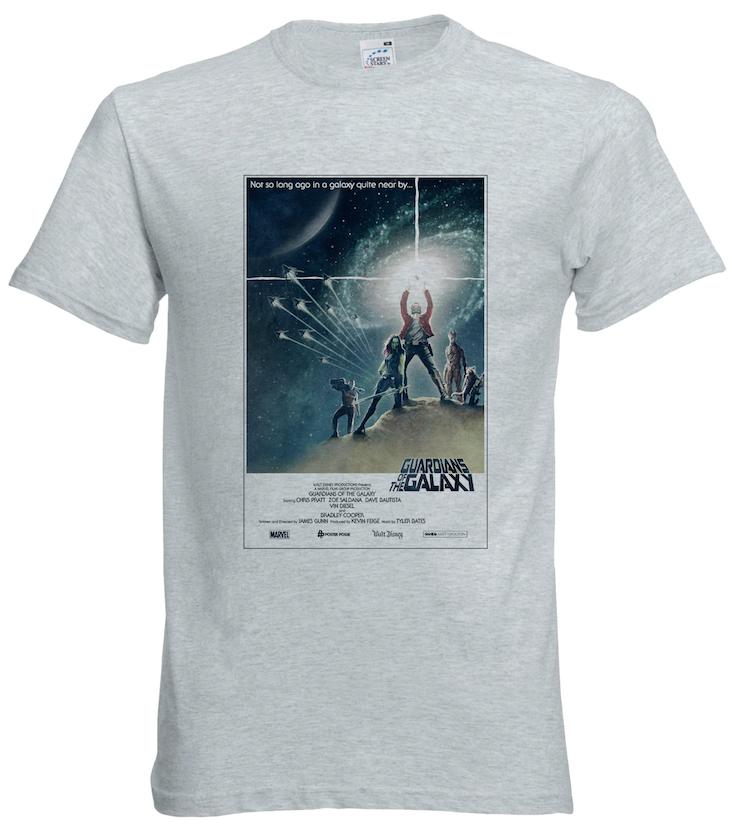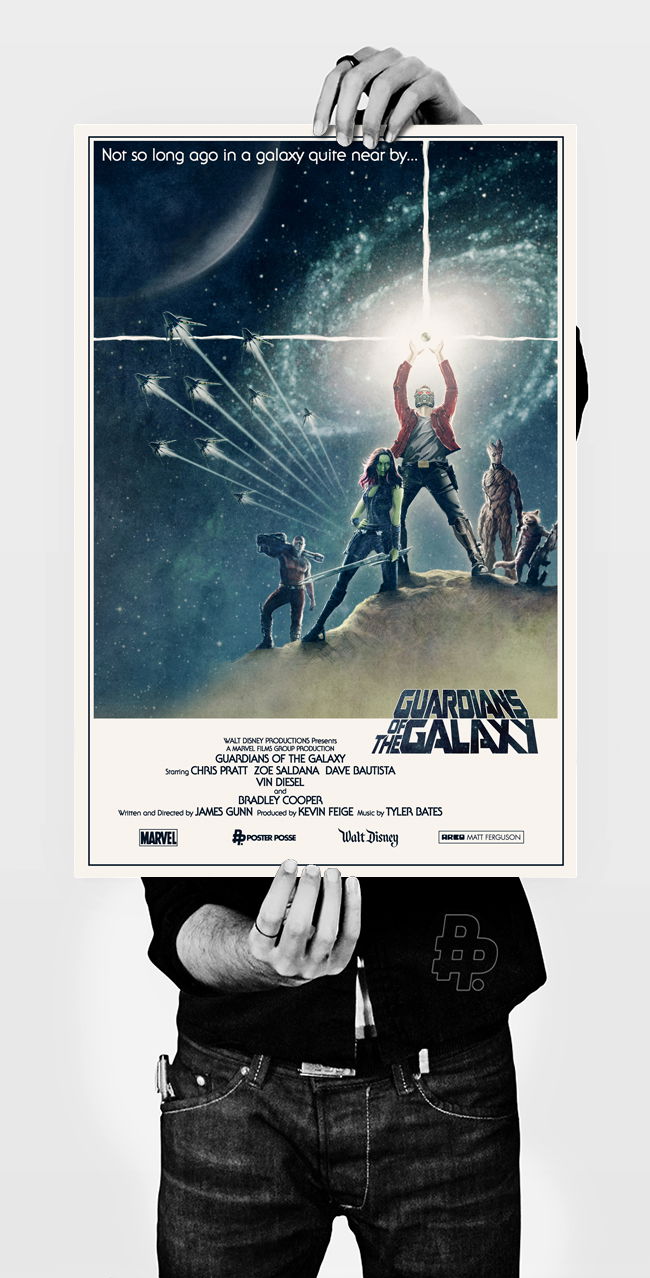 (Ok, Ok… I'll get off my soapbox and show you some MORE insane art that ALSO needs to be on your walls.)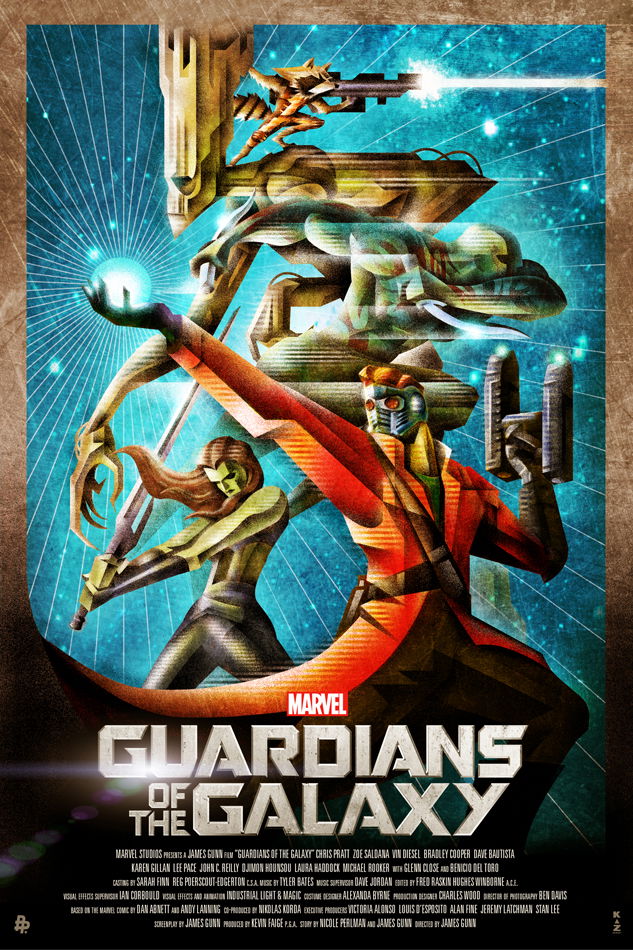 Kaz Oomori – JapanKaz's distinct style and perspective fits PERFECTLY with this movie.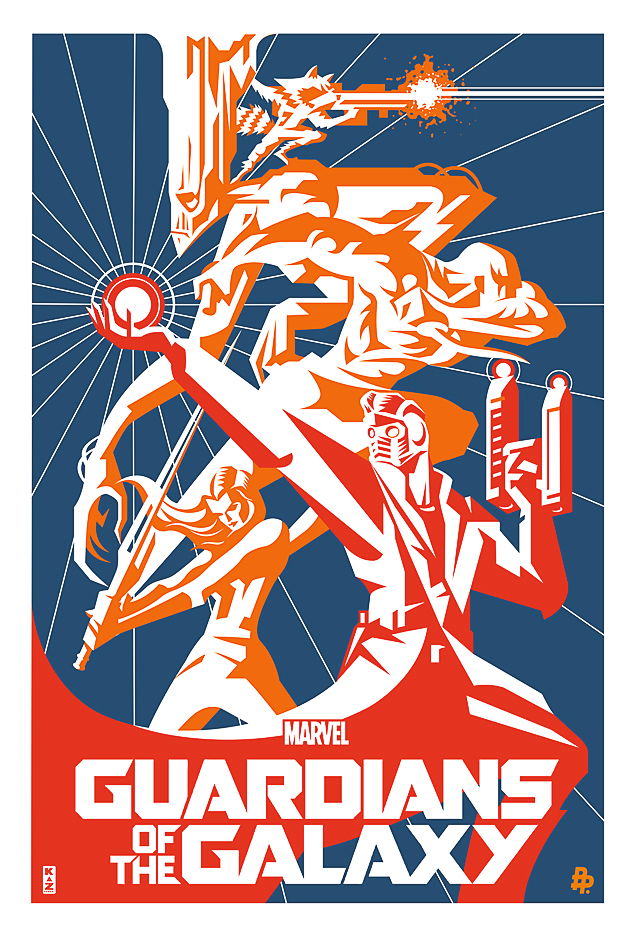 Kaz Oomori Variant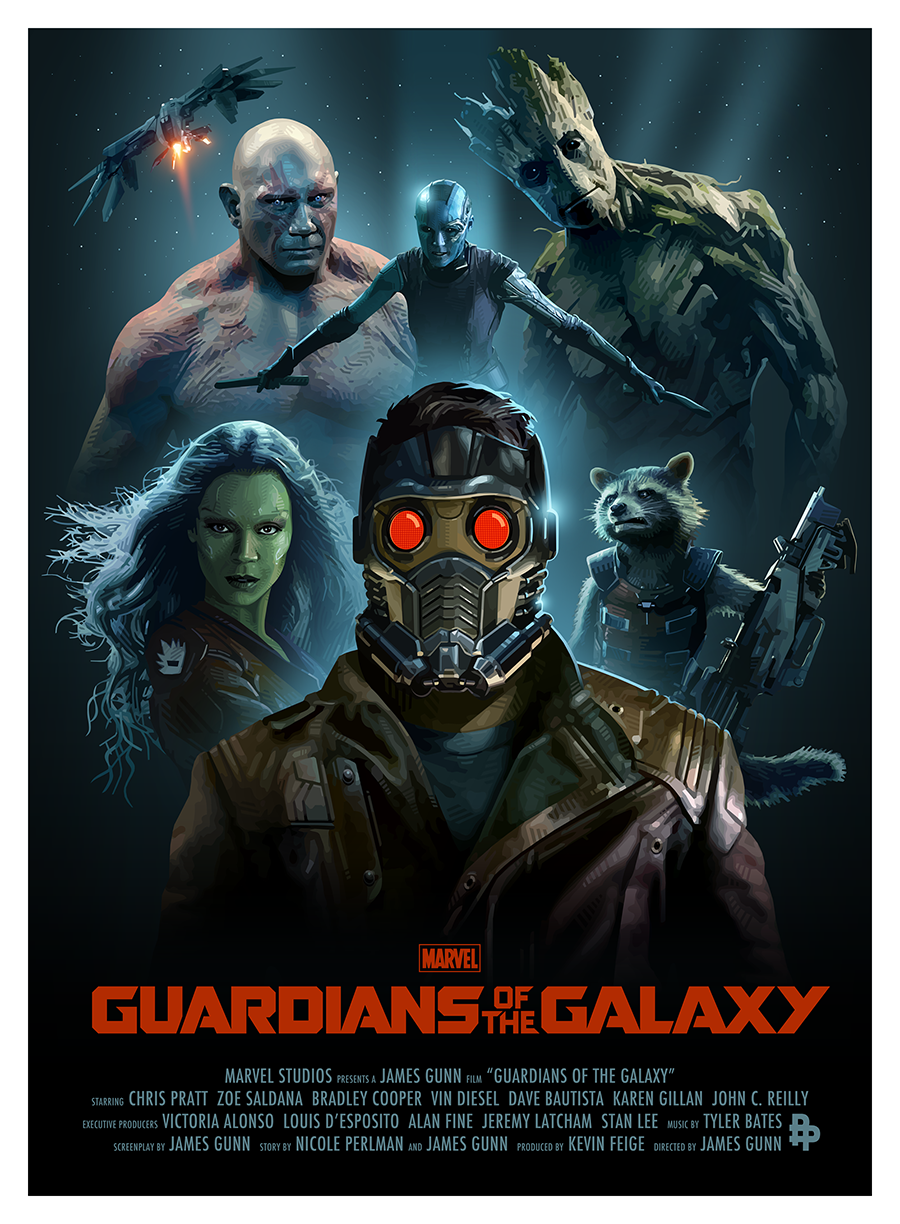 NEW MEMBER!!!!  Candykiller – Scotland  To say I'm excited about having Brian in the Posse is an understatement and his first outing with the group is absolutely top notch!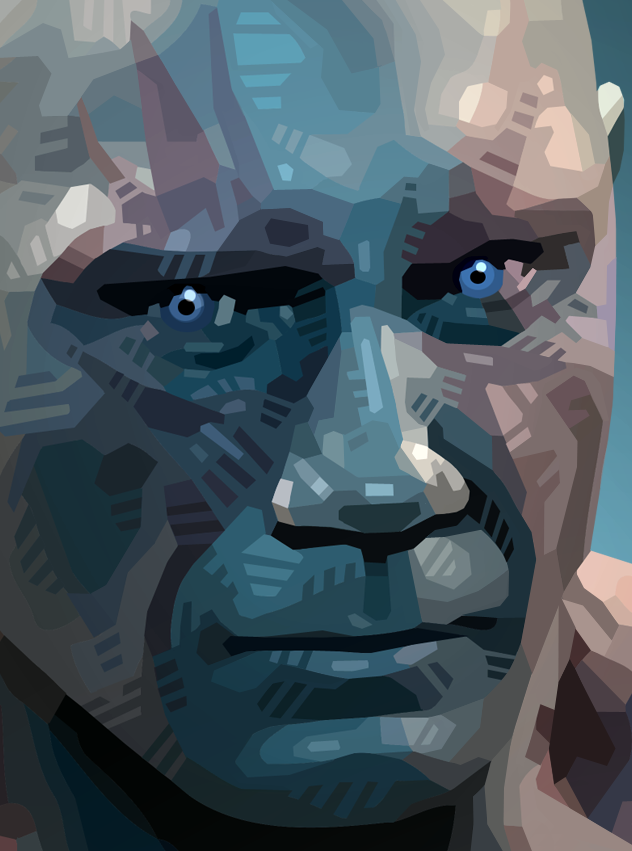 Candykiller detail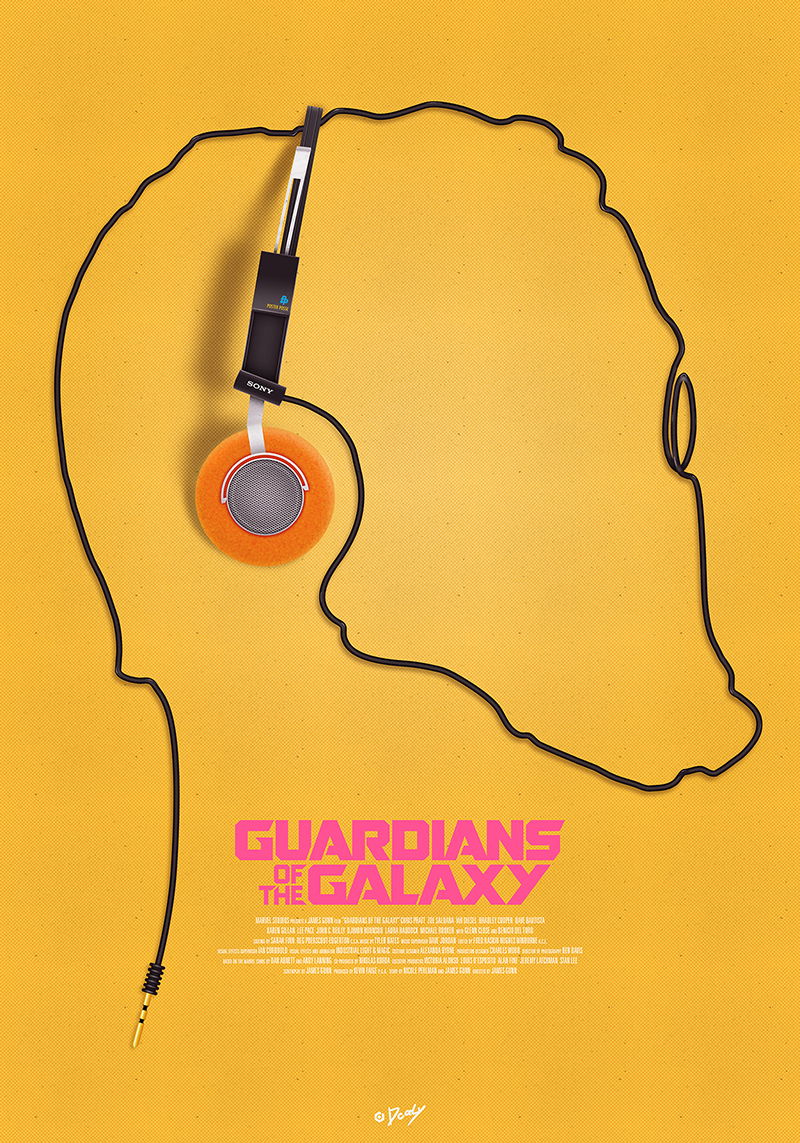 Doaly – U.K.  This may be a first for Doaly as he has only submitted ONE print for this project.  That being said, it's quite brilliant and the subtle details really make this one a hit.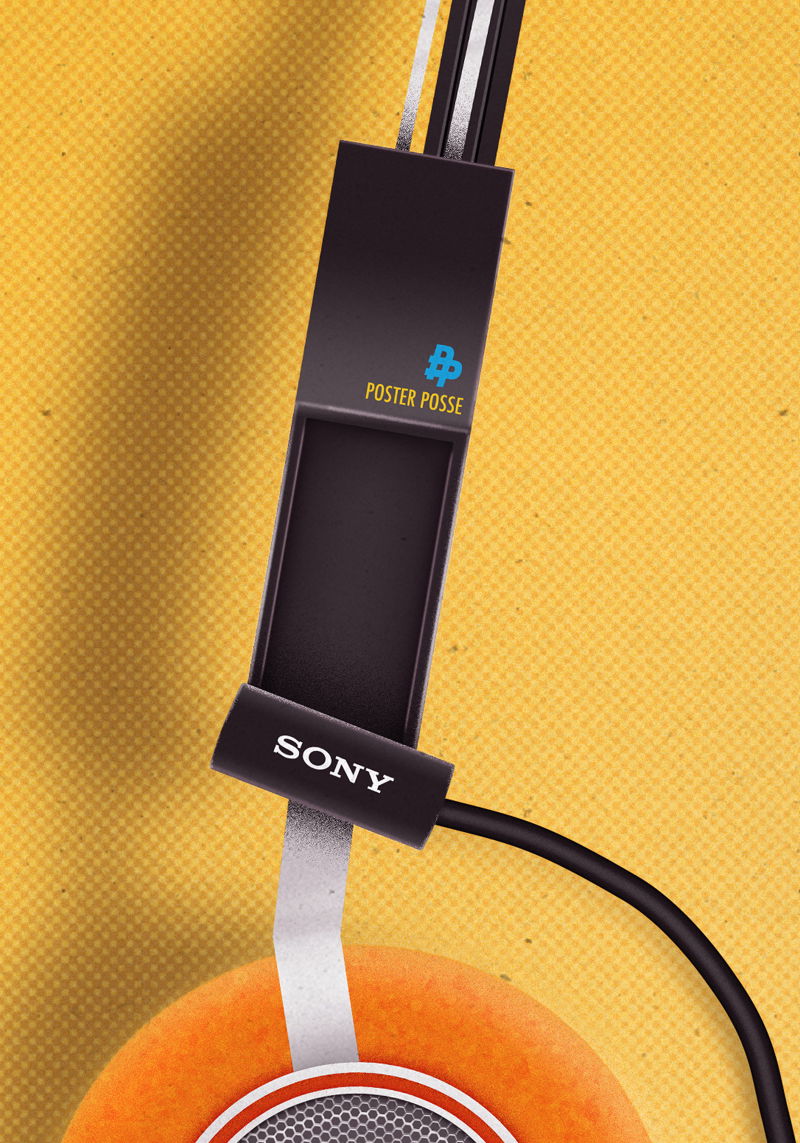 Doaly detail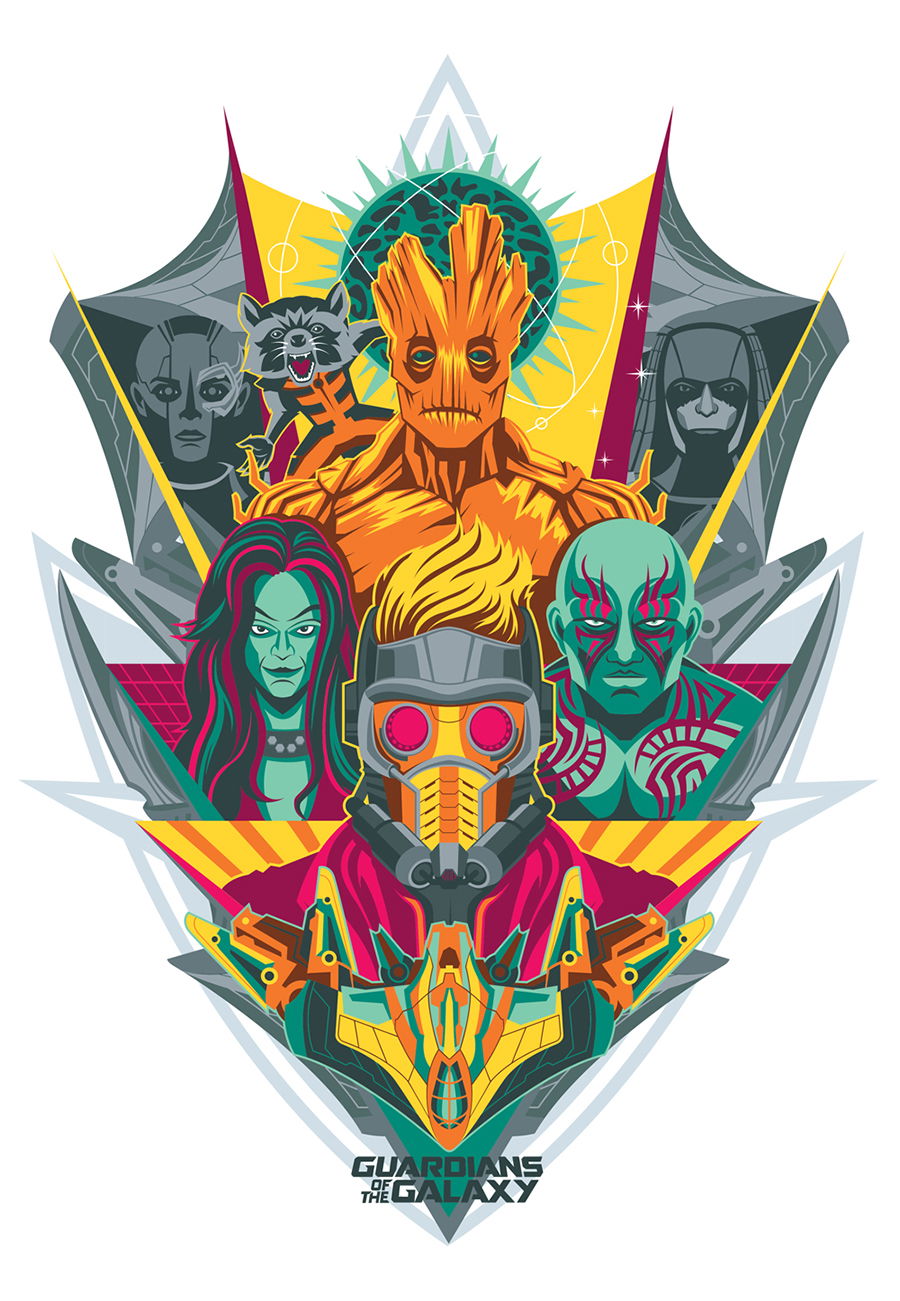 Chad Woodward – U.K.  Chad went and designed some character badges that would be the envy of any galactic Boy Scout.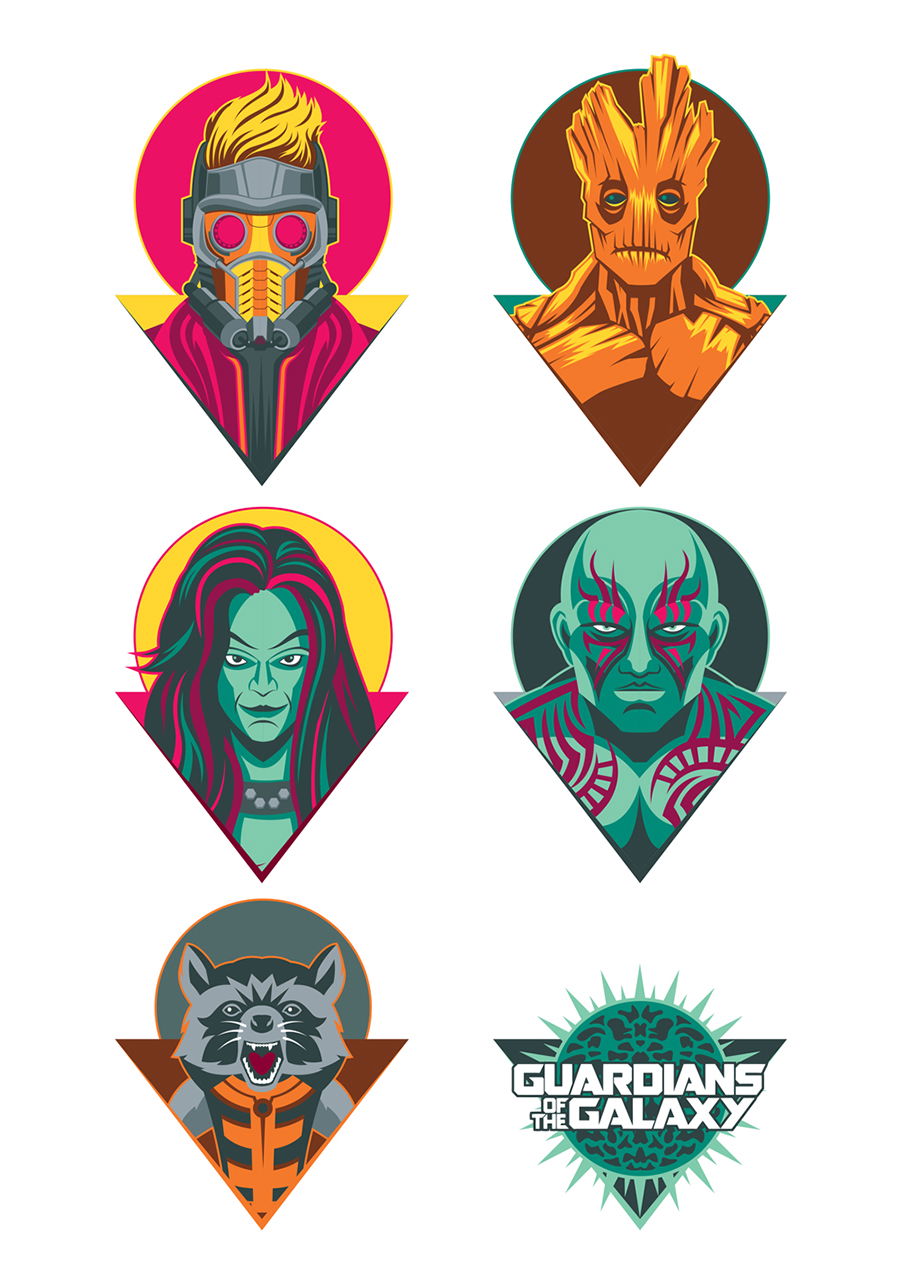 Chad Woodward – Character Badges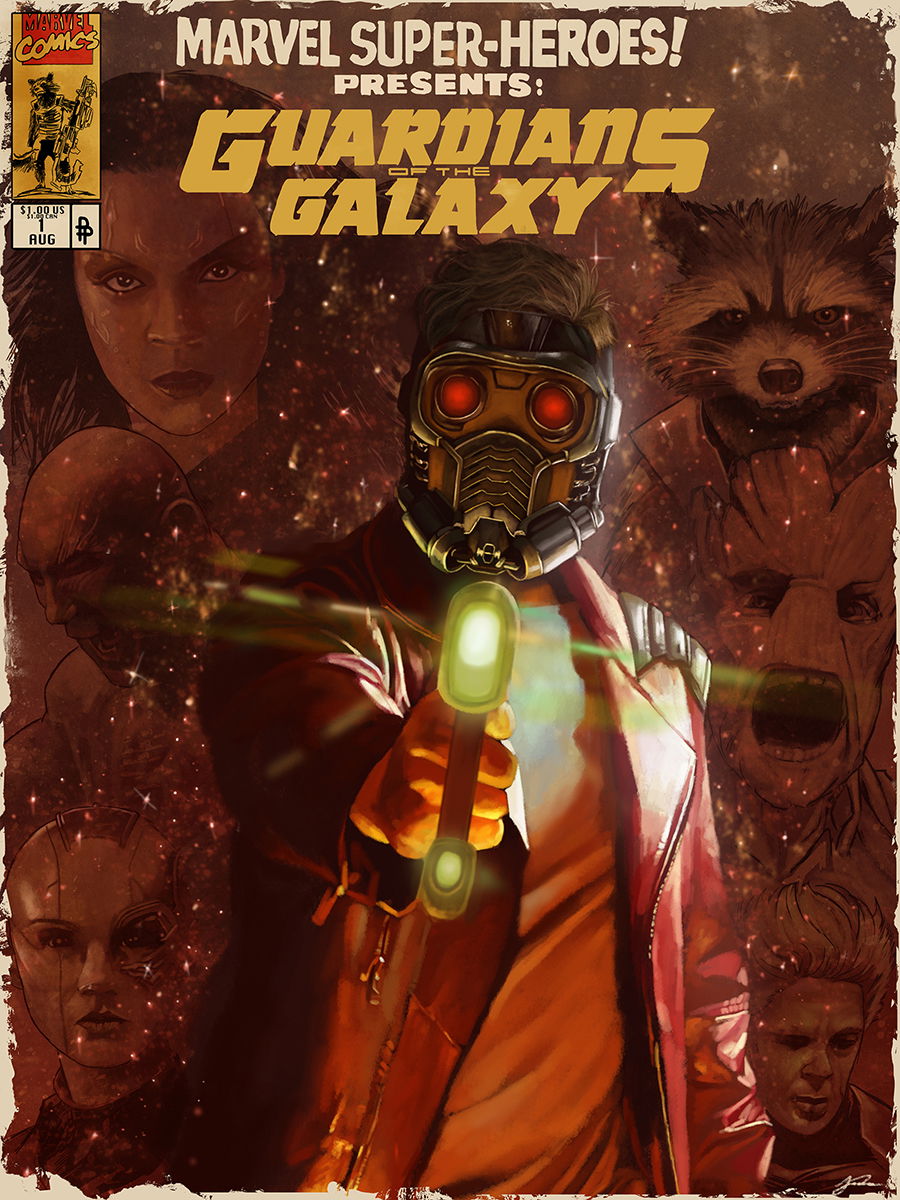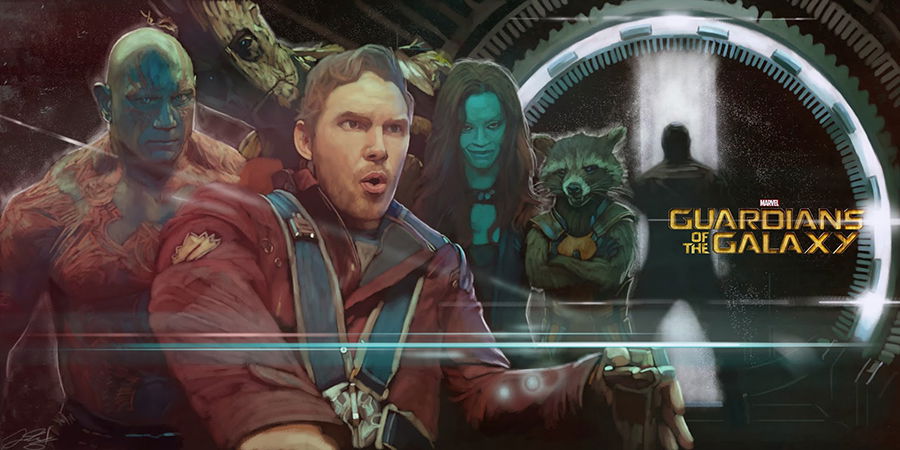 Juan Martinez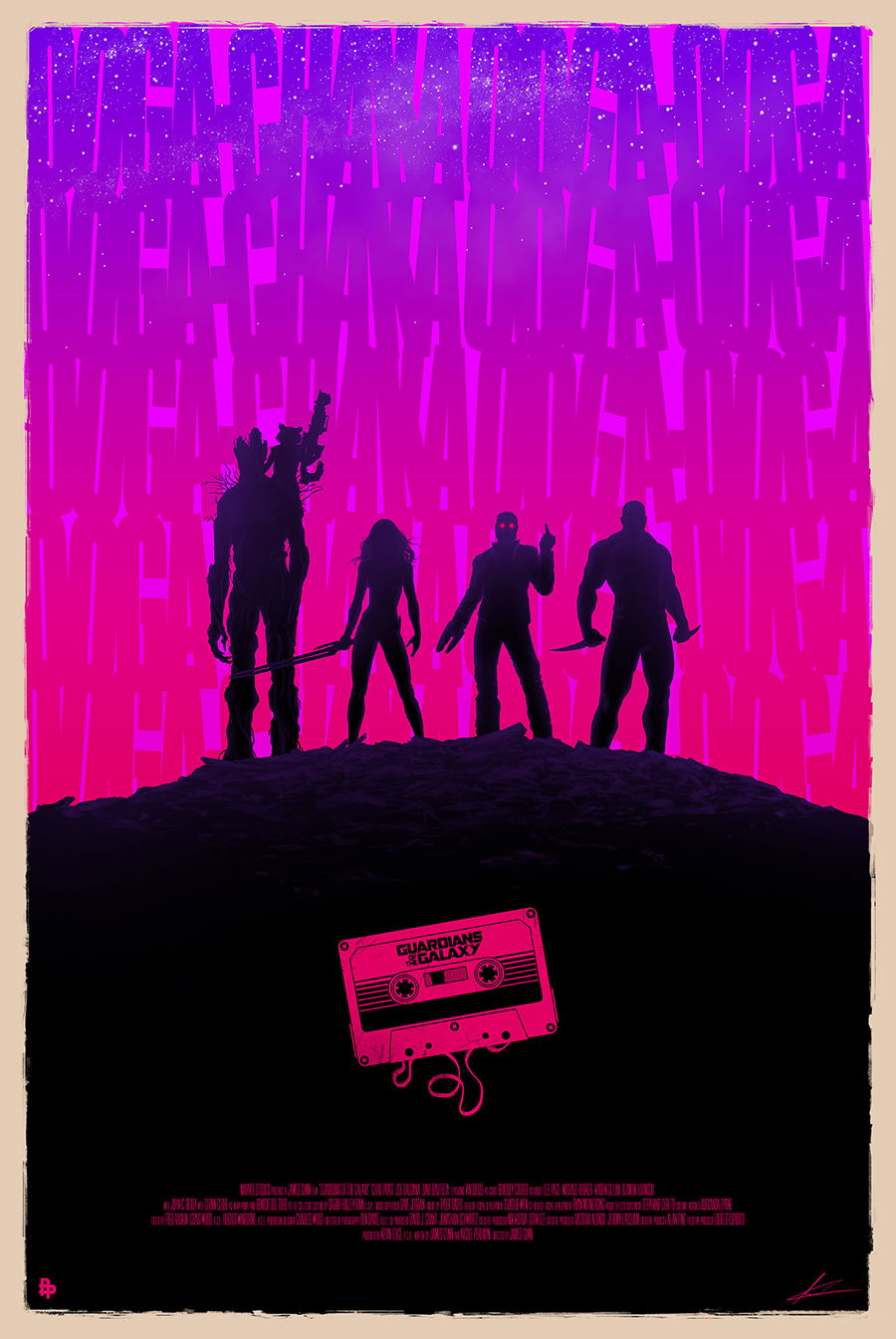 Marko Manev – Macedonia (regular edition)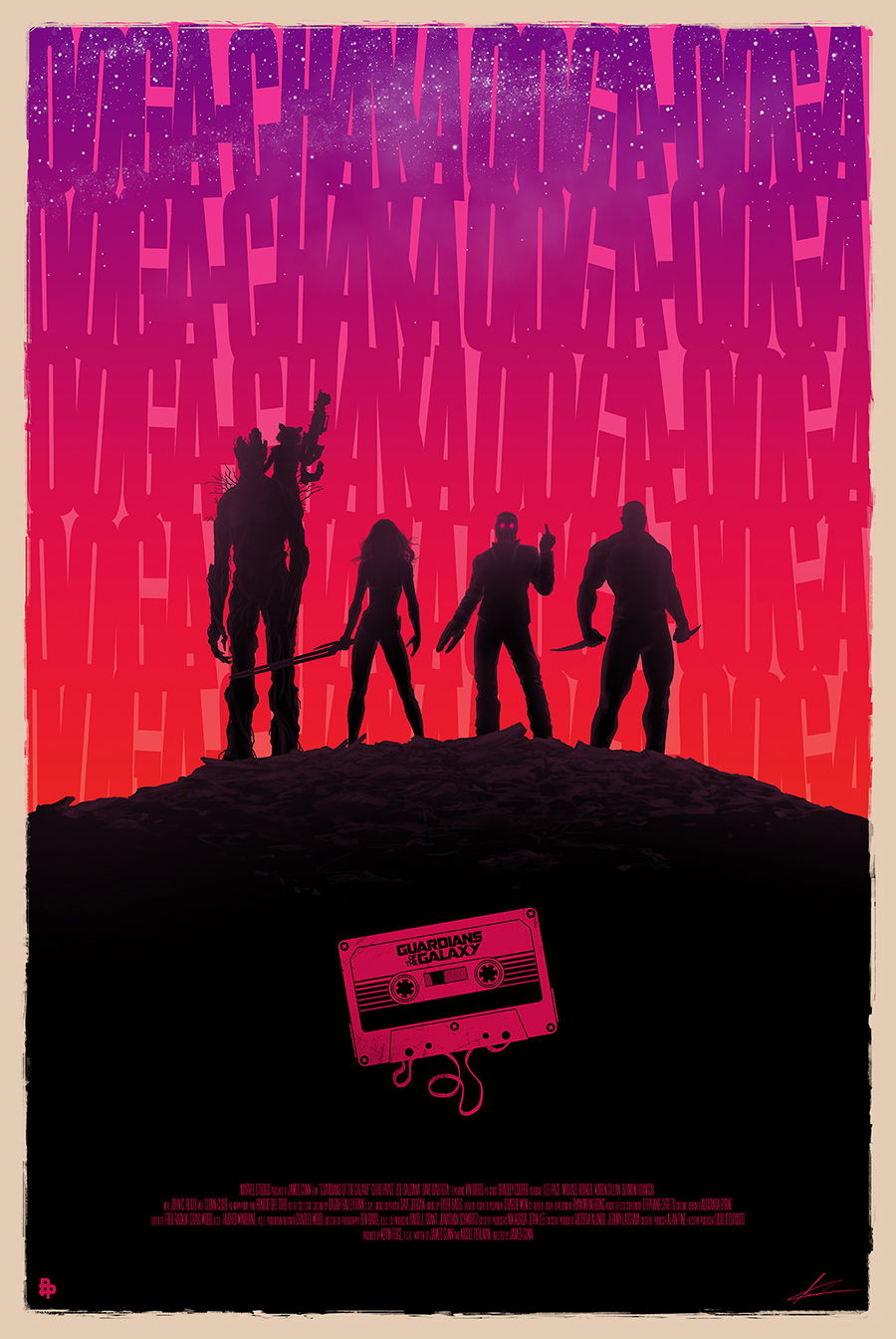 Marko Manev – Macedonia (variant edition)

Robert Bruno – USA  'In creating this tribute poster for 'GOTG,' I actually wanted to pay tribute to a piece I did for the 'Avengers,' about two years ago. I basically took all the new techniques and styles I've been working and playing around with over the past few years to create a retro style portrait for each of the Guardians.' Enjoy! – Robert Bruno
As promised we have included an image from a "guest artist" this time around and it's by a fine chap out of Bristol, U.K. who goes by the name of Mr. Flurry.  I think he captured Rocket's demeanor quite nicely and lookout for Groot lurking in the background!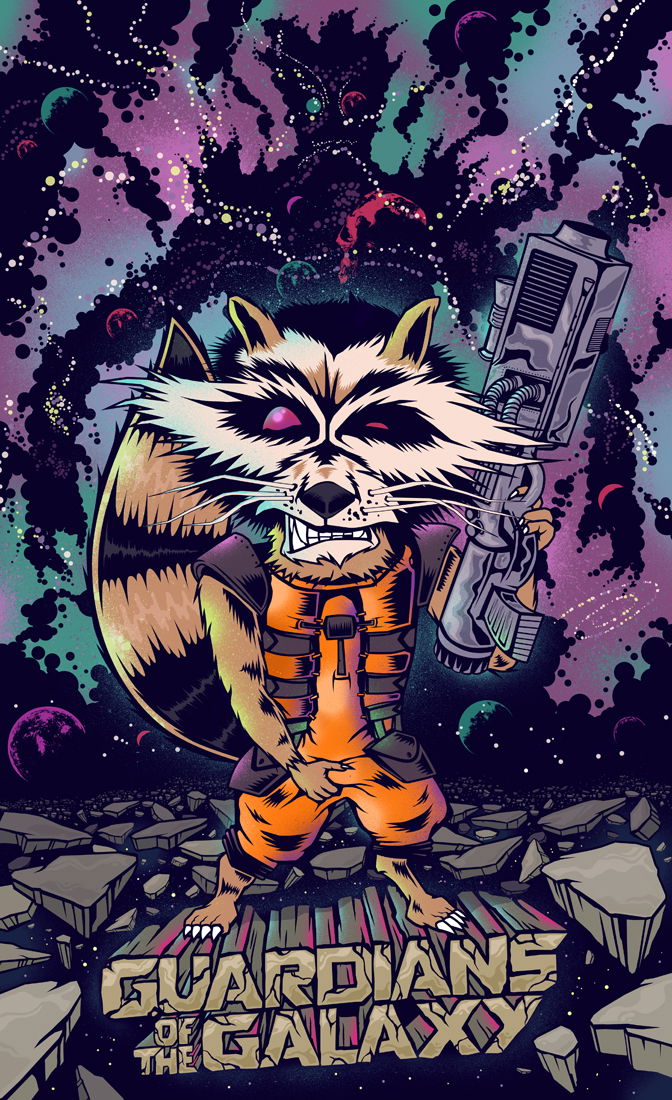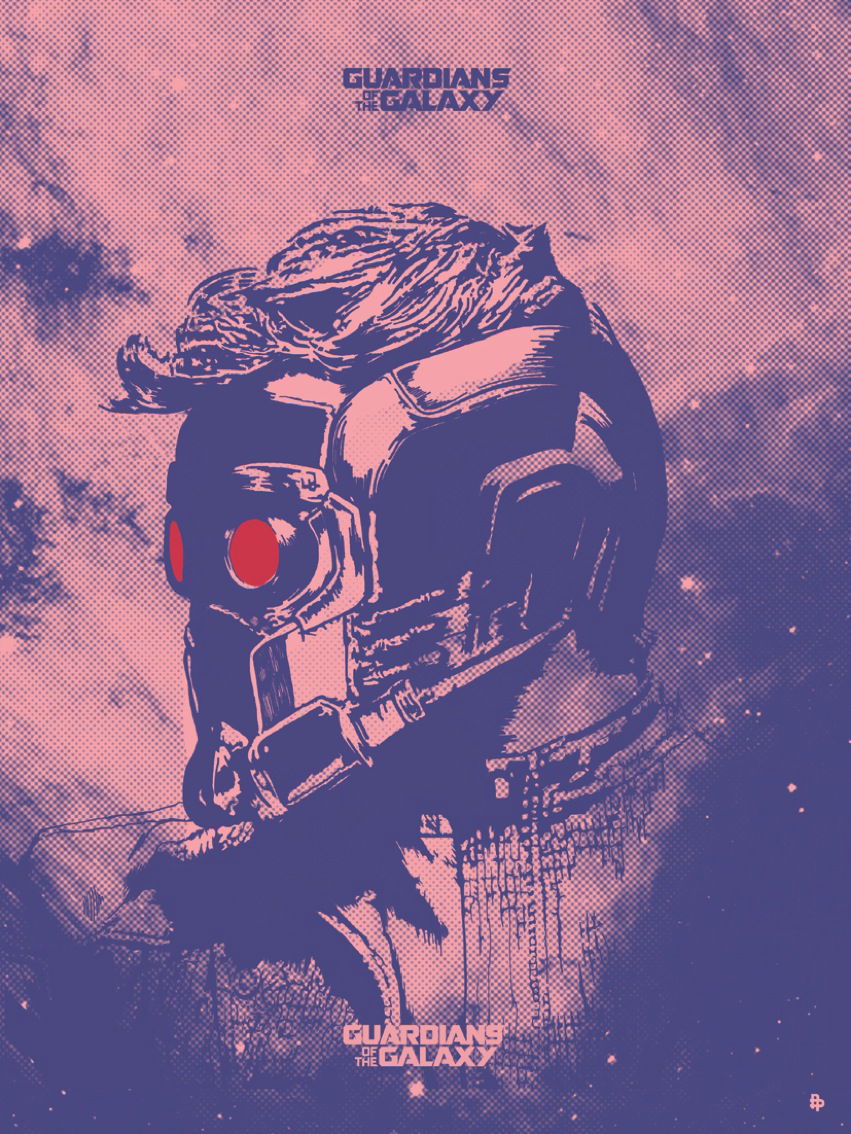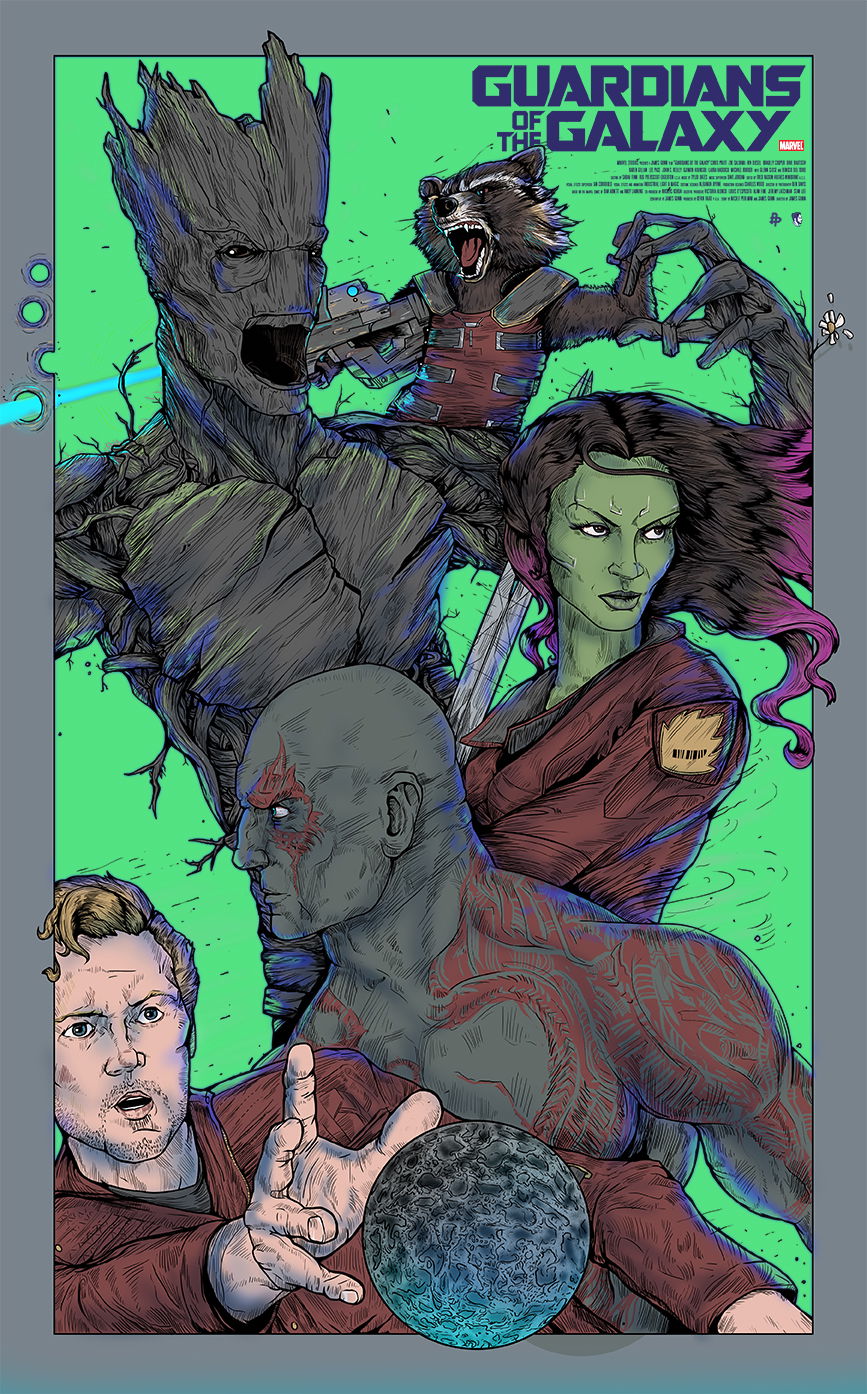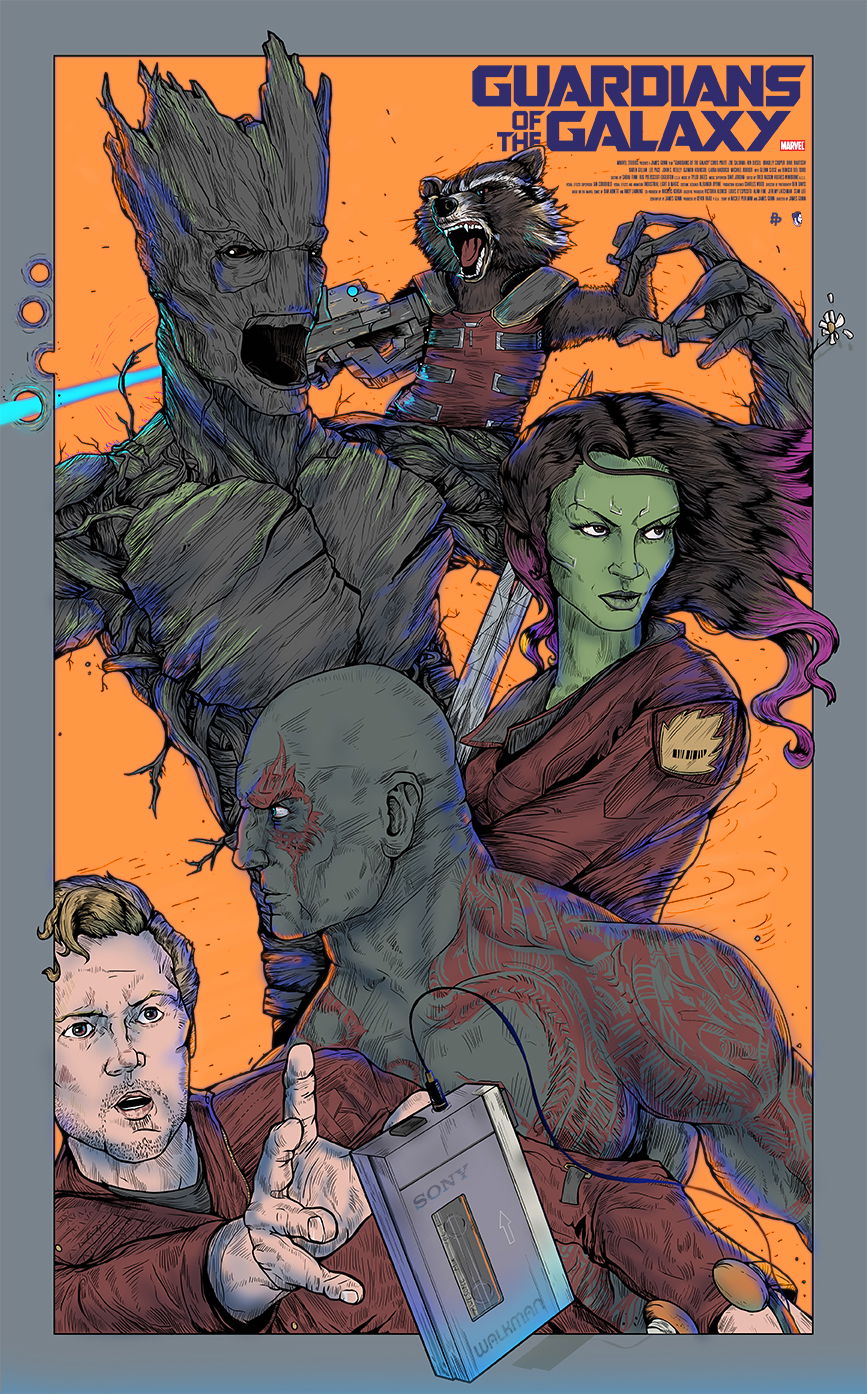 Berkay Daglar – Sony Walkman Variant