Fasten you seat belts and remained seated because we are about to embark on Phase two of the Poster Posse's Tribute Series for James Gunn and Marvel's "Guardians Of The Galaxy"!  To say you guys "liked" Phase one of our project is a major understatement.  After Writer/Director James Gunn was kind enough to retweet it a few times and then post a preview print from today's drop on his FACEBOOK PAGE,  the non-stop high-fives just kept coming in from MTV, and multiple sites, as well as fans picking it up and running with it.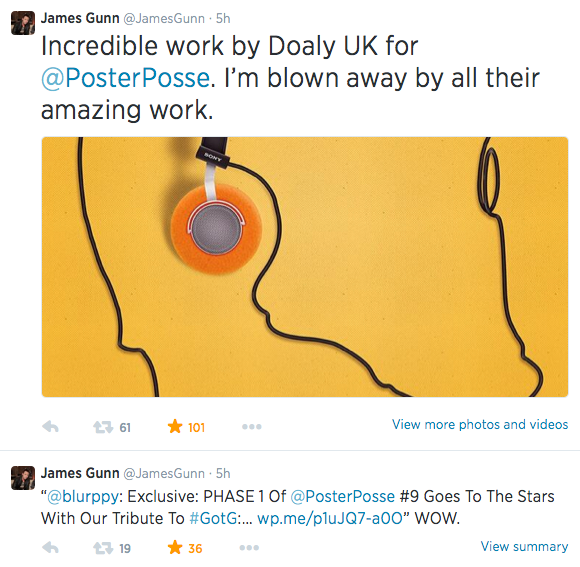 Yesterday, in Phase One, we featured the art of: Matt Ferguson, Kaz Oomori, Candykiller, Doaly, Chad Woodward, Juan Martinez, Robert Bruno, Mr Flurry, Sharm Murugiah, Berkay Daglar, Daniel Nash, Florey, and Matt Needle.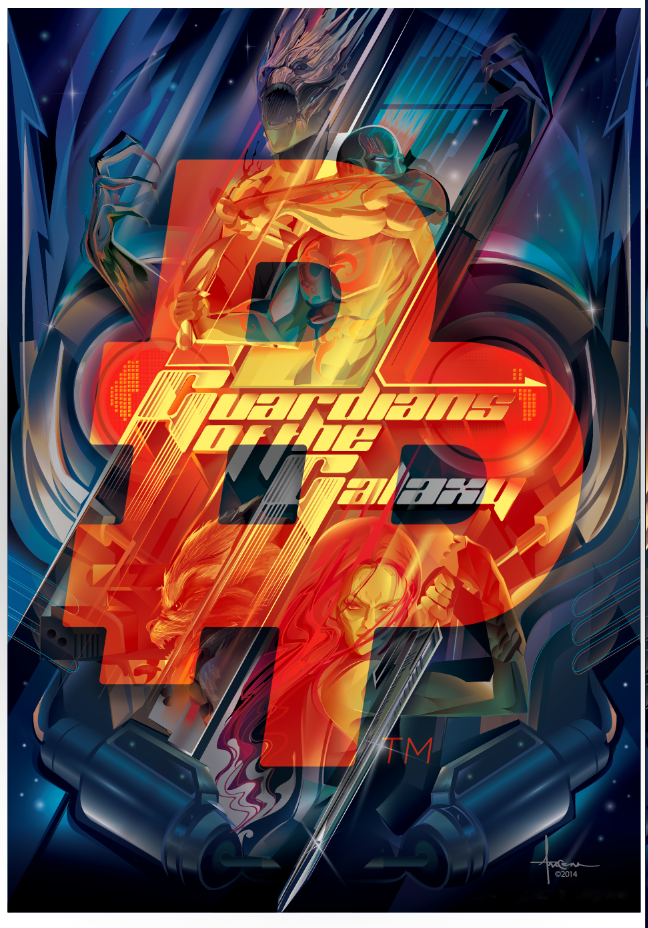 Today, in Phase Two, we get a look at all new images by: Orlando Arocena, new memberStephen Sampson – aka 'The Dark Inker', Arian Noveir, Adam Rabalais, Luke Butland, Salvador Anguiano, Chris Skinner, Andy Fairhurst, Tom Miatke, Ben Mcleod, Simon Delart, Patrick Connan, Marie Bergeron, Scott Hopko, Rodolfo Reyes, Andrew Swainson and Rich Davies.
Let's start things off with some W.I.P. action.  Vector guru Orlando Arocena shares his initial vector illustration.  I have NO idea how he keeps it all together but this is the beginning of something fantastic.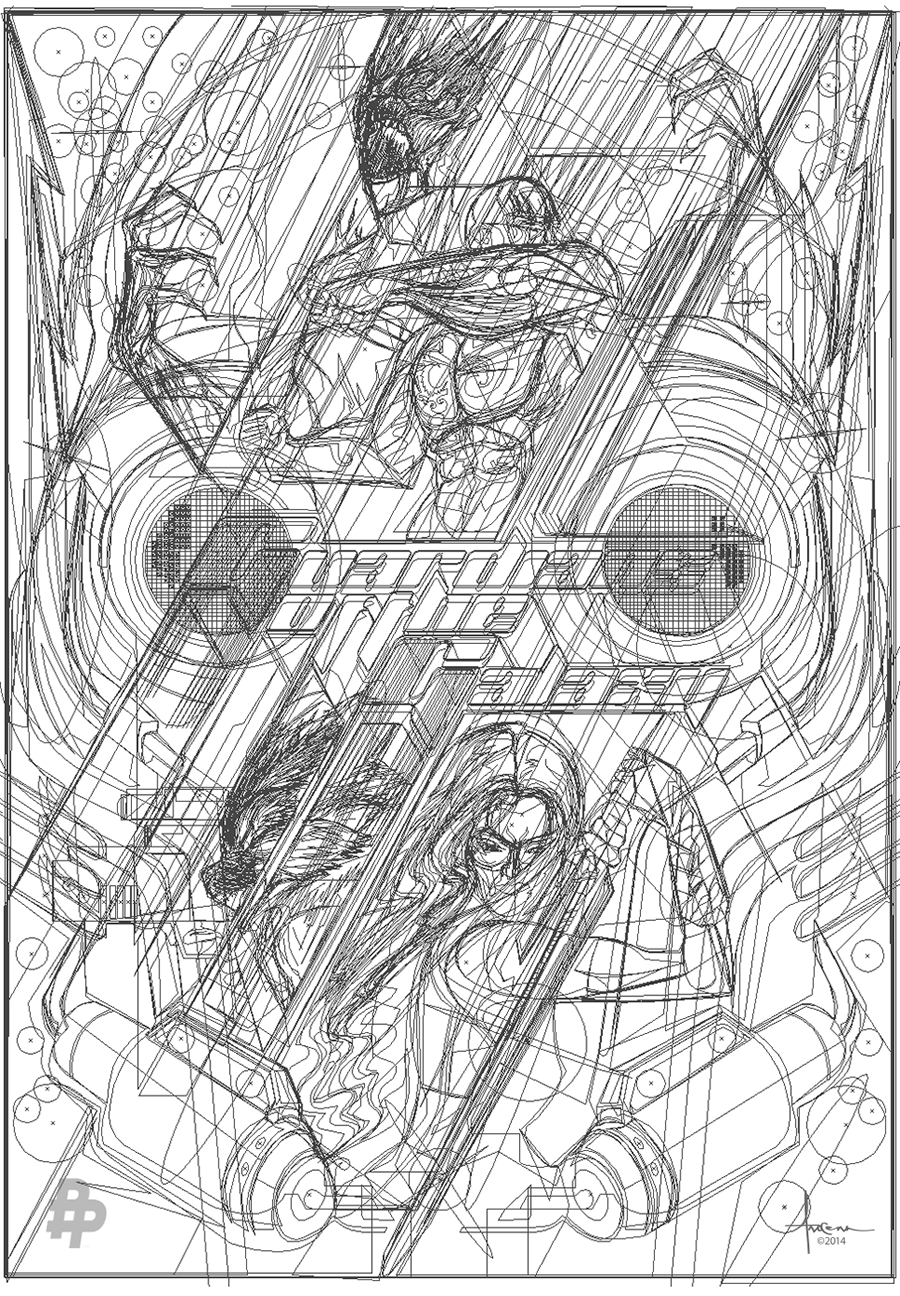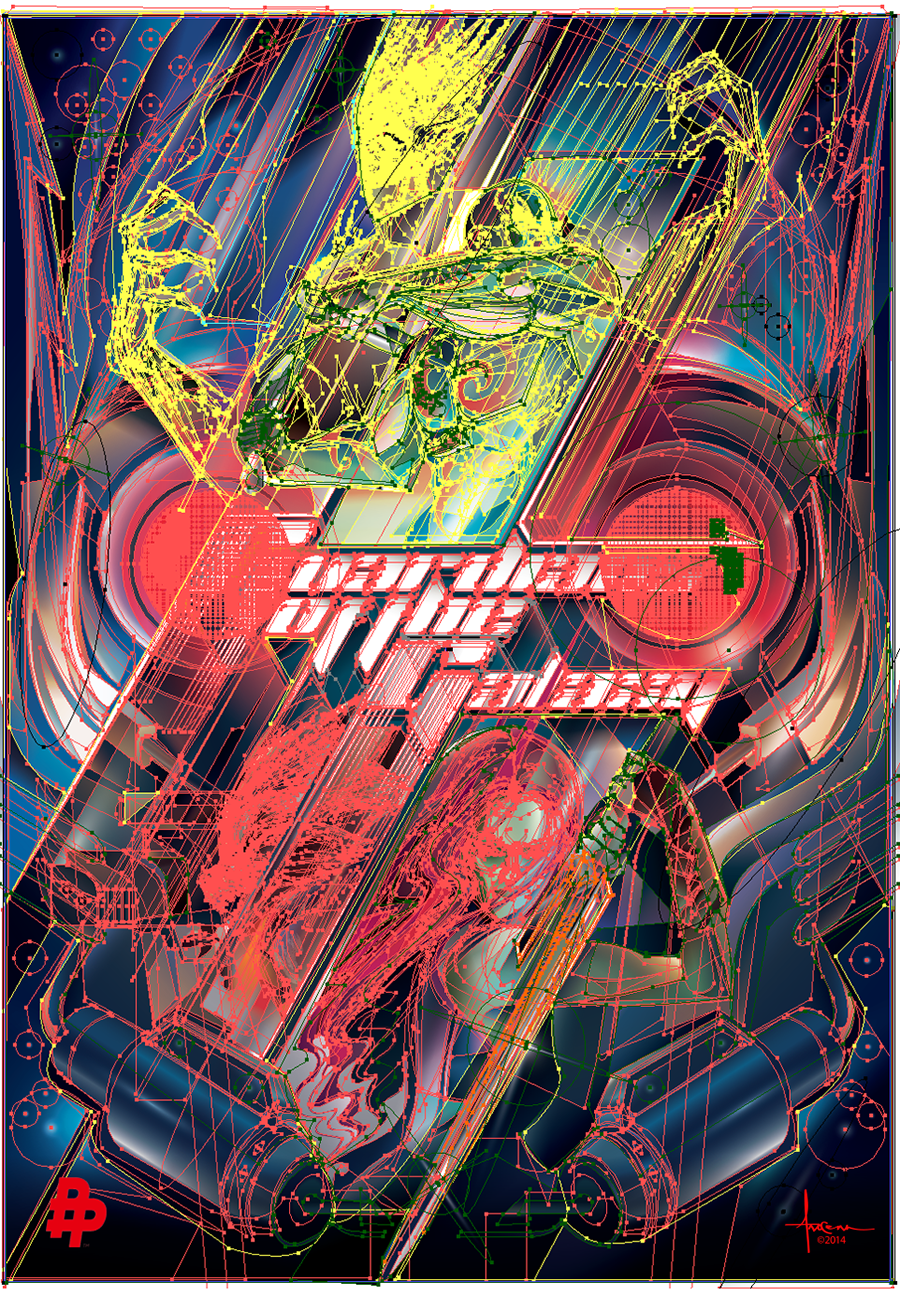 This crazy one shows all his anchor points and…….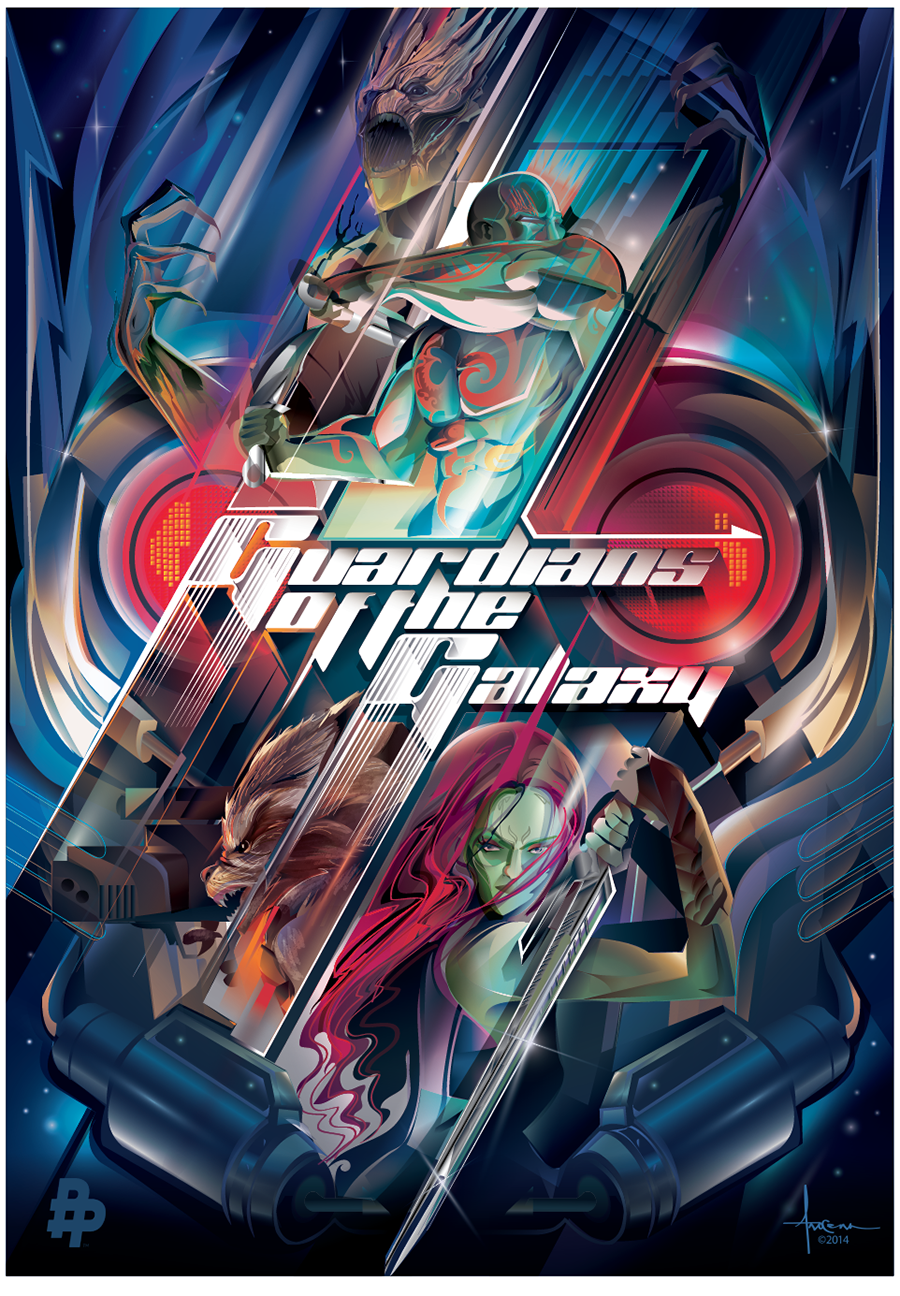 THIS is the final fantastic image from Orlando Arocena – USA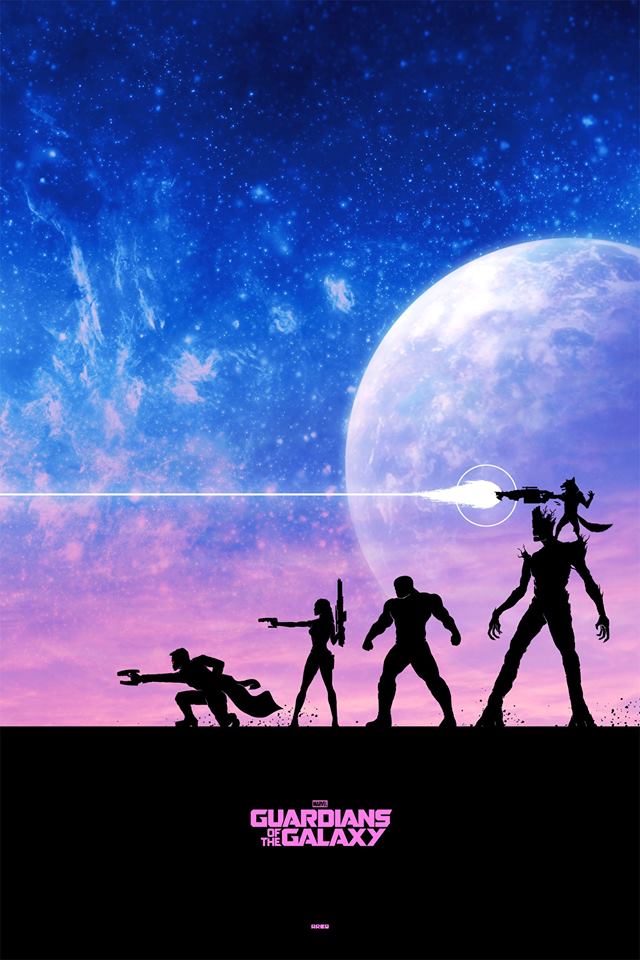 "Never Doubt" by NEW MEMBER: Stephen Sampson – AKA: "The Dark Inker" – U.K. This is my first time out with the Poster Posse, and to be honest it was more than a little daunting. The standard of talent in the PP crew is mind blowing!! I came into this project at the last minute so because of time restraints decided to do something that focused in on one character. Something about "Rocket" really appeals to me so this is the one I went for. Having once been a comic book illustrator I thought it would be cool to treat the image like a panel from a comic, get in really close. I also decided to try to keep the amount of colors down to four, the only color I had issues with was the reflected light color (blue) I must have changed that color a dozen times!! It's such an honor being part of the PP and I can't wait to get stuck into more exciting projects in the near future!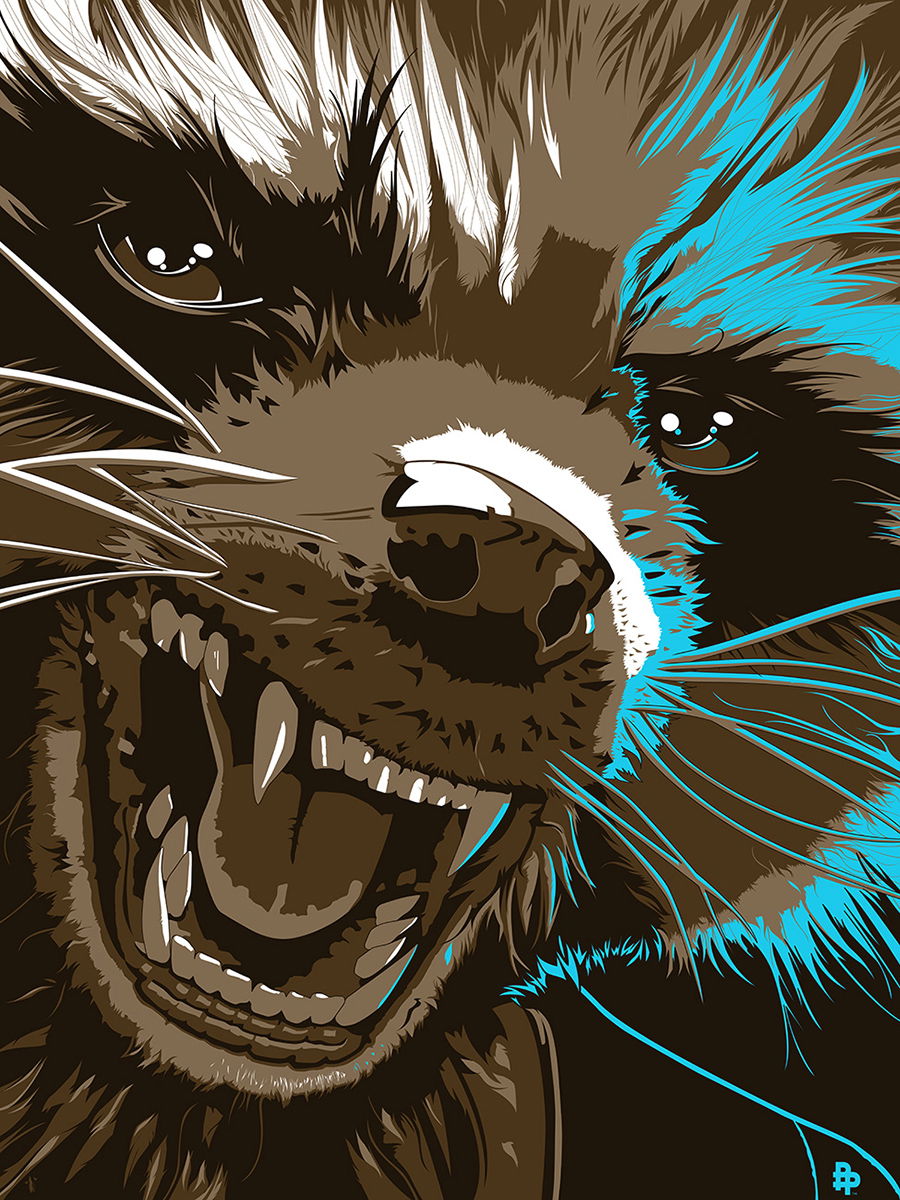 I'd say Stephen delivered one HELL of an image for Rocket and captured his essence perfectly.  Damn fine showing for his first project, can you imagine if he had enough time to do ALL the characters?  I'd have LOVED to see his images for The Collector or Thanos!  Maybe Stephen can circle back and follow up with those when Marvel announces thesequels to Guardians?  Speaking of 'Thanos'…..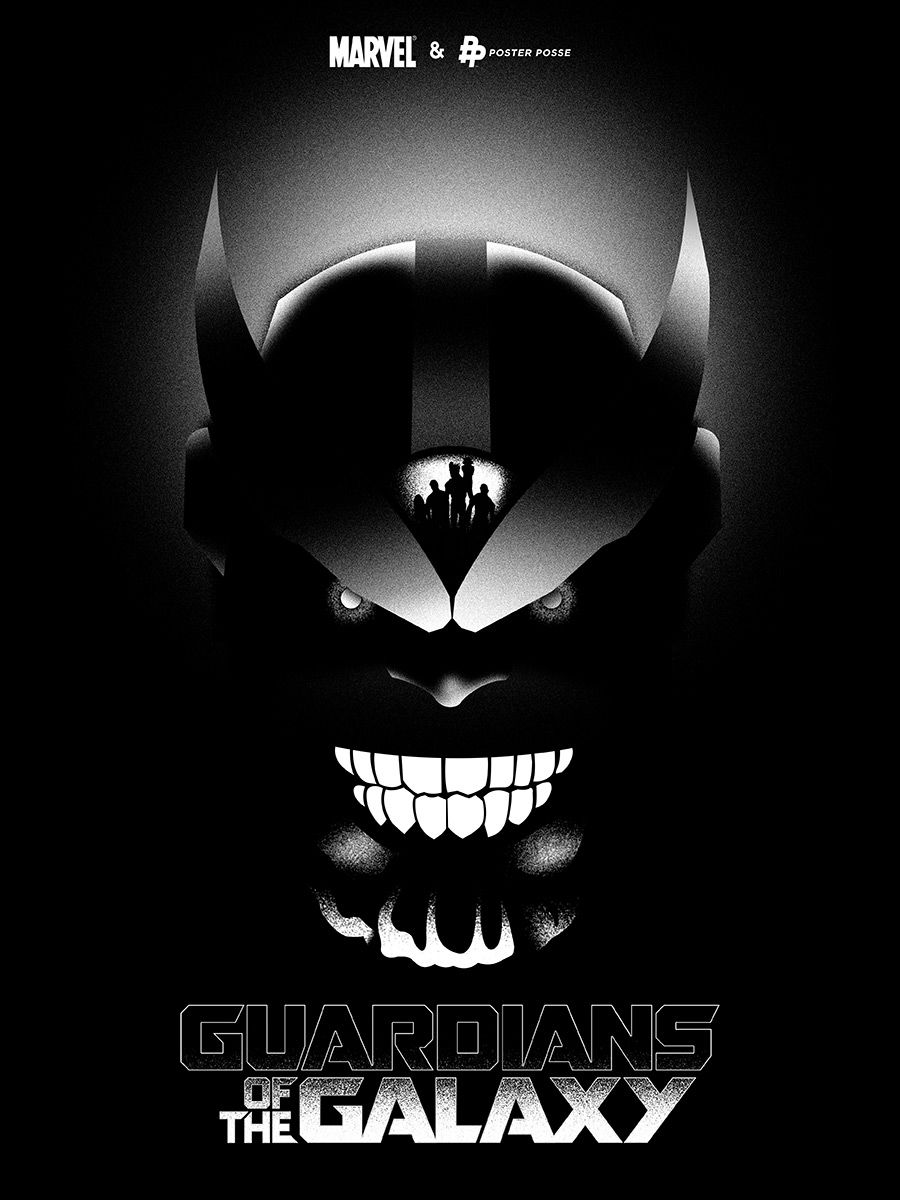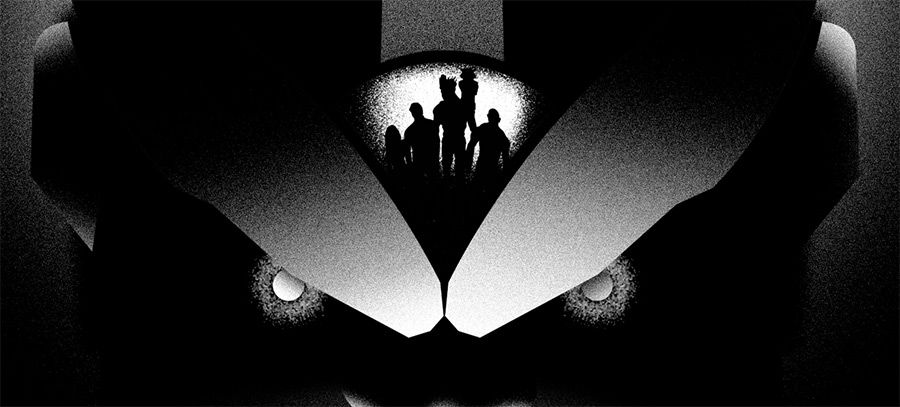 Since we are on the topic of 'bad guys'…..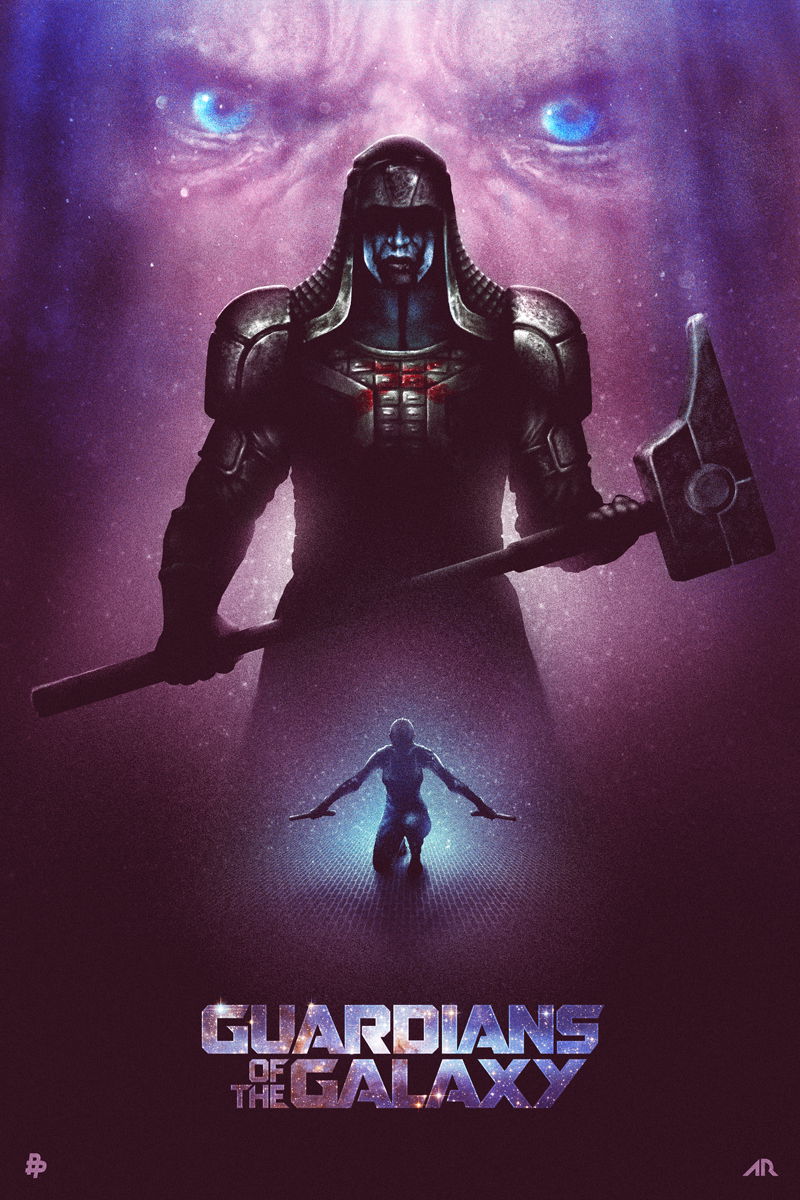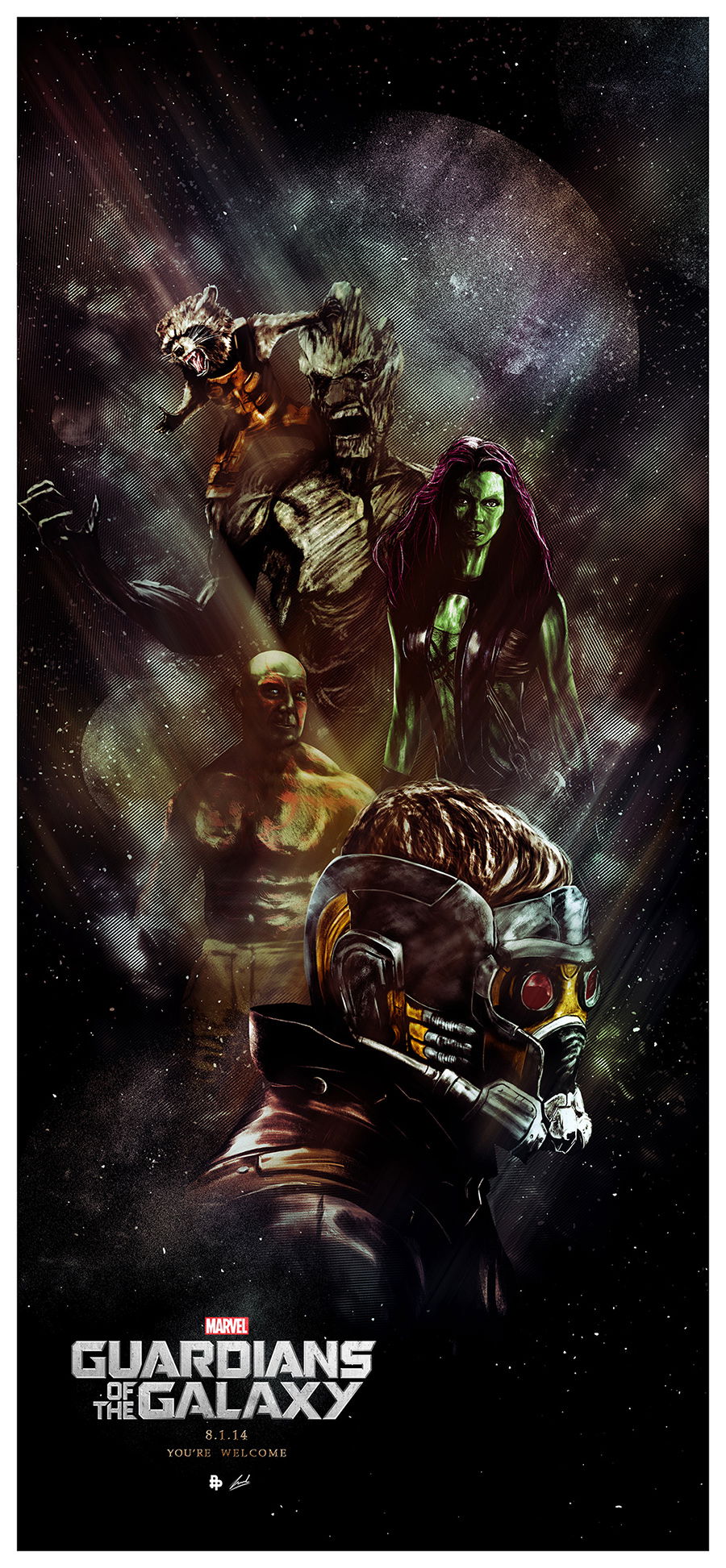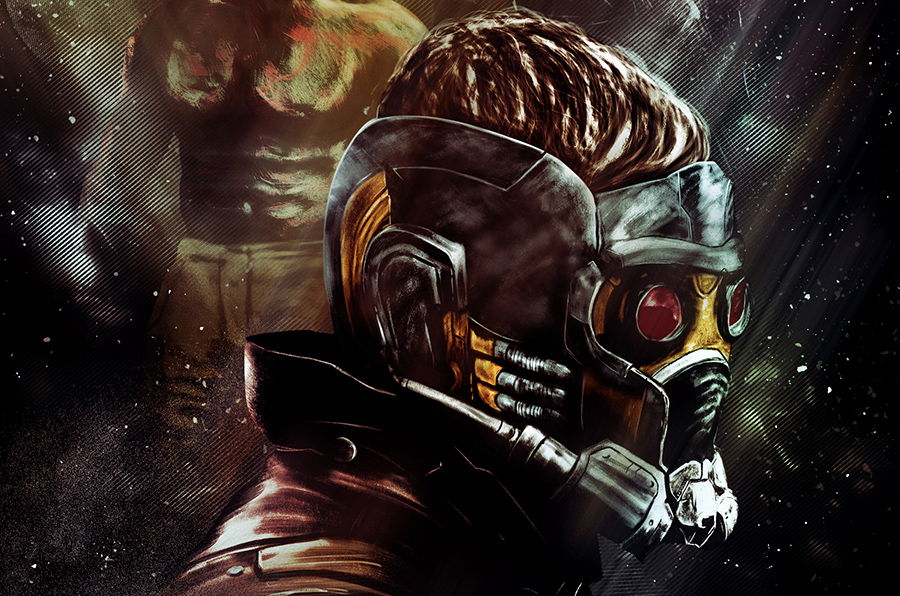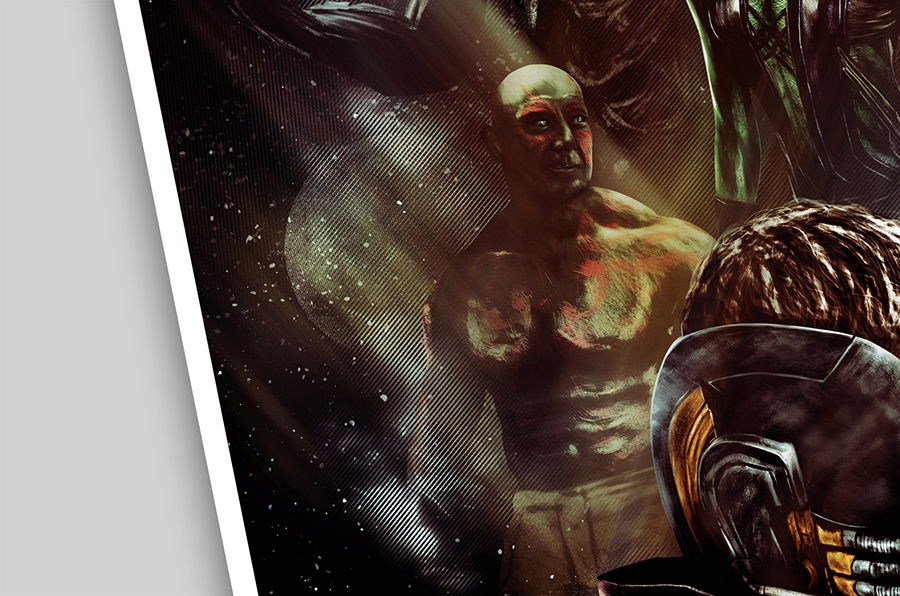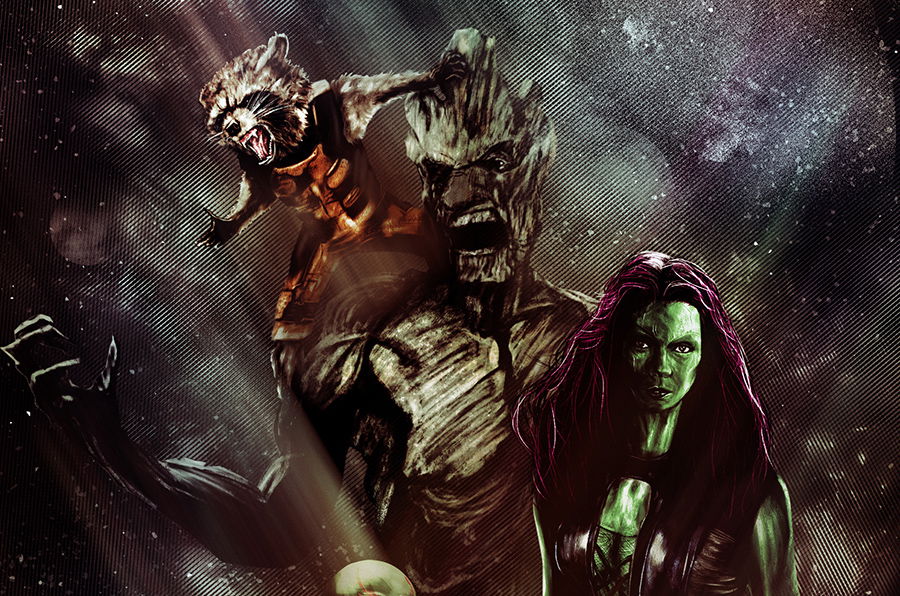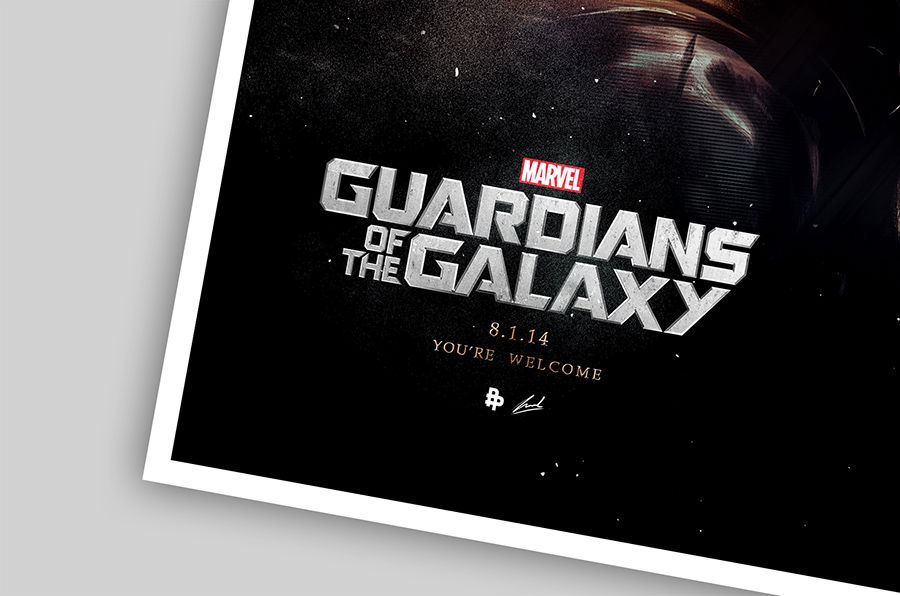 (HUGE thanks to Luke for getting this done BEFORE he ventured to Thailand on vacation!)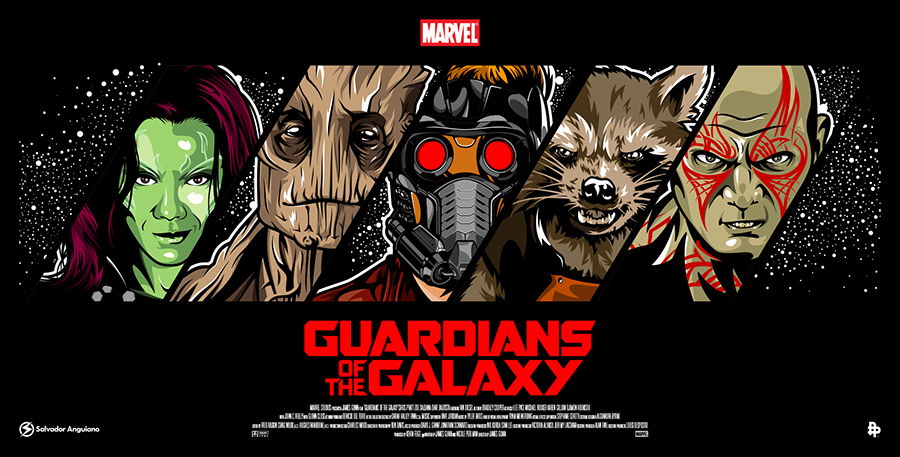 Salvador Anguiano – Mexico (regular edition)  Salvador got the bug on this one and created three fantastic, alternate color variants of his main image.  Here is what he had to say: 'Since these are relatively new characters to the mainstream audience, I wanted to create a poster using portraits but keeping a galactic-spacey feel with kind of a comic book style. In the Kirby tribute version I just wanted to create a space background in the style of Jack Kirby, I even used some of the planet designs he used to do.'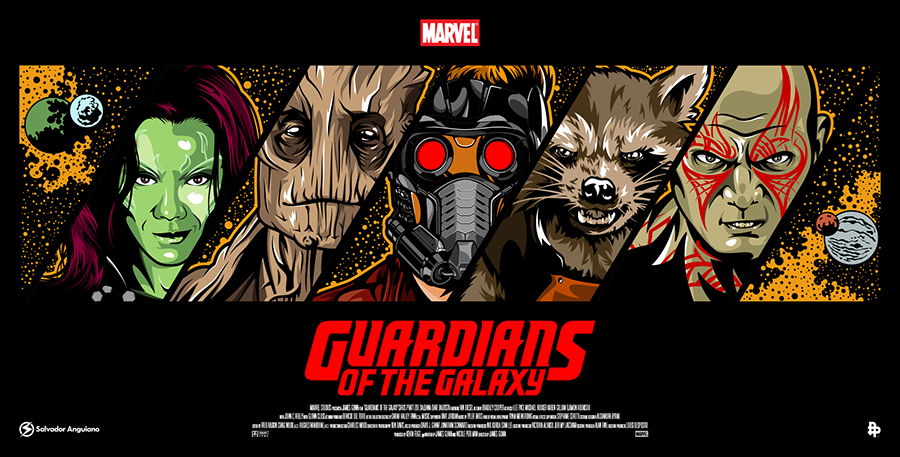 (Kirby Tribute)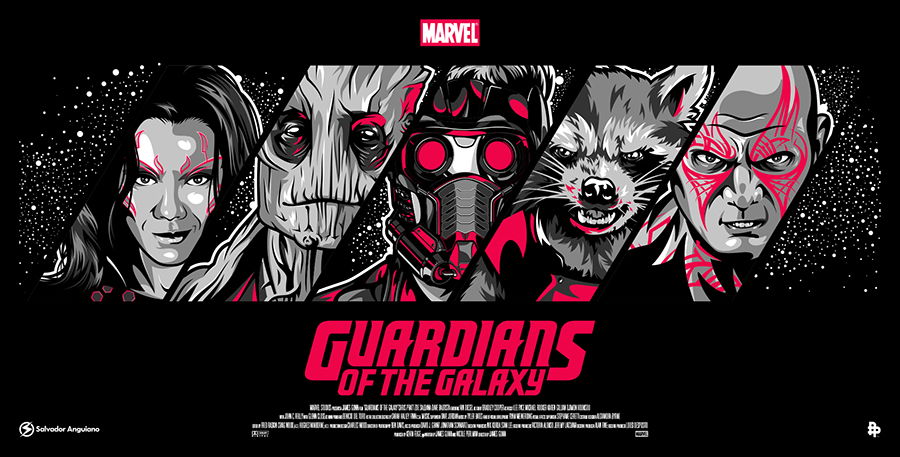 (80's electric variant)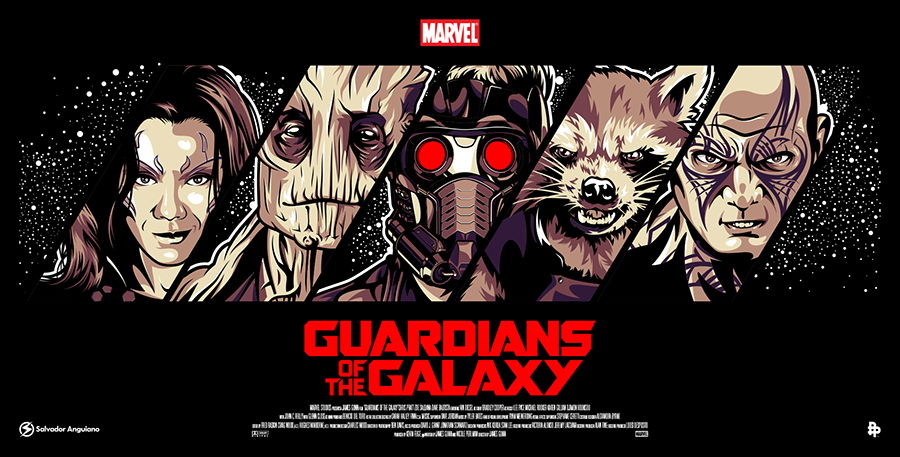 (Brown Sugar variant)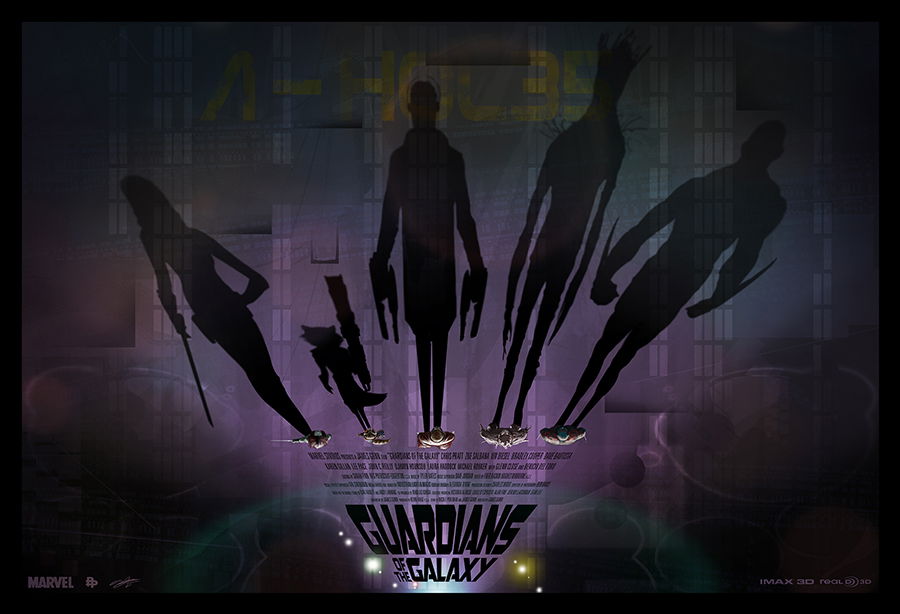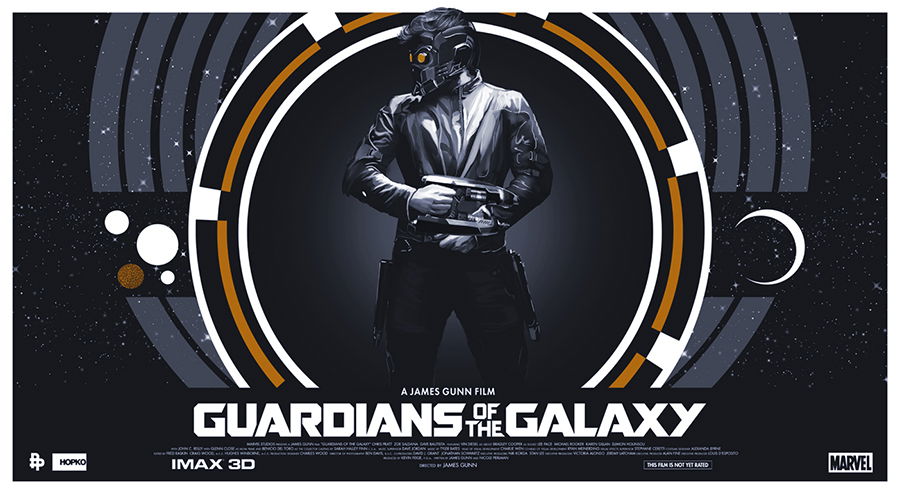 Scott Hopko – USA  Scott told us he had a blast doing these and as you can tell…it absolutely shows!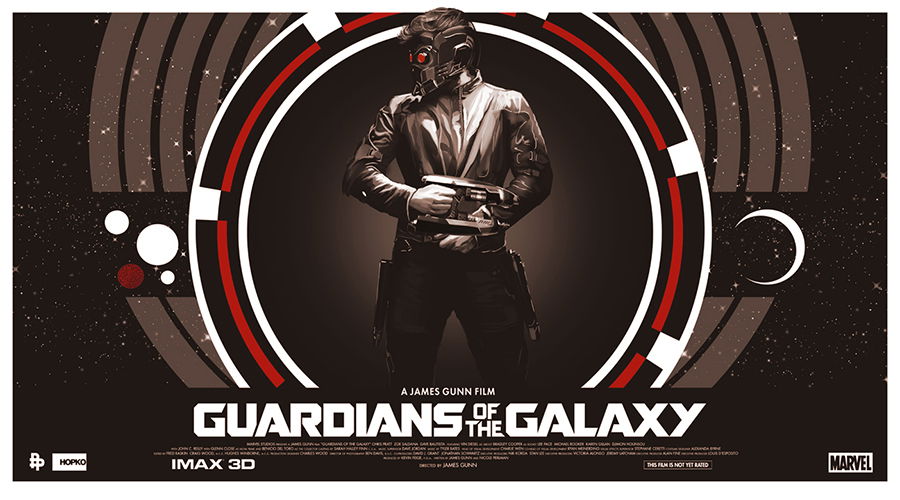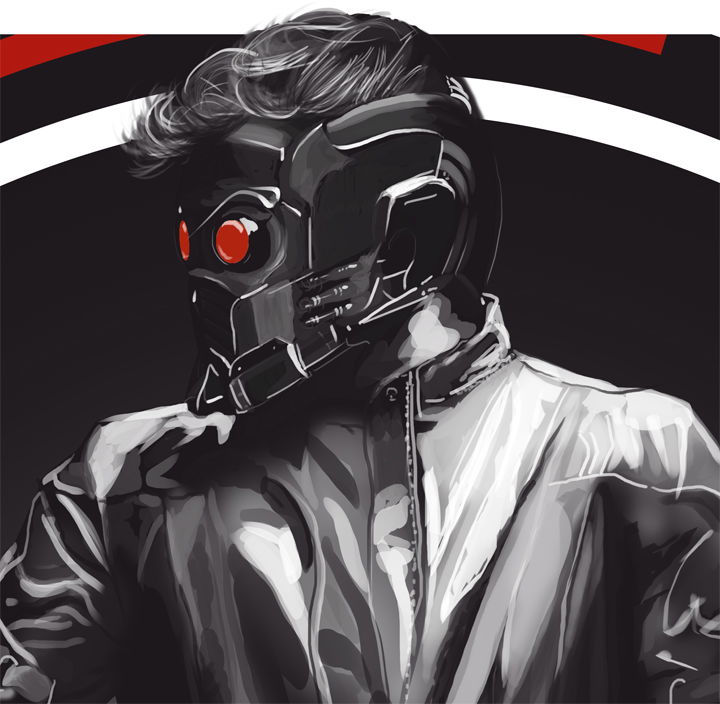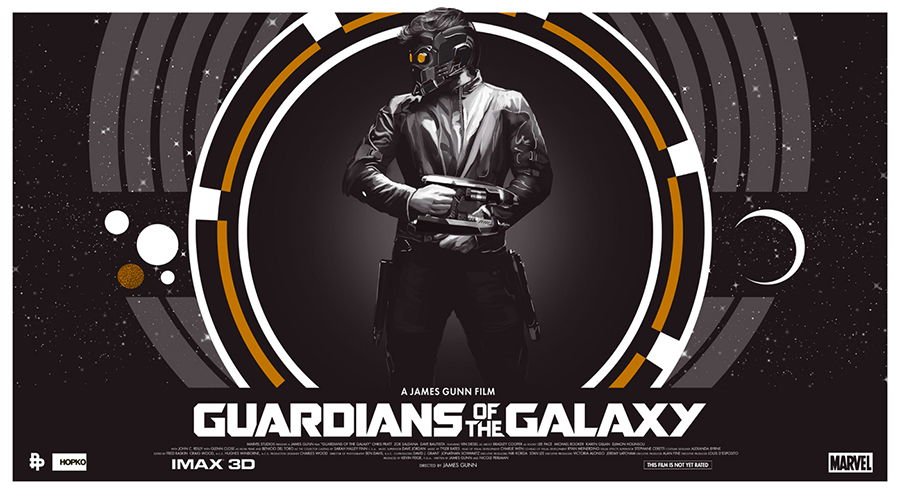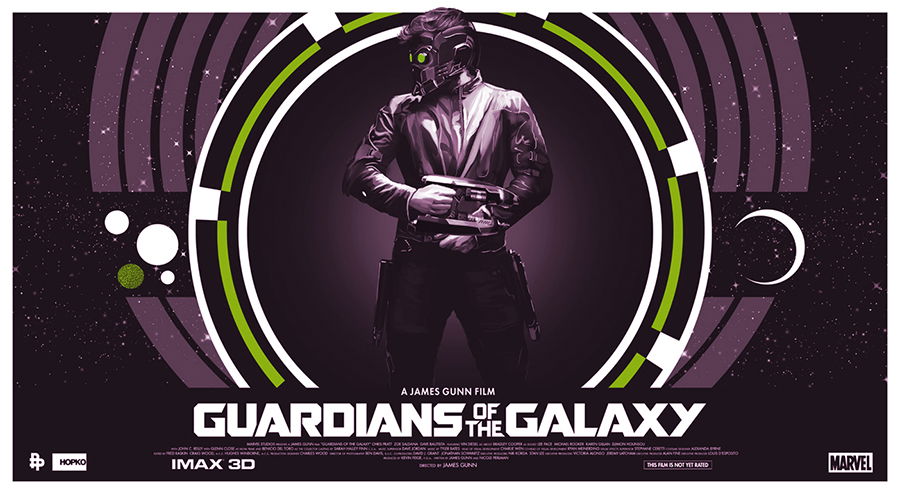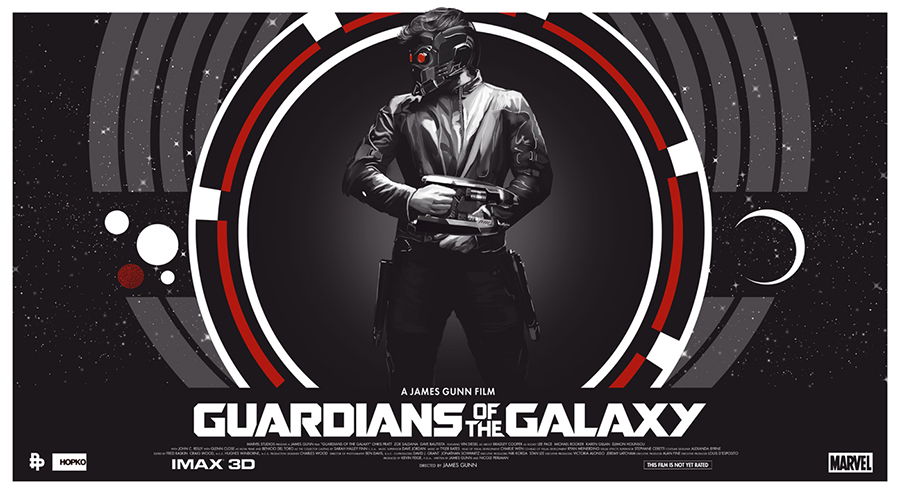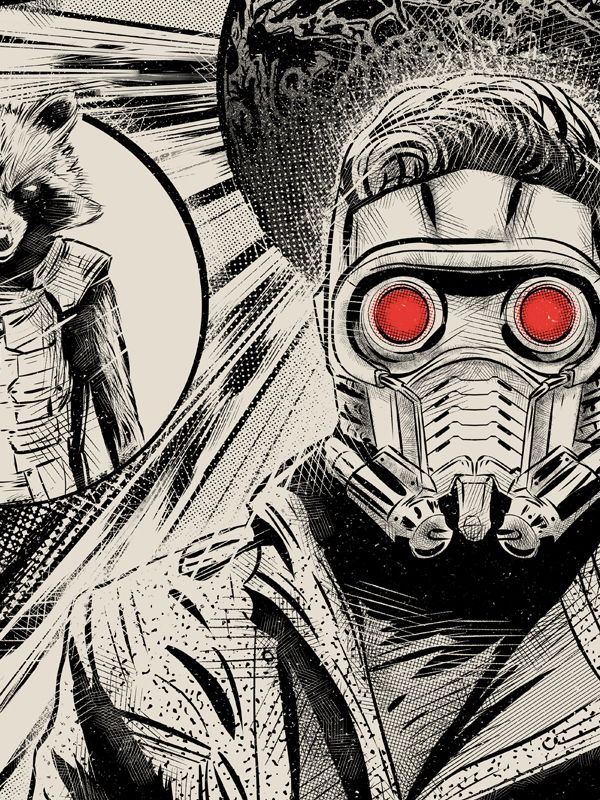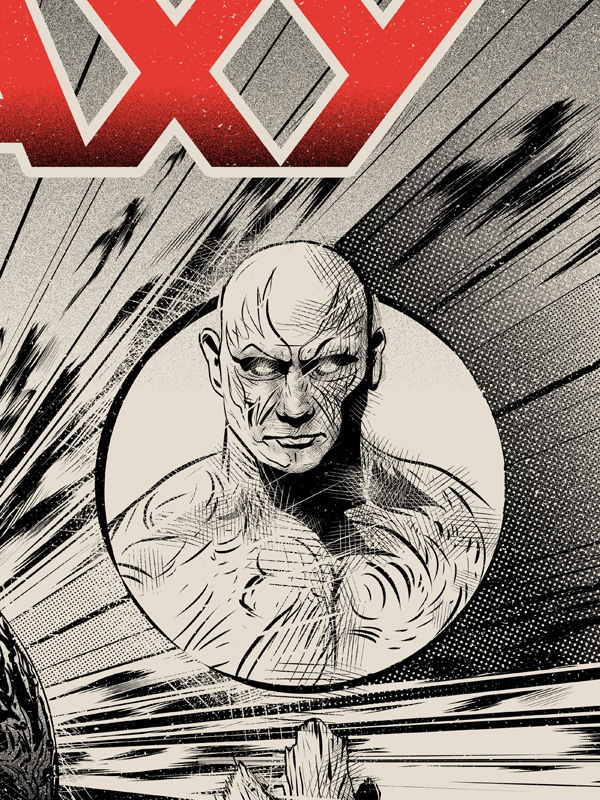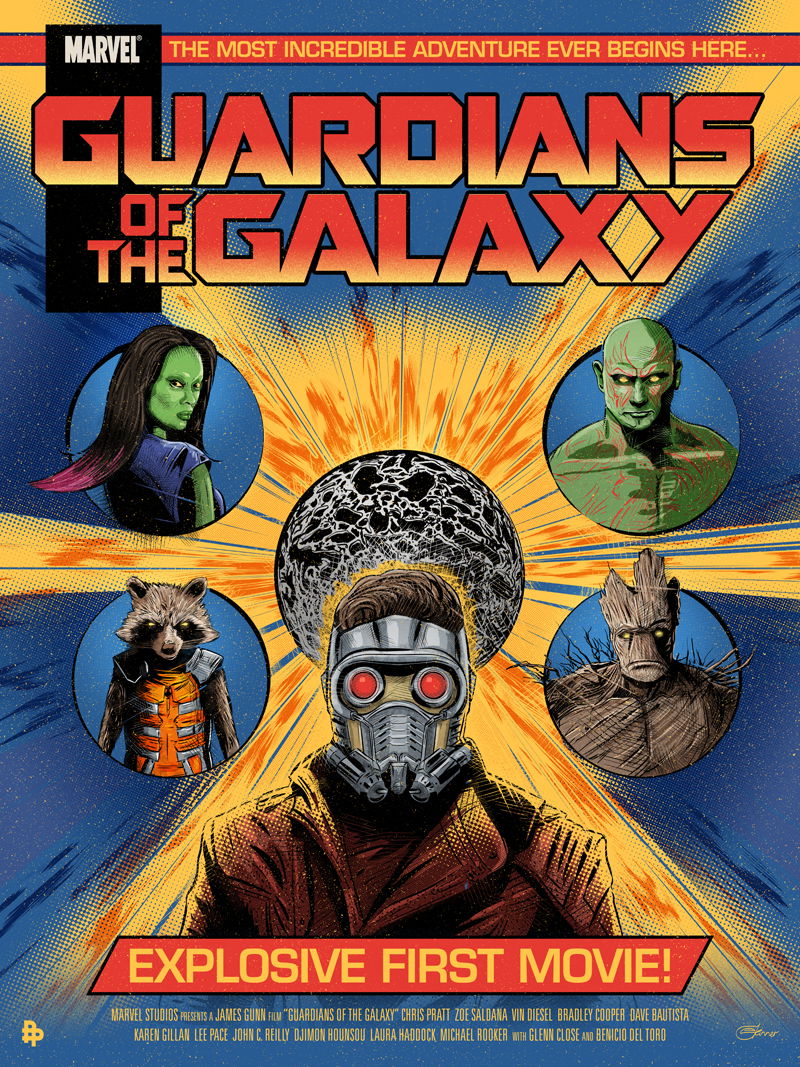 Chris Skinner – color variant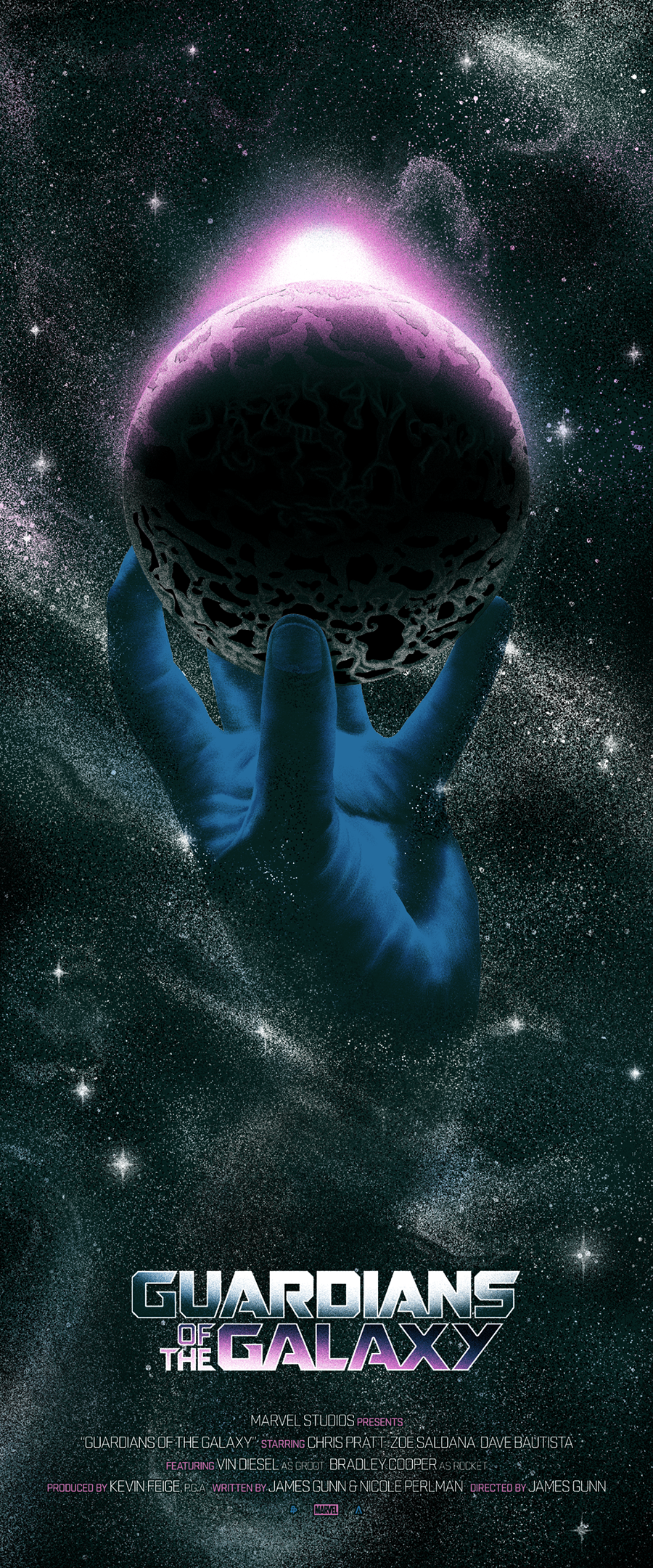 Tom Miatke – Australia  I will be honest in saying I knew little to nothing about 'Guardians of the Galaxy' when the project was first mentioned, I knew it was a Marvel property and was sighted as the 'Avengers in Space'. After watching the catchy trailer, I was 'hooked' to say the least. I knew my Posse counterparts would tackle the main characters much better than I felt I could so I decided to go a different route and focus on the primary baddie (Ronan the Accuser) and what he was after (and indeed what the Guardians themselves are after) which is an orb / Infinity Gem. The quest for the orb will leave the planet Zandar in the hands of whomever comes out on top so this concept was what I thought I could explore. – Tom Miatke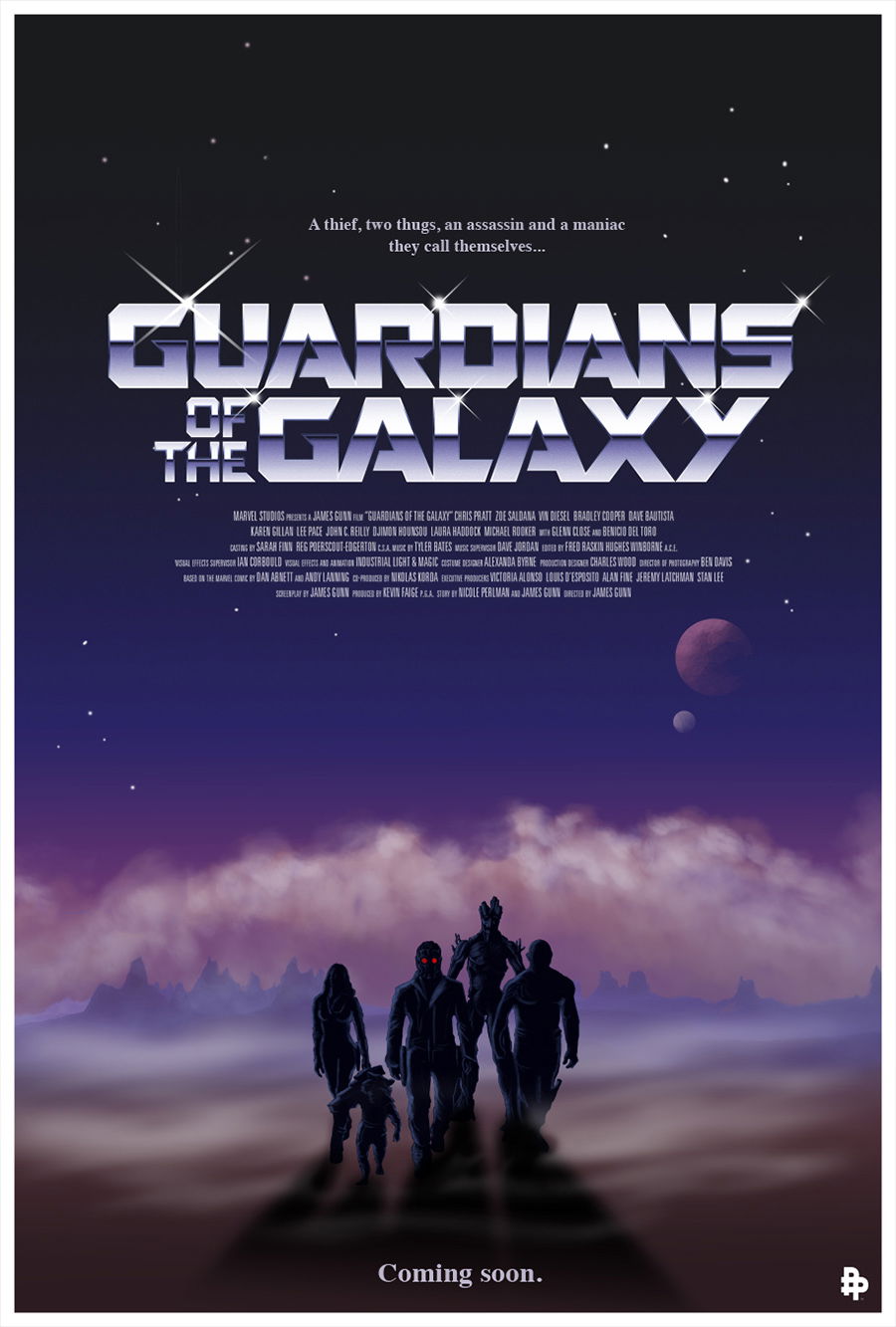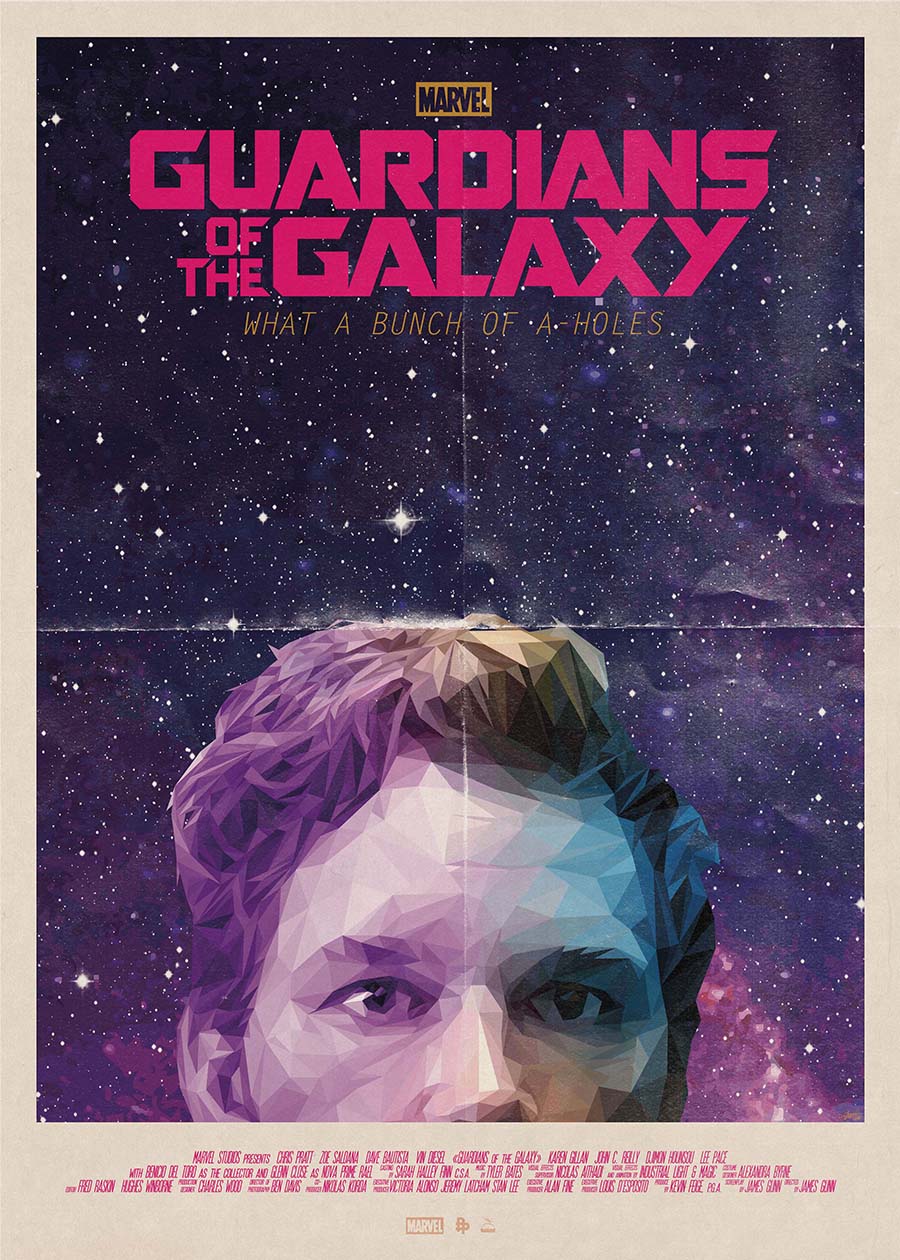 Simon Delart – France  When I looked at the trailer for the first time, I found that the movie looks like a science fiction movie of the 80's. And the quote "What a bunch of a-holes", made me laugh. – Simon Delart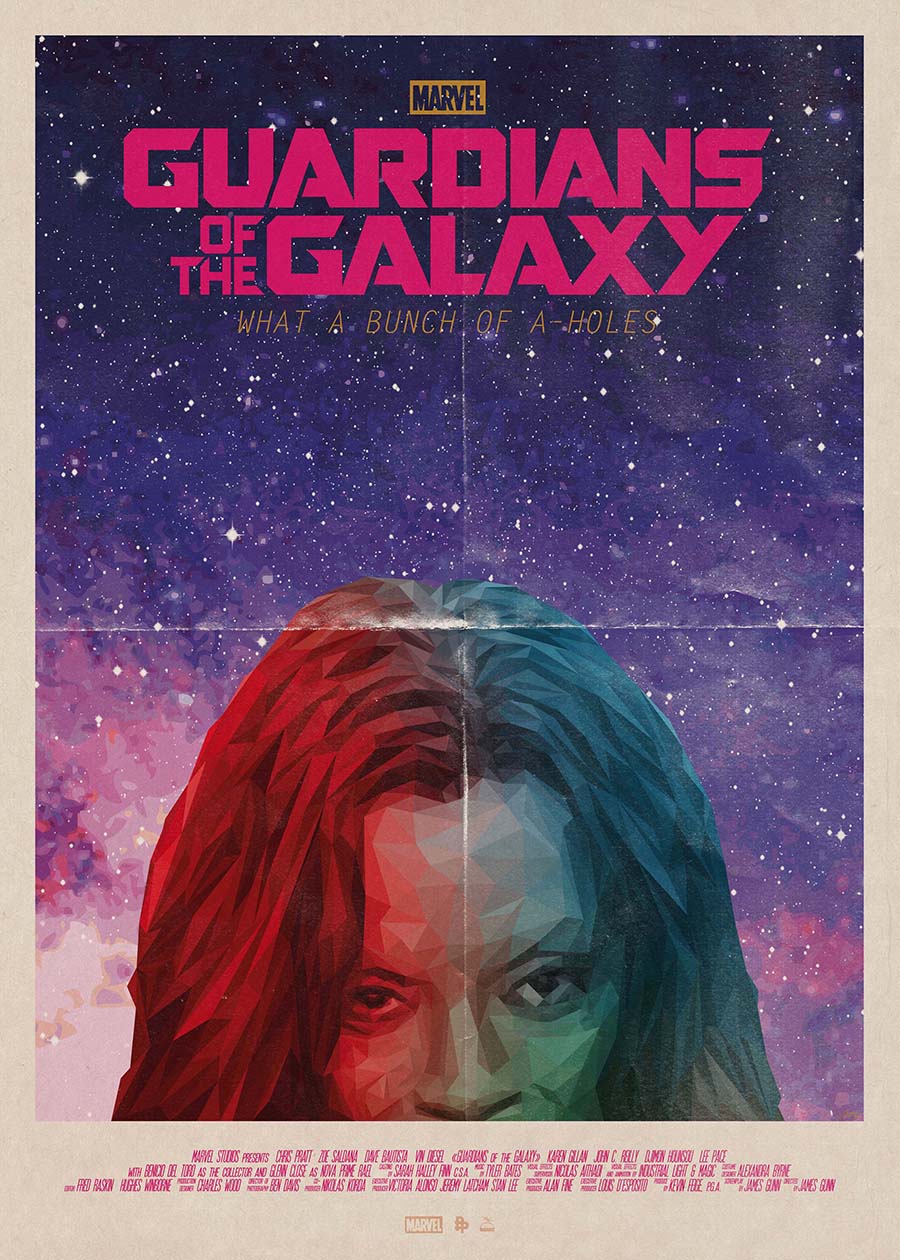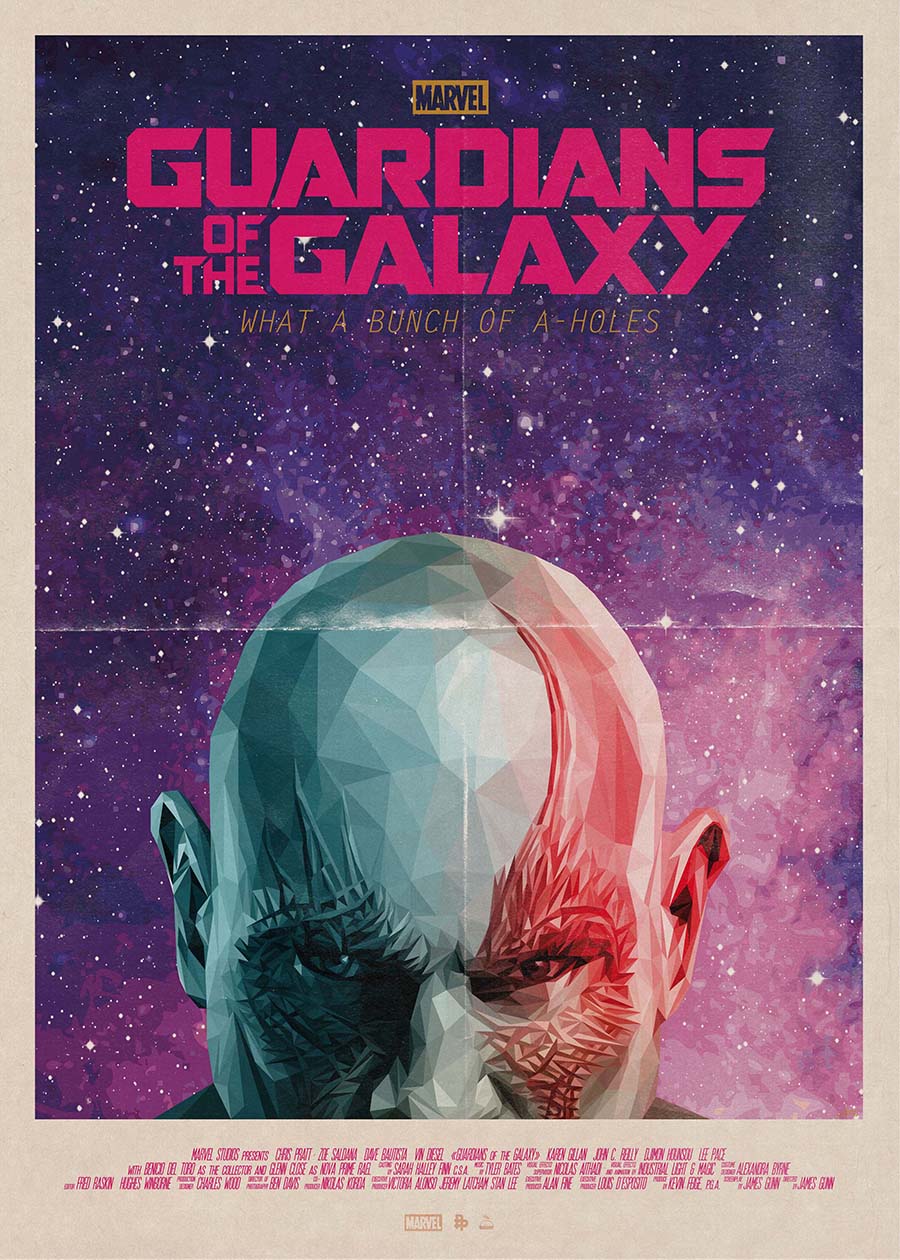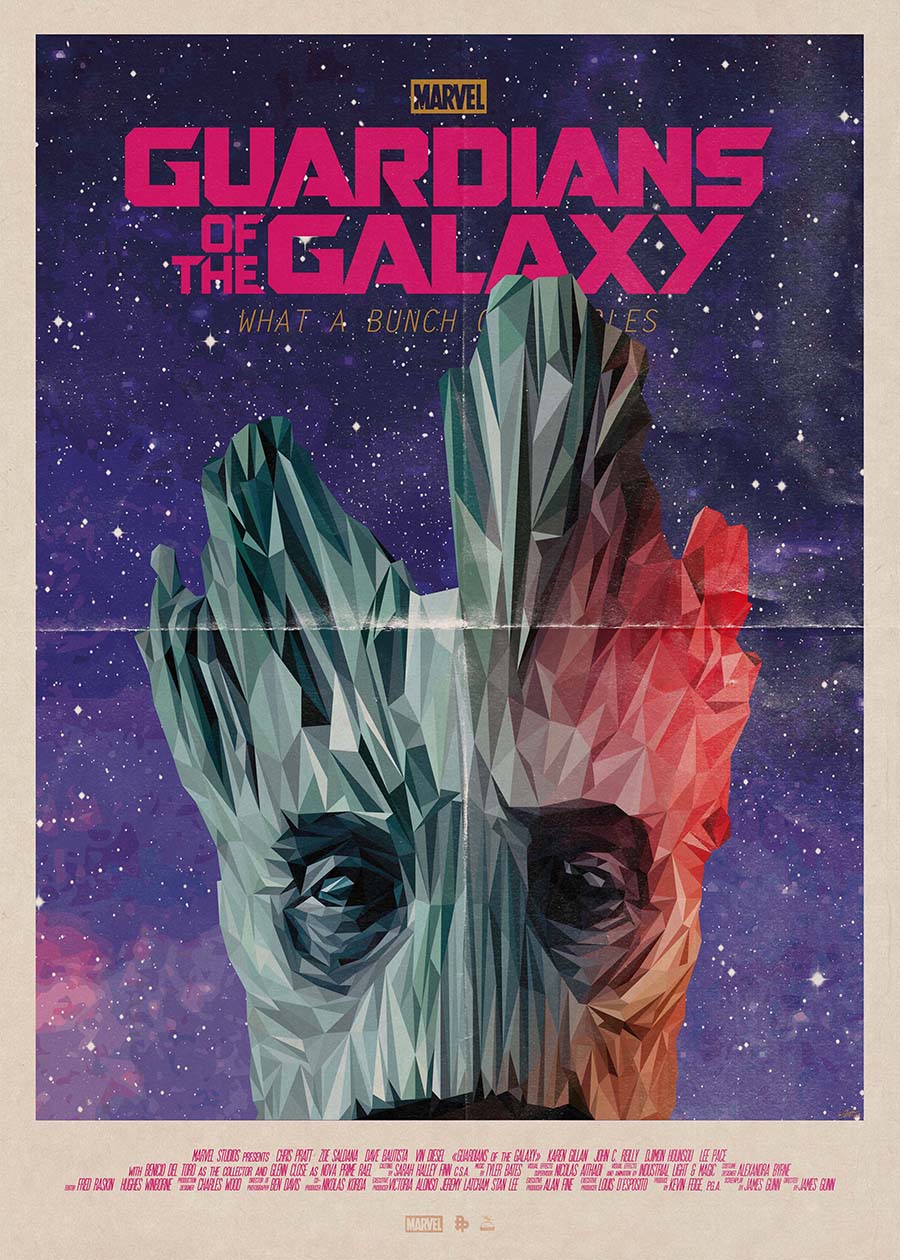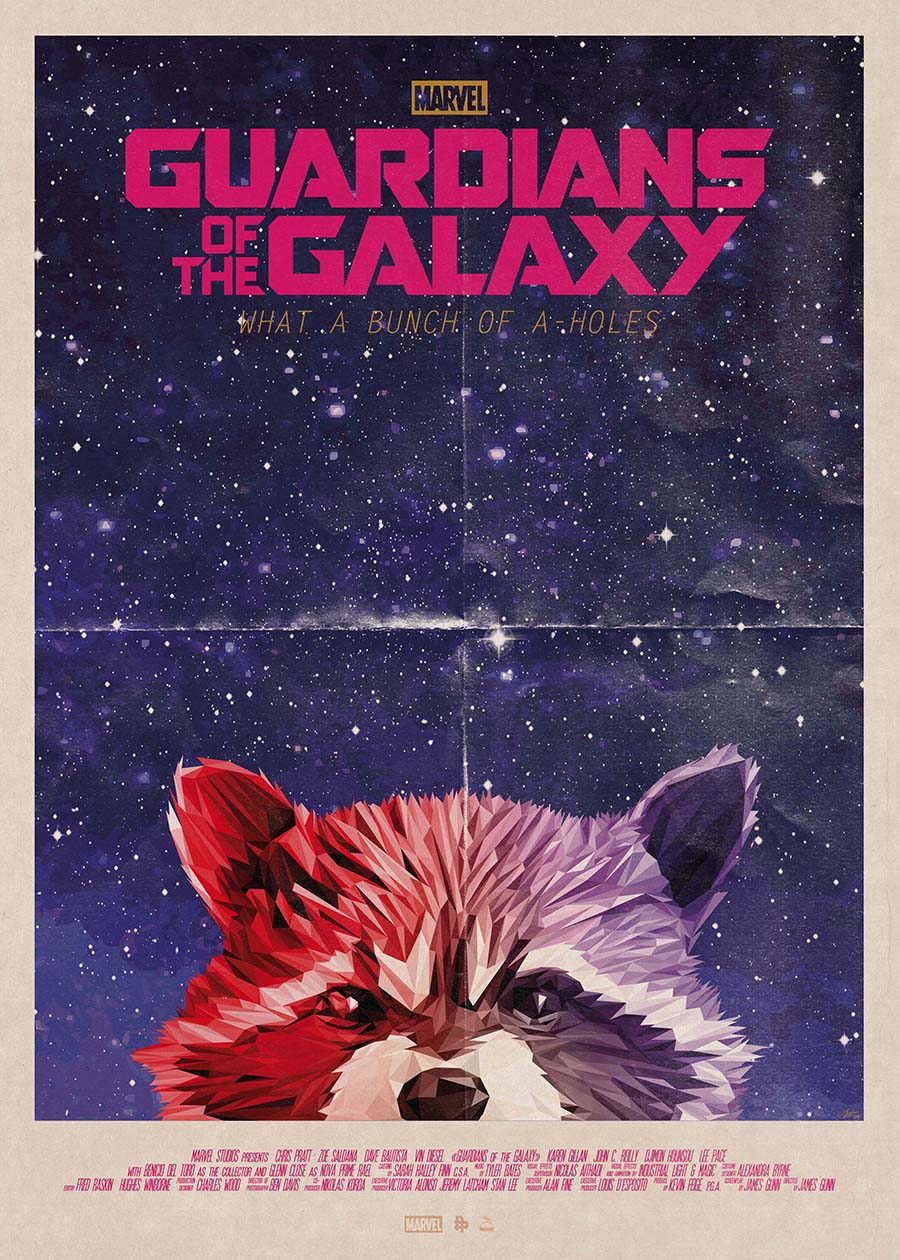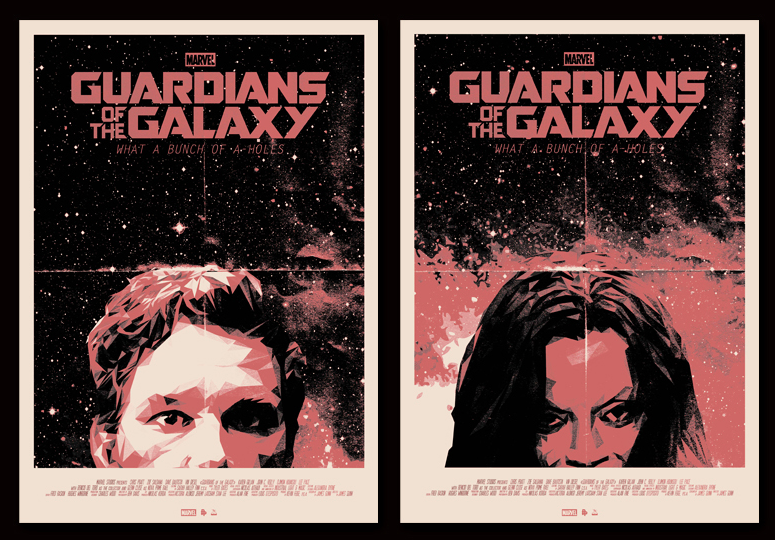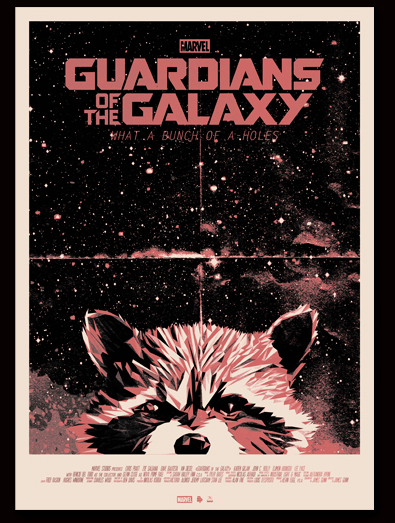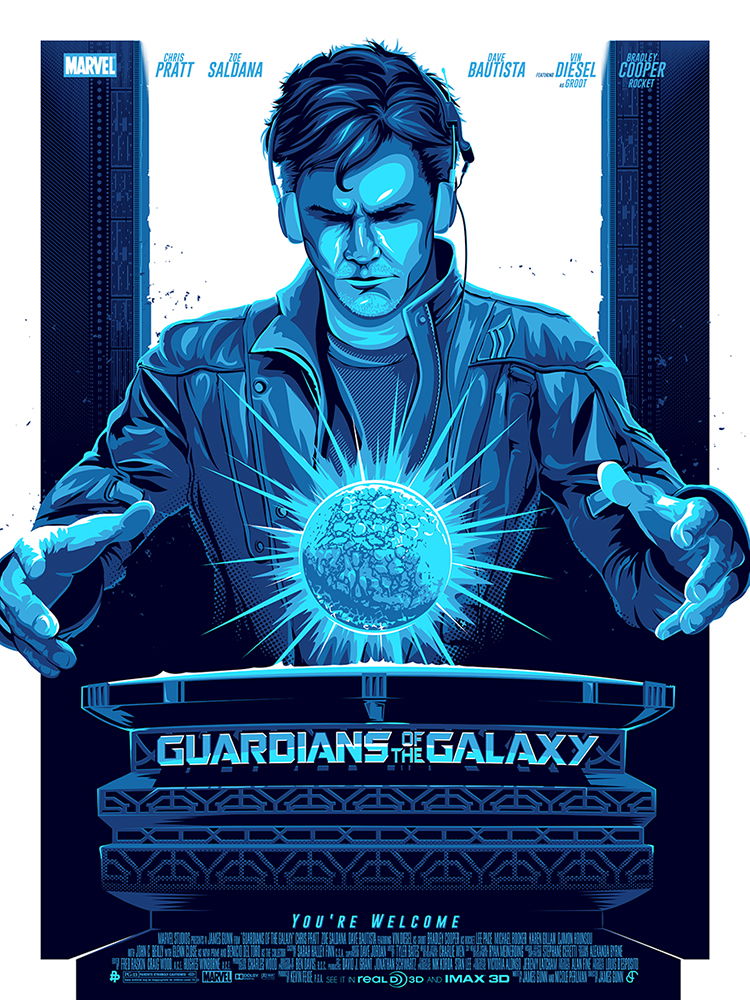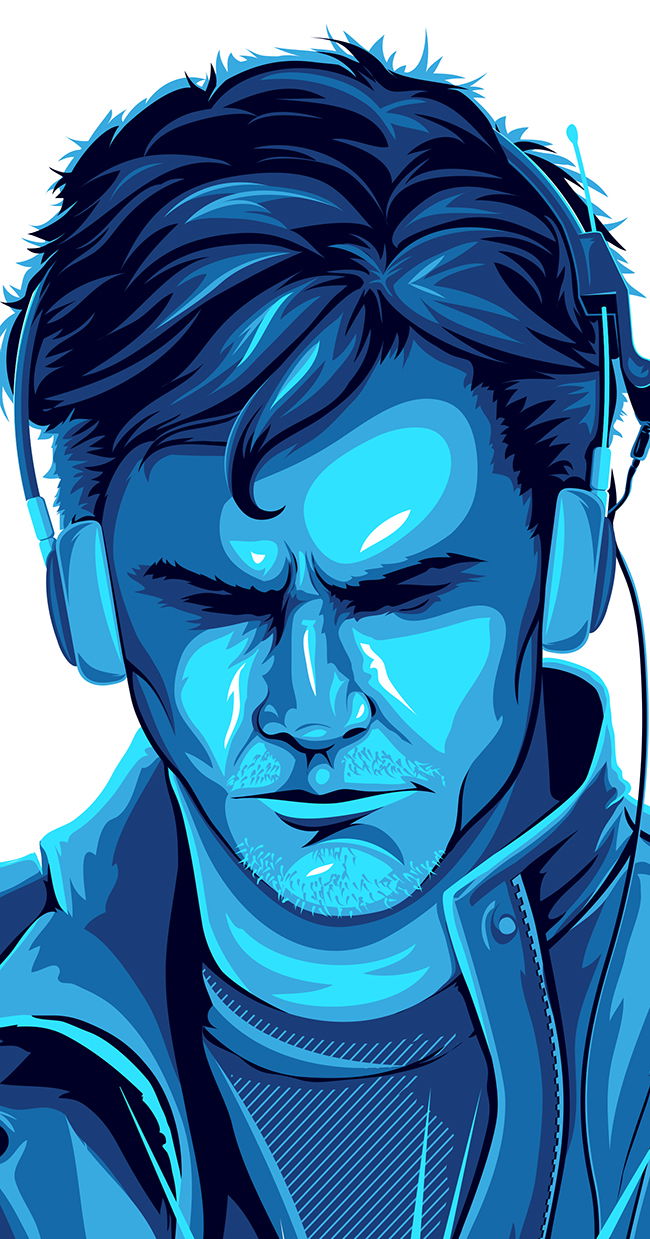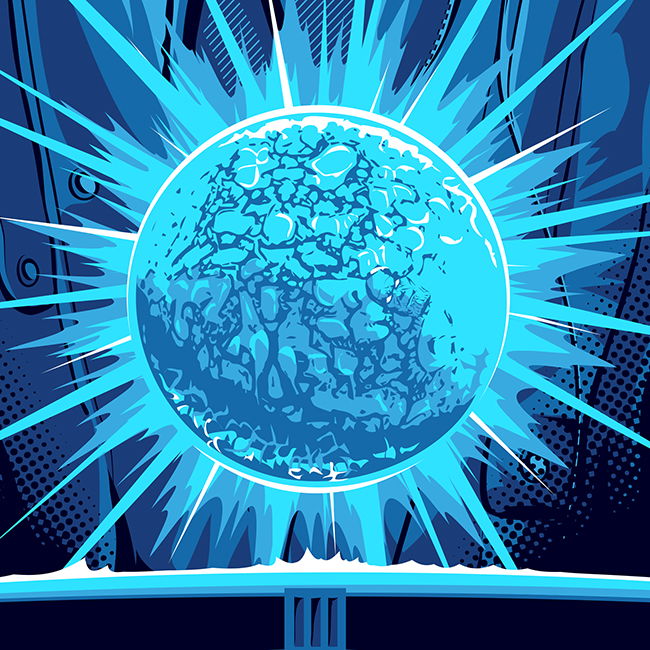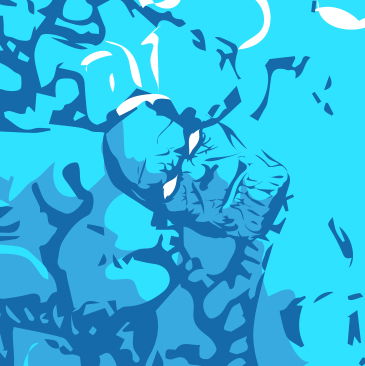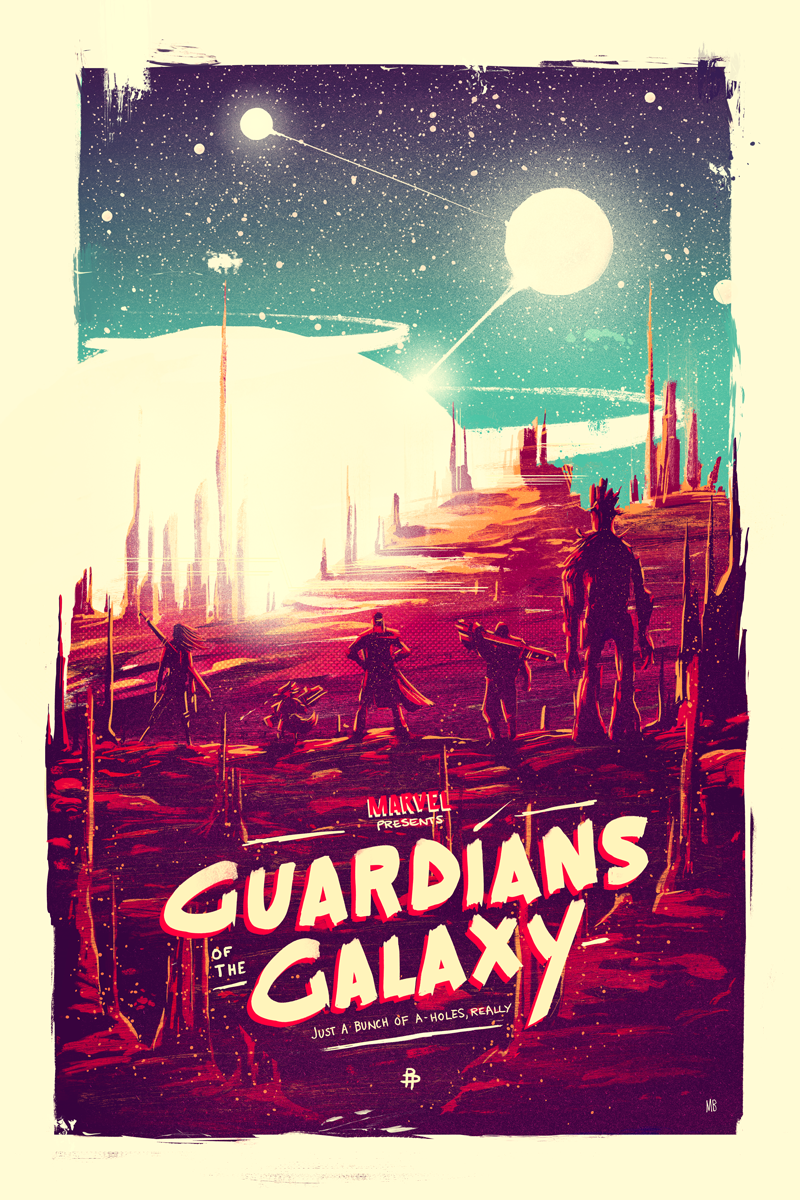 Marie Bergeron – OOOOOOOOO Canada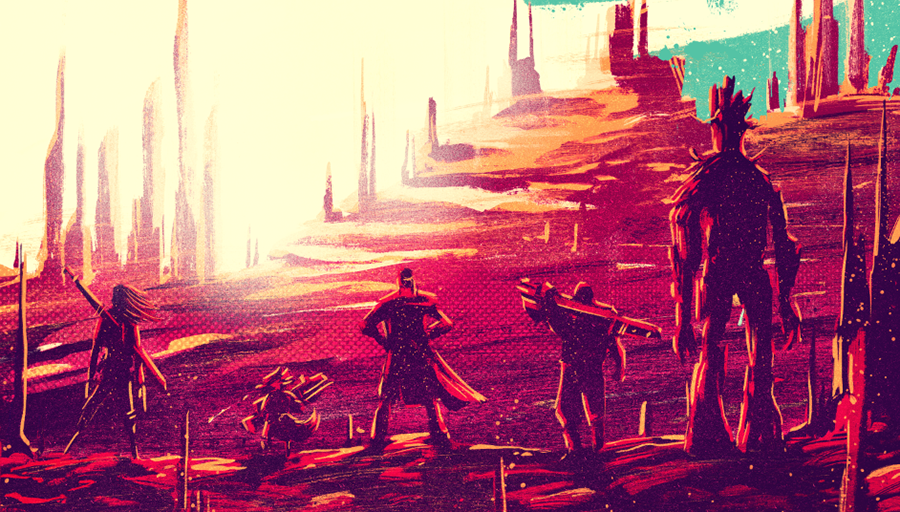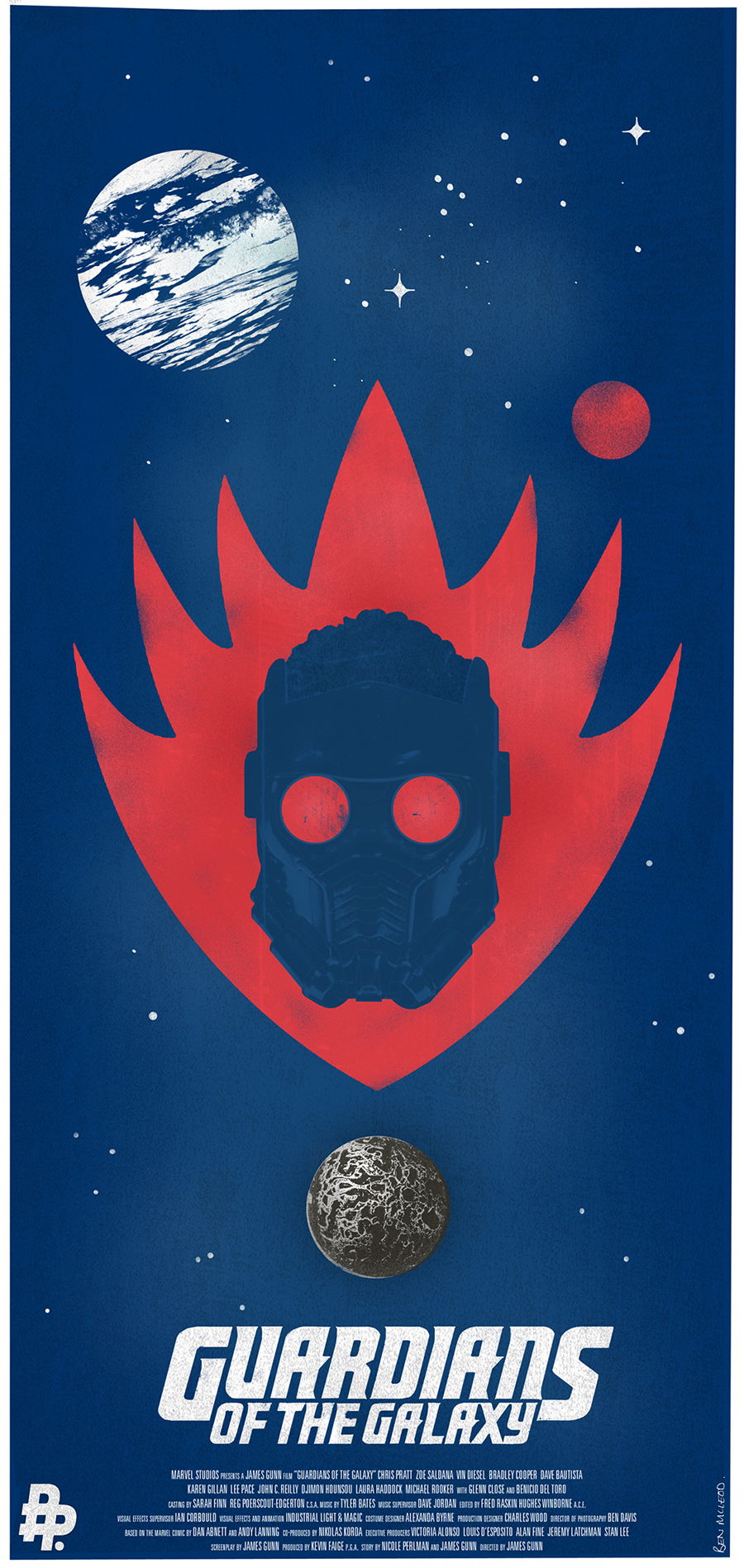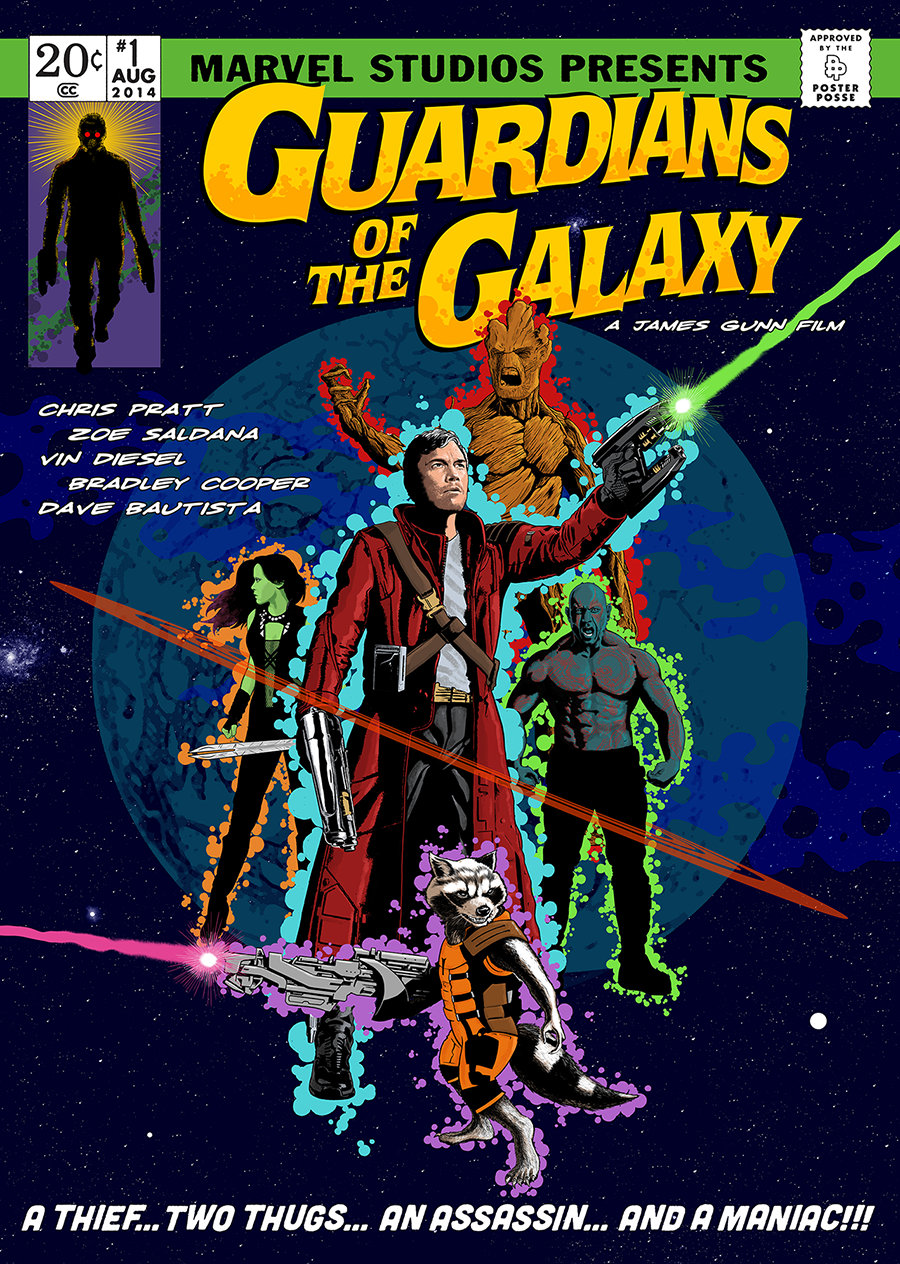 Chad Woodward – U.K. Neon Variant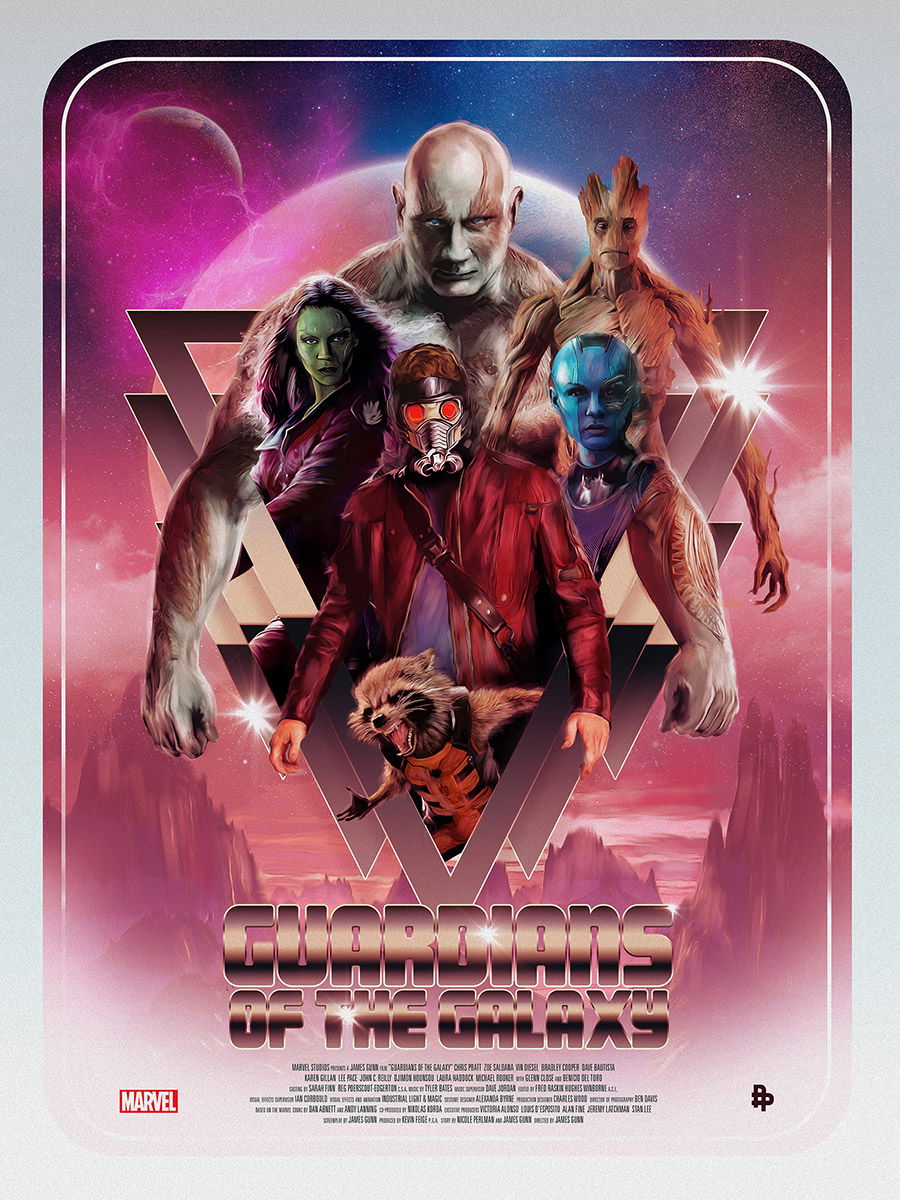 There you have it…enough awesome to rule the galaxy with!  The Poster Posse turned in another impressive outing with both phases of this tribute.  I speak for all the artists when I say "THANK YOU" to everyone who has shared, liked, commented on the work for this one.  It was a major undertaking but the end result speaks for itself.
Follow the Poster Posse on our Official FACEBOOK and TWITTER pages.  Stay tuned because we have some major announcements as well as some prodigious projects on the horizon.